Industry information
Zhongchuan and Sina jointly released "China's smart media development report" to look forward to the trend of China's smart media reform in 2021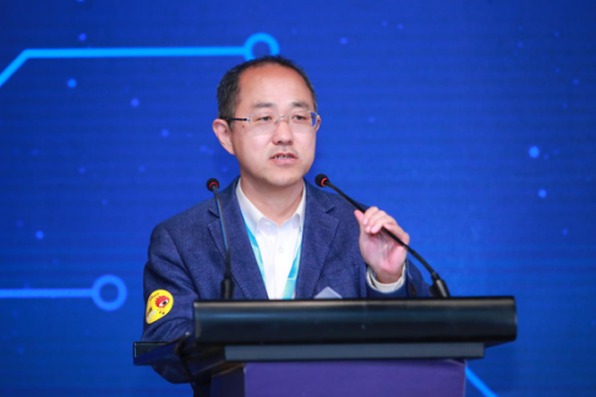 The following is the Zhongchuan and Sina jointly released "China's smart media development report" to look forward to the trend of China's smart media reform in 2021 recommended by recordtrend.com. And this article belongs to the classification: Industry information.
On March 25, 2021, the press conference of "China's intelligent media development report (2020-2021)" sponsored by the New Media Research Institute of Communication University of China and undertaken by Sina AI Media Research Institute was successfully held in Beijing. The conference conducted a comprehensive inventory and in-depth insight into the ecological landscape of China's intelligent media under the background of deep media integration.
Zhao Zizhong's opening speech brought value to the Institute of communication of China University of media.
Note: speech by Zhao Zizhong, President of New Media Research Institute of Communication University of China
In his speech, Wang Wei, CEO of Weibo, CEO of sina mobile and President of sina AI Media Research Institute, kicked off the press conference. "We look forward to a more intelligent spark in the next academic exchanges, and take this opportunity to enhance consensus and strengthen cooperation. I also believe that through our joint exploration, a beautiful blueprint for the era of intelligent media will unfold slowly in front of us. "
Note: Wang Wei, CEO of Weibo, Sina mobile and President of sina AI Media Research Institute, delivered a speech
During the release of the report, Xu Qi, associate researcher of New Media Research Institute of Communication University of China, introduced more than 10 representative practice cases of intelligent media, such as people's daily, CCTV, Guangming, SMG and Sina News, comprehensively deconstructed the development and reform path of intelligent media format, and looked forward to the trend of intelligent media in 2021.
Photo note: China smart media development report (2020-2021)
Powerful "out of the circle", the development of intelligent media ushers in the simultaneous improvement of quantity and quality
The report points out that from policy support to academic research, China's smart media development highlights are frequent in 2020. Based on the "new infrastructure", press the "fast forward" button for the intelligent upgrading and transformation of media. Especially during the epidemic period, a number of innovative application products emerged, which greatly improved the production, aggregation and distribution efficiency of anti epidemic information. At the same time, it also helped the government and enterprises to improve the risk control level of epidemic information and public opinion information management ability.
In the post epidemic period, the "out of the circle" of intelligent media has accelerated, leading intelligent media has begun to penetrate and expand to other vertical industries, and some media have begun to make profits through the layout of "intelligent media + industry". Smart media + culture and tourism, smart media + exhibition, smart media + government affairs and other innovative application products, as well as the integration and innovation of smart media with smart city, Internet of things and other fields, highlight the considerable potential of smart media in the main battlefield of economic construction.
With the deepening of the research on Intelligent Media in the industry and academia, it began to show a trend of interpretation turn and speculative turn. Ecological analysis of intelligent media, development logic of intelligent media, man-machine relationship, intelligent transformation of traditional media, intelligent media and news ethics have become the current research focus.
The ecological pattern of smart media application is beginning to show
The report emphasizes that in the current smart media ecology in China, the new mainstream media and the head Internet business platform are the two most important forces, and their continuous competition and cooperation will shape the future pattern of the smart media ecology.
On the one hand, the mainstream media dominated by smart radio and television and smart newspaper have made new breakthroughs in intelligent transformation and upgrading. The penetration and implementation of artificial intelligence technology has spawned a series of smart radio and television innovative applications, such as intelligent video repair, radio and television network intelligent distribution, radio and television cloud supervision. China's newspaper industry, which has accumulated advantages in technology, resources, talents, system and mechanism, and funds, has also embarked on an intelligent transformation and upgrading path of independent research and development, cooperative purchasing, and venture capital incubation. The landing of intelligent media products focuses on collection, production, audit, and distribution, and continues to expand to other links.
On the other hand, the commercial platform, which has accumulated massive data and content resources, uses artificial intelligence technology to support the development of its whole line business system, further integrates intelligent technology and platform resources, strengthens cooperation with schools, media and other external parties, and continuously exports intelligent media solutions, which plays a positive role in improving the overall intelligent level of the media industry.
It is worth mentioning that outstanding representatives of smart radio and television, smart newspaper and smart business platforms, such as CCTV, people's daily, cover news and Sina News, have continuously deepened their innovation and leadership in the fields of intelligent creation, intelligent production process, AI anchor and intelligent distribution, driven the intelligent transformation of the media industry, and built a user centered, artificial intelligence and big data engine Smart media.
Mainstream values lead the responsibility of intelligent media platform
The demand for epidemic prevention and control under normalization makes all kinds of media and intelligent media products "rigid demand". While continuing to serve the first-line epidemic prevention needs and promoting the in-depth development of media integration, the intelligent media platform continues to practice its media responsibility, and its competitiveness and influence continue to improve.
According to the report, as the main public opinion field and information source of the epidemic, many intelligent media, such as Xinhua news agency, people's daily, guangming.com, Jingdian news, cover news and Sina News, gather together to fight against the epidemic and play the role of public opinion guidance center, event recording center, power gathering center and rumor breaking center.
Among them, during the epidemic reporting period, the electric shock media completed the production of breaking news through the real-time backhaul system, ensured the timely and high-quality broadcast of the program; during the period of the rumors spreading, the Xinhua news agency launched the COVID-19 rumor thematic page, which effectively blocked the spread of the panic situation with the "truth", and helped users rationally prevent epidemic diseases; during the epidemic situation, Sina News had its own "Eagle eye" platform, through automatic clue capture, accurately insight into users' pain points, and continuously launched a number of convenient service products, such as "home policy query", "patient trajectory query", "vaccination query", to meet users' Multi-dimensional needs for epidemic information.
In the future, with breakthroughs in scientific computing, brain like computing, brain computer interface, quantum computing and other fields, the development of intelligent media will also enter a higher and more complex stage. At this stage, the shortage of artificial intelligence talents is increasingly prominent. The report suggests that in the era of intelligent media, the key to media competition is talent competition, and the core advantage of media is talent advantage. In the face of the new media ecology and pattern, the cultivation of compound talents will also become a work highly valued by the industry and academia. Read more: New Media Research Institute of Communication University of China & Sina AI Media Research Institute: China intelligent media development report (2020-2021) CCFA: Top 100 supermarkets in China demand Gen in 2019 : Manufacturer expands digital conversion to sales and marketing report: Lepu medical new coronavirus antibody colloidal gold detection kit, infrared thermometer and other products have been supplied to dozens of countries FCA: young investors buy cryptocurrency mainly to "stimulate" Tencent Financial Report: Q4 net profit in 2020 is 59.3 billion yuan, up 175% year on year The annual net profit was 159.85 billion yuan. Accenture's "smart operation, smart win the future" report: Chinese enterprises urgently need to speed up smart operation to enhance their future competitiveness. Amazon cloud technology released its business strategy for China. Zhang Wenyi announced the troika to accelerate customers' global business expansion, launch massive arithmetic Mobile terminals, insight into hot spots and wind directions anytime and anywhere, and released the big data of talent flow in 2021 spring recruitment Artificial intelligence is the most active among adults. It is the best to find jobs in new economic fields such as games, new life services and intelligent hardware. Dip technology helps "smart Longhua" to build smart government benchmarking Xinsong, Topstar, EFT and Midea Group with digital innovation A large number of famous enterprises will gather at the 10th robot industry conference. BSI group will release the report of "the fourth annual organizational viability index". 33% of the enterprises are confident in their organizational viability. Geely Auto holding financial report: the revenue in 2020 is 92.1 billion yuan, with a year-on-year increase of 5%. New oxygen technology financial report: the net profit in Q4 and the whole year will drop sharply in 2020, with the total revenue of 1.295 billion yuan
If you want to get the full report, you can contact us by leaving us the comment. If you think the information here might be helpful to others, please actively share it. If you want others to see your attitude towards this report, please actively comment and discuss it. Please stay tuned to us, we will keep updating as much as possible to record future development trends.
RecordTrend.com is a website that focuses on future technologies, markets and user trends. We are responsible for collecting the latest research data, authority data, industry research and analysis reports. We are committed to becoming a data and report sharing platform for professionals and decision makers. We look forward to working with you to record the development trends of today's economy, technology, industrial chain and business model.Welcome to follow, comment and bookmark us, and hope to share the future with you, and look forward to your success with our help.