Intelligent mobile phone
TrendForce
It is estimated that in 2021, the global production of smart phones will reach 1.36 billion, and the growth rate will drop to 8.5% From TrendForce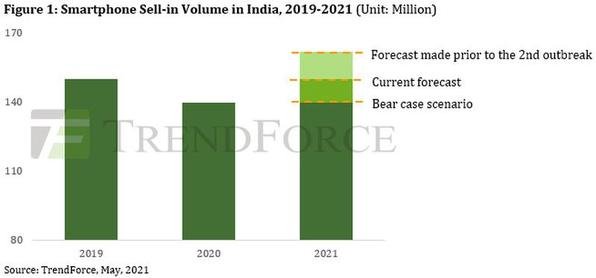 The following is the It is estimated that in 2021, the global production of smart phones will reach 1.36 billion, and the growth rate will drop to 8.5% From TrendForce recommended by recordtrend.com. And this article belongs to the classification: TrendForce, Intelligent mobile phone.
India has become the second largest smartphone market since 2019, according to previous statistics by trendforce, a market research firm. However, the worsening covid-19 epidemic has seriously damaged India's domestic economy and curbed the production and sales performance of major smartphone brands. So trendforce   The year-on-year growth forecast of global Smartphone Production in 2021 will be lowered from 9.4% to 8.5%, with an annual production of 1.36 billion units. The possibility of further reduction will not be ruled out in the future.
Trendforce further pointed out that the top five smartphone brands (Samsung, apple, Xiaomi, oppo   and   Vivo) either set up an assembly plant in India or seek help from EMS suppliers with operations in India. As a result, the share of smartphones made in India has been rising for many years, although most of the devices made at home are still designed to meet the needs of the domestic market.
From the current situation of India's smartphone manufacturing, trendforce predicts that the second wave of the epidemic will reduce the country's Smartphone Production by 12 million units in the second and third quarters of 2021, resulting in a 7.5% year-on-year decline in India's annual Smartphone Production. In India, the second wave of covid-19 severely affected the middle and upper classes, weakening smartphone sales in the second quarter of 2021.
India's demographic dividend has generated huge demand in the domestic smartphone market. At the same time, the Indian government is also actively promoting the development of domestic electronic manufacturing industry to promote economic development and create new employment opportunities. On the one hand, the Indian government has developed a more stringent tariff policy to force the localization of the supply chain. On the other hand, it is offering incentives to international smartphone brands to expand their share of local device production.
India's top four smartphone brands, namely Xiaomi, oppo, Samsung and vivo, account for 25%, 23%, 22% and 16% of the market share respectively, accounting for about 86% of the country's total sales. Since these brands are mainly concentrated in the $100-250 product area, the worsening pandemic has affected them all.
With regard to production and operation, it is said that most of the factories are in normal operation and are not disturbed by the pandemic. However, the accelerated spread of coronavirus may have a negative impact on the lower middle class, which accounts for the vast majority of the labor force. If India's health crisis remains unresolved, trendforce believes that the country's import and export business may stagnate and the transportation of key components of smart phones may be interrupted.
More reading from cnBeta: trendforce: it is estimated that the global smartphone shipment in 2016 will be 1.34 billion, with an annual growth of only 5.8% trendforce: in Q1 of 2017, the global smartphone share of Samsung will rise to 26.1% trendforce: in Q3 of 2016, the global Smartphone Production will reach 350 million, with a month on month growth of 10.4% trendforce: in Q3 of 2016, the global smartphone market will reach 350 million trendforce: in Q2 of 2016 Global Smartphone Production reaches 315 million IDC: in 2014, Q2, India's functional phone shipment accounts for 71%, and the growth potential of smartphones is huge IDC: in 2017, Q2, India's high-end mobile phone market share, apple only ranks second counterpoint: India's high-end smart phone market report in 2018 IDC: India's mobile phone market share will decrease by 2% in 2020 trendforce: it is estimated that the global Android mobile phone market share will increase by 2% in 2017 Growth to 90% trendforce: Global Smartphone Production in Q3 will reach 336 million units in 2020, oppo Xiaomi is tied for the second place trendforce: Global smartphone shipment in Q3 is expected to reach 375 million units in 2019, with a 9.2% month on month growth Apple is expected to continue to dominate the 5g Market
If you want to get the full report, you can contact us by leaving us the comment. If you think the information here might be helpful to others, please actively share it. If you want others to see your attitude towards this report, please actively comment and discuss it. Please stay tuned to us, we will keep updating as much as possible to record future development trends.
RecordTrend.com is a website that focuses on future technologies, markets and user trends. We are responsible for collecting the latest research data, authority data, industry research and analysis reports. We are committed to becoming a data and report sharing platform for professionals and decision makers. We look forward to working with you to record the development trends of today's economy, technology, industrial chain and business model.Welcome to follow, comment and bookmark us, and hope to share the future with you, and look forward to your success with our help.