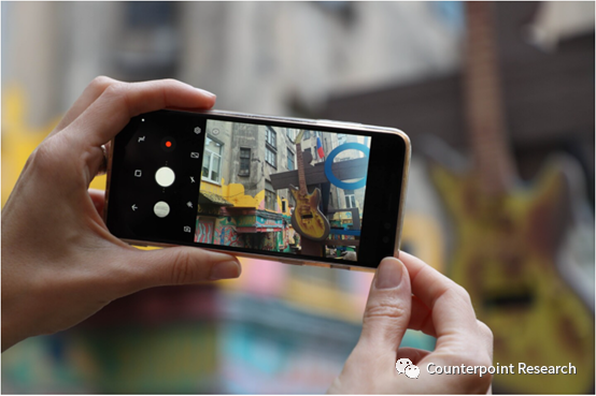 RecordTrend.com is a website that focuses on future technologies, markets and user trends. We are responsible for collecting the latest research data, authority data, industry research and analysis reports. We are committed to becoming a data and report sharing platform for professionals and decision makers. We look forward to working with you to record the development trends of today's economy, technology, industrial chain and business model.Welcome to follow, comment and bookmark us, and hope to share the future with you, and look forward to your success with our help.
The following is the Russia's smartphone sales increase by 5% in the third quarter of 2020 From Counterpoint recommended by recordtrend.com. And this article belongs to the classification: Counterpoint, Intelligent mobile phone.
In the third quarter of 2020, Russia's share of online smartphone sales increased to 34%, breaking the previous quarter's record.
Huawei became the online channel champion with 27.8% share.
Video Eldorado won the online platform sales championship, svyaznoy and MTs ranked second and third respectively.
According to the latest research by counterpoint research model sales tracker, in the third quarter of 2020, Russia's smartphone sales increased by 5% year-on-year, of which online sales more than tripled, accounting for 34%, breaking the record of 32% in the previous quarter. Due to the outbreak of the second wave of the epidemic, the government tightened the control measures and implemented the social distance policy. At the same time, entertainment manufacturers launched more products online, which provided impetus for the market to shift from offline to online. In addition, consumer spending on vacations has also pushed up demand for new planes.
Tarun pathak, deputy director, commented on market dynamics, "in the third quarter of 2020, M. video Eldorado won the first prize in the online platform of smart phones again, but its share has dropped to 33% from 35% in the previous quarter. Driven by more popular models and small brands such as Philips, digma, bright & quick, Haier and ark, the share of online platforms such as beeline, megafon and Citilink has increased. MTS carries out vigorous promotion activities, such as ordering MTS TV super package before August 31, 2020, i.e. giving gifts of 99 rubles per month, cashback for the first order, etc., and providing more choices of smart phones on the online platform, so MTS's market share has increased. "
Pathak added, "in the third quarter of 2020, the average price of smartphones was $224, down 5% from a year earlier. In terms of revenue, Samsung is the champion of online and offline platforms, followed by apple and Huawei. Samsung Galaxy A51, Galaxy A31 and Apple iPhone 11 are the best-selling models on online platforms, while Samsung Galaxy A51, redmi note 8t and Samsung Galaxy A31 are the best-selling models on offline platforms. Small brands such as black fox and senseit have entered online platforms, while brands such as dexp and ginzzu still focus on offline markets. "
Assistant Analyst Soumen mandal commented on the performance of various brands, "in the third quarter of 2020, Samsung surpassed Huawei to win the Russian smartphone market champion again. Huawei's overall sales volume declined due to the shortage of supply, but it still ranked first in the online market with a share of 27.8%. After the retail stores resumed operation, Samsung returned to the offline market, leading to a decline in its online share. Glory launched a cash coupon promotion campaign for the honor 30 series, which promoted glory to take the first place in the online sales share of 5g smart phones. Xiaomi has overtaken Samsung as the second runner up in online sales of smart phones. Among the top 10 best-selling online models, five are from Xiaomi, and the top three are redmi note 8 pro, redmi 8a and redmi note 9. Realme has launched new models such as realme C11, realme C15 and realme x3 Superzoom. At the same time, existing models such as realme 6 Pro and realme C3 have performed well. Driven by this, realme has entered the top five online markets in Russia for the first time. "
Mandal added, "affected by the covid-19 epidemic and some national policies, the situation of the smartphone market will continue to change in 2020. Xiaomi began to lay out retail stores, which is expected to further increase its market share. Apple's and Samsung's flagship models are also being watched in Russia. Installment payments and trade in programs make flagship models affordable to more consumers. However, Chinese brands are still consolidating their position in the low-end market. " Counter point: is there any growth opportunity in China's smartphone market? Counter point: India's smartphone shipment will reach 49 million units in Q3, 2019 F3 becomes the champion in the Indian market counter point: in 2020, the sales of AMOLED smart phones will exceed 600 million. Counterpoint: in March 2018, the world's best-selling mobile phone is iPhone xcounterpoint: in 2017, Q2, China's smartphone market saw a 3% year-on-year increase in the shipment volume Research: 2017 China's best selling smartphone ranking: Q3 global smartphone total profit is about 12 billion US dollars in 2019, apple owns 66% counterpoint: Q3 global smartphone market total profit is 12 billion US dollars in 2019 Apple accounts for 66% counterpoint: in March 2016, Samsung's share of us smartphone market reached 28.8% Q3 Samsung's market share in India is expected to drop to 35% in 2016. Counterpoint research: in 2017, China's smartphone shipment fell by 1% year-on-year.counterpoint research: in 2018, Q3 global smartphone shipment volume was 386.8 million units, a year-on-year decrease of 3% counterpoint: in 2019, the Indian smartphone shipment of Q2 will reach 37 million units
If you want to get the full report, you can contact us by leaving us the comment. If you think the information here might be helpful to others, please actively share it. If you want others to see your attitude towards this report, please actively comment and discuss it. Please stay tuned to us, we will keep updating as much as possible to record future development trends.