IDC
Internet of things
It is estimated that China's IOT market expenditure will reach US $300 billion in 2024, with a compound annual growth rate of 13.0% From IDC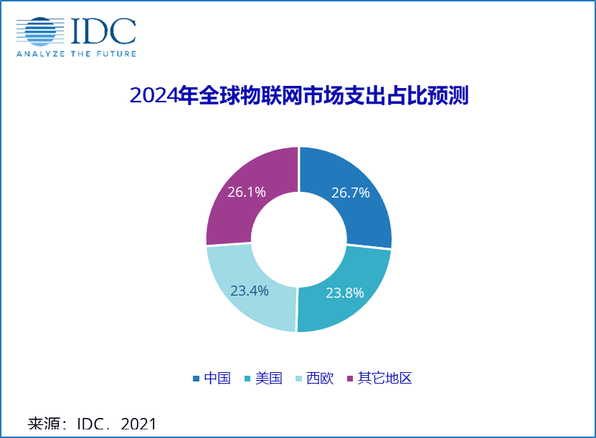 RecordTrend.com is a website that focuses on future technologies, markets and user trends. We are responsible for collecting the latest research data, authority data, industry research and analysis reports. We are committed to becoming a data and report sharing platform for professionals and decision makers. We look forward to working with you to record the development trends of today's economy, technology, industrial chain and business model.Welcome to follow, comment and bookmark us, and hope to share the future with you, and look forward to your success with our help.
The following is the It is estimated that China's IOT market expenditure will reach US $300 billion in 2024, with a compound annual growth rate of 13.0% From IDC recommended by recordtrend.com. And this article belongs to the classification: IDC, Internet of things.
IDC recently released the "2020 V2 global Internet of things expenditure guide", which comprehensively combs the global Internet of things market in the second half of 2020 from the aspects of technology, industry and application scenarios, and forecasts the market in the next five years.
market size
IDC predicts that by 2024, China's Internet of things market spending is expected to reach about 300 billion US dollars, with a compound growth rate of 13.0% in the next five years. In 2024, China accounted for 26.7% of the global Internet of things spending, surpassing the United States as the world's largest Internet of things market.
Technology: the proportion of services and software continues to increase
Different from the global trend, hardware continues to account for the largest proportion of China's IOT market spending, and the hardware market will continue to grow steadily in the next five years, maintaining a market share of more than 40%. At the same time, due to the strong personalized demand of more Internet of things industry applications, the proportion of service and software expenditure will increase slowly.
In addition, in this update, IDC for the first time further analyzed the service expenditure in five directions: planning and scheme design, it system implementation, it operation and maintenance, non IT project services and non it operation and maintenance (including IAAs and DAAS). In the application of Internet of things in manufacturing, public utilities and other industries, there are a large number of development, on-site deployment and later software and hardware operation and maintenance services in the construction and operation stage. Non it operation and maintenance and system implementation account for a large proportion of service expenditure. With the implementation of a large number of industrial Internet, smart city, smart transportation and other projects, non it operation and maintenance will maintain a high growth rate in all kinds of services.
Industry: manufacturing, government and consumers are still the main sectors of Internet of things spending
Through continuous tracking research on 20 industries, IDC predicts that by 2024, the expenditures of manufacturing, government and consumers will account for more than half of the total market expenditures. Especially in the consumer industry, with more and more manufacturers entering the market, more and more mature products, lower prices, Internet of things services, smart home, medical and health monitoring and other fields, Internet of things spending will continue to grow at a high speed.
Application scenarios: scenarios such as Internet of vehicles grow fastest
IDC further divided 20 industries into 39 application scenarios for more in-depth analysis. IDC predicts that the Internet of vehicles will be the fastest growing mainstream application scenarios, with an average annual compound growth rate of 35.9%.
The Internet of vehicles can not only improve the driving experience of consumers and enhance driving safety, but also bring rich market opportunities for telecom operators, audio and video content service providers, vehicle manufacturers, afterloading equipment providers and vehicle maintenance service providers, especially in vehicle audio-visual entertainment, real-time warning of vehicle failure, driving safety assurance, remote emergency handling of abnormal vehicle conditions and vehicle prediction In the field of Internet of vehicles service, such as maintenance. With the increasing popularity of Internet of vehicles system in vehicle front loading system, the Internet of vehicles service market will show rapid growth in the next few years. The application of 5g and the acceleration of the construction of the Internet of vehicles demonstration areas across the country will further accelerate the function upgrading and application popularization of Internet of vehicles services.
Cui can, research manager of IDC Internet of things in China, believes that "the new epidemic situation since 2020 and the promotion of the new national infrastructure policy have further enhanced the willingness of the government and enterprises to apply the Internet of things, and promoted the continuous growth of the application market of the Internet of things industry such as industrial Internet, Internet of vehicles and smart city. If internet giants are fully involved in the Internet of things, it will accelerate the development of the consumer Internet of things market with smart home as the core. At the same time, 5g, artificial intelligence and the Internet of things are accelerating the integration, promoting the further release of new market space for edge intelligence in industries, public utilities, retail and other industries. "
Read more: in 2012, China's Internet of things market scale reached 365 billion, with a year-on-year growth of 38.6% IDC: it is predicted that the global Internet of things connection volume will approach 65 billion in 2024 IDC: energy and manufacturing industry IOT supplier evaluation report IDC: China's medical institutions IOT investment is expected to be $9.89 billion in 2022 IDC: Top 10 IOT forecasts in 2018 IDC: China's IOT market spending is expected to reach $255.23 billion in 2022 IDC: Global IOT spending is expected to be $772.5 billion in 2018 Global Internet of things spending reached 698.6 billion US dollars IDC: 55% of the enterprises interviewed regard Internet of things strategy as an effective means of competition IDC: the survey shows that 64% of Chinese enterprise users have deployed Internet of things solutions RMB 10.08 billion, up 19.5% year on year IDC: in the first half of 2020, the SaaS market scale of China's enterprise class application software will reach US $1.36 billion, up 27% year on year IDC: in the fourth quarter of 2020, the global PC shipment will reach 91.6 million, up 26.1% year on year
If you want to get the full report, you can contact us by leaving us the comment. If you think the information here might be helpful to others, please actively share it. If you want others to see your attitude towards this report, please actively comment and discuss it. Please stay tuned to us, we will keep updating as much as possible to record future development trends.