Internet TV
Ott promotes TV market growth in Central Asia From Dataxis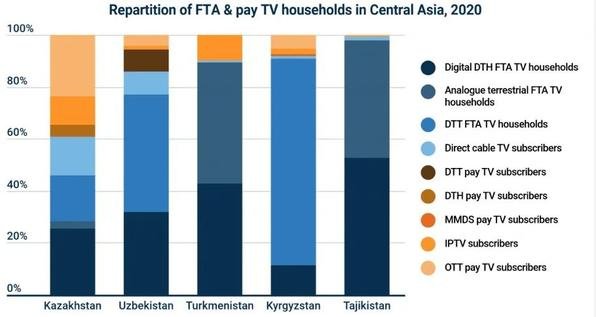 The following is the Ott promotes TV market growth in Central Asia From Dataxis recommended by recordtrend.com. And this article belongs to the classification: Internet TV.
Central Asia has 77 million residents, which is a huge market for telecom operators. However, in the past two decades, the local political, geographical and economic background has restricted the development of wired and wireless connection. Looking at the development of the TV market in the region in the past three years, dataxis finds that operators and broadcasters are facing more and more opportunities.
Since 2018, few foreign telecom operators have been active in the region. MTS terminated its business in Turkmenistan in 2017. Telia also withdrew from the region and sold its business in Tajikistan to the Aga Khan economic development fund in 2017, Kazakhstan to Kazakh Telecom in 2018 and Uzbekistan to a government-owned entity. The last major foreign telecommunications companies active in the region are Russian veon, which operates the beline brand in Kazakhstan and Uzbekistan, and megafon, which operates in Tajikistan.
The local market is dominated by state supported entities: Kazakhstan Telecom, Uzbekistan Telecom, Tajik Telecom, Kyrgyz Telecom and Turkish Telecom. In Turkmenistan, state-owned telecom companies are not challenged by any competitors. However, in other markets, there are three to five active mobile network operators, who usually also provide broadband services. Mobile penetration rates in Kazakhstan and Kyrgyzstan are 135% and 118% respectively. As mobile operators in the region gain more and more data users, they have developed other services, including VOD and Ott pay TV programs for mobile devices. In Kazakhstan, mobile Ott pay TV is leading the growth of pay TV. Kcell's Ott service (mobitv brand) was launched at the end of 2016. By the third quarter of 2020, it has reached 850000 paid users, accounting for more than 10% of its mobile user base. Veon also launched mobile Ott beetv in its operating market in 2019 through cooperation with IVI, a leading Russian streaming service company. In Kyrgyzstan, mobile operator o! Similar offers were launched in 2016, and megacom launched MePlay last year.
At the same time, the development of fixed cable broadband connection enables operators to develop IPTV services. In Uzbekistan, the broadband market is highly fragmented among dozens of Internet provider services, and most operators provide interactive TV services through broadband connections, at a cost of 10% to 30% of the monthly Internet subscription fee. In order to keep up with the increasingly fierce competition, over the past four years, traditional cable operators have also started to provide broadband and IPTV services, such as spectrum it, stark TV, freelink or avianet. In Kazakhstan, IPTV has covered one tenth of TV households.
Television networks in the region are dominated by state-owned or state backed companies, whose owners are usually associated with government officials. The State Administration still has an overwhelming influence on the media. In Kazakhstan, for example, public funds still account for more than 80% of television network revenue, while the advertising market is still small. In Kyrgyzstan, media ownership is largely opaque and public funding is generally scarce, which may jeopardize the sustainability of the television network.
In Tajikistan and Turkmenistan, the government operates all national channels directly. Up to now, neither country has started the transition to DTT. Tajik authorities planned to launch DTT in 2015, but delayed it for more than five years because it failed to meet the technical requirements. Tajikistan has issued a number of licenses for private broadcasters, but these licenses are localized and mainly operated by cable companies with very limited coverage.
For broadcasters, however, new opportunities are emerging. In Uzbekistan, for example, private networks were almost non-existent until 2016. Since then, the new president has gradually liberalized the media and telecommunications industry, allowing several local private channels to watch TV for free. For example, sevimli TV, z'or TV and milliy TV were launched from 2016 to mid-2017. TV ratings show that these networks will be more popular than the state-owned TV channels in 2019. Between 2016 and 2019, Uzbekistan's television advertising revenue has more than doubled in local currency terms. However, the sharp depreciation of Uzbekistan SOM in 2017 seriously affected the value of the local economy.
Despite periodic political tensions between the local government and its neighbors, television viewers in the region are still consuming foreign media. Russia's main channels operate in the region, but limited by the obligation of registration of local entities, they cannot broadcast nationwide. Localized versions of Russian channels such as channel one, RTR Planeta, Mir, NTV or TNT are broadcast in the region, mainly through pay TV combinations. Gazprom media, the owner of Russian TV stations NTV and TNT, has launched a dedicated Ott pay TV service in the region: TNT premier will be launched in several CIS markets including Kazakhstan and Uzbekistan in 2018, and NTV plus will expand to the Central Asian market in the first half of 2020. The region also offers a number of Russian VOD services and works with local telecom companies through bundled offers to expand its user base, such as amediateka, IVI and megogo.
Source: advanced television this article is compiled by the future media network
Dataxis: it is predicted that by the end of 2020, the number of smart TV installed devices in Latin America will reach 111 million. Dataxis: as of March 2015, the total number of pay TV subscribers in Brazil will be 19.68 million. Dataxis: as of Q3 2017, the number of global pay TV subscribers will be 1.073 billion Dataxis: nearly 12 million 4K TVs sold in Europe in 2016 Year on year growth of 102% dataxis: by the end of 2017, the installed capacity of global 4K STB will increase to 31 million WitsView: development trend of 2019 TV market DisplaySearch: it is estimated that the global 4K / UHD TV market will ship 12.3 million units in 2014. Nielsen.com: Six Trends of TV market in 2015. Ovi cloud: November 2018 Ott large screen user behavior monthly report (with download) Ovi interactive: June 2020 Ott large screen user behavior monthly report (with download) research: European pay TV executives support Ott integration
If you want to get the full report, you can contact us by leaving us the comment. If you think the information here might be helpful to others, please actively share it. If you want others to see your attitude towards this report, please actively comment and discuss it. Please stay tuned to us, we will keep updating as much as possible to record future development trends.
RecordTrend.com is a website that focuses on future technologies, markets and user trends. We are responsible for collecting the latest research data, authority data, industry research and analysis reports. We are committed to becoming a data and report sharing platform for professionals and decision makers. We look forward to working with you to record the development trends of today's economy, technology, industrial chain and business model.Welcome to follow, comment and bookmark us, and hope to share the future with you, and look forward to your success with our help.