Life data
About 3 million masks are thrown away every minute around the world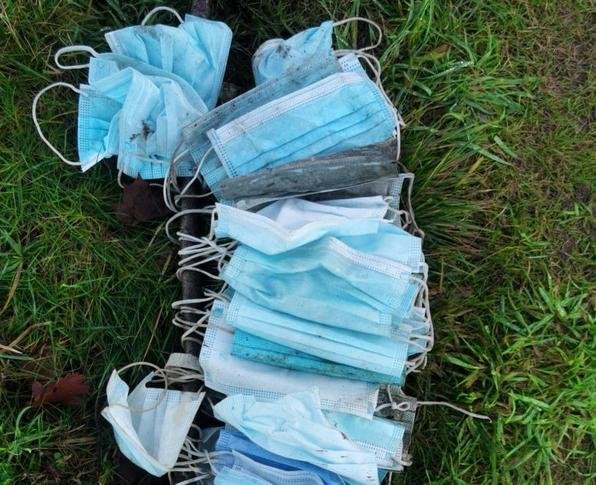 The following is the About 3 million masks are thrown away every minute around the world recommended by recordtrend.com. And this article belongs to the classification: Life data.
Three million masks are thrown away every minute on earth. Researchers warn that many masks eventually become carriers of potentially toxic micro nano plastics or other toxic substances in the environment. Recent studies have estimated that we use a staggering 129 billion masks worldwide each month, that is, 3 million masks are discarded per minute, most of which are disposable masks made of plastic microfibers.
Commenting in the science journal frontier of environmental science and engineering, the researchers warned: "with more and more reports about improper handling of masks, there is an urgent need to recognize this potential environmental threat and prevent it from becoming the next plastic pollution problem.".
The researchers are Elvis genbo Xu, an environmental toxicologist from the University of Southern Denmark, and Zhiyong Jason Ren, a professor of civil and environmental engineering at Princeton University.
Disposable masks are plastic products, which can not be easily biodegradable, but may break into smaller plastic particles, that is, micro plastic and nano plastic widely existing in the ecosystem. The huge production scale of disposable masks is similar to plastic bottles. However, unlike plastic bottles, most of which are recycled, there are currently no official guidelines for mask recycling, making it more likely to be treated as solid waste, the researchers wrote.
If not recycled, disposable masks, like other plastic wastes, may eventually enter the environment, freshwater systems and the ocean, where weathering causes discarded masks to produce a large number of tiny particles (less than 5 mm) in a relatively short period of time (a few weeks) and further break into nano plastics (less than 1 micron).
"A bigger problem is that the mask is made directly from micro sized plastic fibers (about 1 to 10 microns thick). When decomposed in the environment, masks may release more micro plastics, which is easier and faster than bulk plastics such as plastic bags. " The researchers said.
"This effect may be exacerbated by the new generation of masks – Nano masks, which directly use nano sized plastic fibers (less than 1 micron in diameter), adding new sources of nano plastic pollution."
The researchers stressed that they do not know how masks cause large amounts of plastic particles detected in the environment because there is no natural data on mask degradation But we know that like other pieces of plastic, disposable masks can accumulate and release harmful chemical and biological substances, such as bisphenol A, heavy metals and pathogenic microorganisms. These may have indirect adverse effects on plants, animals and humans. " Xu Genbao said.
What can we do?
Set up a special garbage can for masks to collect and dispose garbage.
We should consider standardizing and standardizing the mask waste and strictly implement the waste management.
Use reusable masks such as cotton masks instead of disposable masks.
Consider the development of new biodegradable mask technology.
More reading from cnBeta: Ali Research Institute, Beijing masks consumption accounted for the national 1/6 health consumption escalation, fan N99 electric mask to help protect New Coronavirus filter level 360 degrees high, prevent the emergence of new coronavirus outbreak or alleviate some of the reemployment staff without medical masks how to protect the resumption of mobile devices. China Merchants Securities: in depth analysis of raw materials in the whole mask industry chain (attached with download) General Administration of Customs: export of epidemic prevention materials has increased significantly. Since March, the export of epidemic prevention materials has exceeded 70 billion yuan, with 73.41 million copies of test kit. Taobao data: Taobao + tmall sells tens of thousands of masks a day China Chamber of Commerce for import and export of medical and health care products: list of manufacturers of medical materials certified or registered by foreign standards (updated on May 18) cbndata: why do we love "Wonder Woman" more? Hualizhi & taipingniao: white paper of Chinese new generation fashion consumption in 2018 NOAA: July 2019 was found to be the hottest month on record. The survey shows that 1 / 4 people suffer from "low power anxiety disorder". National human resources and social security: minimum wage standards for all parts of the country in 2019 Shanghai's highest tuhu car maintenance: report on online maintenance behavior of Chinese car users in 2018 BMJ: replacing potassium salt can save 500000 cardiovascular patients every year
If you want to get the full report, you can contact us by leaving us the comment. If you think the information here might be helpful to others, please actively share it. If you want others to see your attitude towards this report, please actively comment and discuss it. Please stay tuned to us, we will keep updating as much as possible to record future development trends.
RecordTrend.com is a website that focuses on future technologies, markets and user trends. We are responsible for collecting the latest research data, authority data, industry research and analysis reports. We are committed to becoming a data and report sharing platform for professionals and decision makers. We look forward to working with you to record the development trends of today's economy, technology, industrial chain and business model.Welcome to follow, comment and bookmark us, and hope to share the future with you, and look forward to your success with our help.