Life data
Big data of May Day holiday marriage in 2021 From Wedding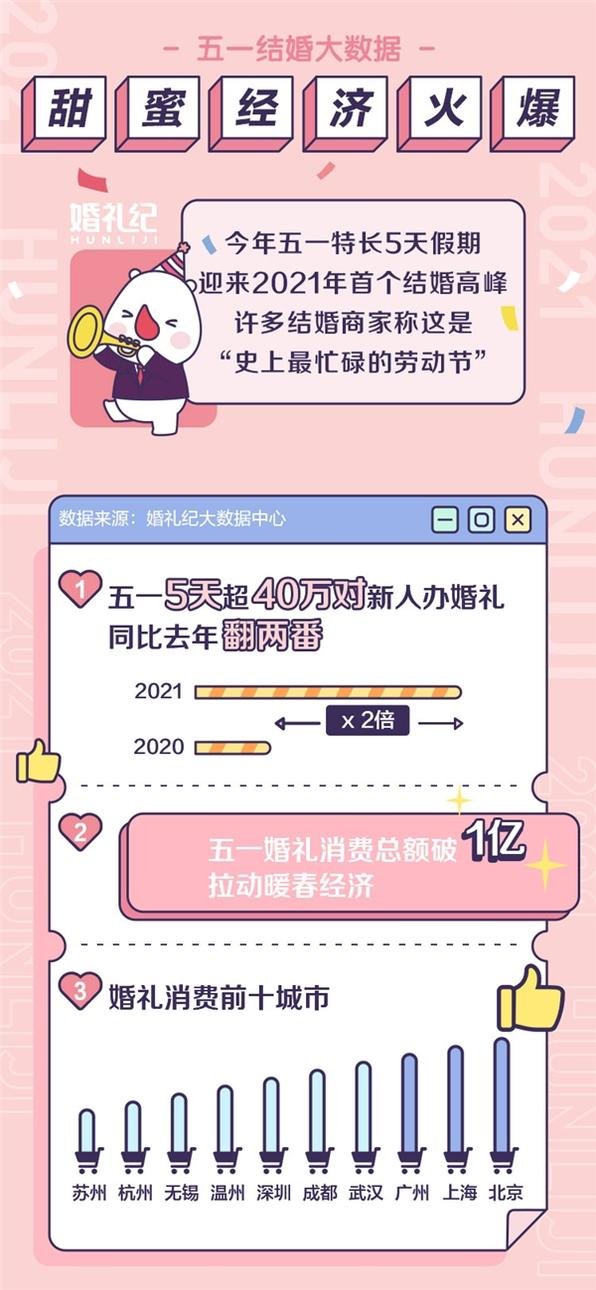 The following is the Big data of May Day holiday marriage in 2021 From Wedding recommended by recordtrend.com. And this article belongs to the classification: Life data.
May Day holiday has become "the busiest labor day in history". Not only travel busy, many couples also choose to hold a wedding in this spring season, a five-day May Day holiday hi mention "marriage Golden Week". On May 6, wedding record, a one-stop marriage service platform, released wedding data during the May Day holiday, which confirmed this phenomenon.
Data show that may day ushers in the first wedding peak in 2021, with more than 400000 couples holding weddings in five days, quadrupling the number of weddings held last year. The total consumption of May Day Wedding exceeded 100 million, which promoted the warm spring economy to a certain extent. The top ten cities for wedding consumption are Beijing, Shanghai, Guangzhou, Wuhan, Chengdu, Shenzhen, Wenzhou, Wuxi, Hangzhou and Suzhou.
(wedding data chart of May Day holiday)
May Day holiday is full of weddings and hotels
This year, the May Day holiday has been extended, the weather is very good, the day is auspicious, and the domestic epidemic situation has been effectively controlled, so the market situation of marriage consumption is very prosperous in the peak season.
Wedding May Day Wedding data show that, during the May Day holiday, hotel wedding banquet reservation is hot, and 97% of the wedding banquet hotel bookings are full. The consulting volume of wedding hotels in the Yangtze River Delta city with Shanghai as the center increased by 312% year on year. Shanghai's wedding banquet consumption seems to be a bit entrenched. The price is concentrated in 6000-8000 yuan / table, which exceeds the price range of 3000-5000 yuan / table for 60% of the wedding banquet consumption in China.
(wedding data chart of May Day holiday)
"May Day is very busy, our hotel schedule is full, and all the new couples are scrambling to get married on this good day." "The whole may is the golden month of marriage. So far, nearly 700 weddings have been received, which is several times that of the same period last year," Zhu Lin, who is in charge of Shanghai Bund maoyue Hotel, told reporters
Cherry, who is in charge of Shanghai Gloria high-end wedding hall, a wedding business, also said, "a lot of new couples in Shanghai start to make appointments six months to one year in advance, and there are still many lists that we can only arrange in the second half of the year." He also said that for fast-paced Shanghainese, they prefer wedding halls, which can save a lot of time and energy.
Cao Zhonghua, director of the wedding culture industry development committee of the Chinese Traditional Culture Promotion Association and honorary president of the Shanghai Wedding Association, said: "the advantage of the wedding hall (wedding hall) is that it has multiple theme wedding arrangements, which can let the new couple" what they see is what they get ", eliminating the uncertainty of the day's construction. And the wedding hall can also save a lot of worry, so more than half of the married couples in Shanghai prefer to choose the wedding hall. "
"I'm going crazy. More than 150 weddings were held on May 15, and there were 60 weddings on the first day. At this time last year, there were only single digit weddings. This year, our employees worked overtime to build the venue overnight." Zhao Jiajia, deputy general manager of the wedding ceremony of sunny Xipu, a wedding merchant, said in an interview that not only the merchants are busy, but also the newlyweds are very busy. The newlyweds of generation Z are used to online consultation, live order and other Internet forms for wedding consumption, which saves the time of offline travel.
"As the post-95s have gradually become the main group of married people, there is a new trend in wedding consumption, with the separation of" wedding "and" eating. " According to Ni Ming, the founder of Jiangnan wedding planning, the wedding ceremony is usually a "small and beautiful" wedding held outdoors with close friends, friends and relatives. And dinner is parents' relatives, friends, colleagues, etc., in the hotel to celebrate, even new people do not need to be present. This meets the needs of both parents and new couples.
Indeed, wedding records show that lawn wedding, lakeside wedding, swimming pool wedding, Party Wedding and B & B wedding are the top 5 favorite wedding forms of the post-95 generation.
Travel in wedding dress Wuhan ranks first in the growth of orders
Warm May is the best time to take wedding photos. Due to the fact that the spread of the epidemic in foreign countries has not yet slowed down and the restrictions on overseas travel photography, the order volume of domestic travel photography has soared, up 219% year on year.
(wedding data chart of May Day holiday)
Wu Feng, the person in charge of the wedding business tiramisu global travel photography, said that this year's may day orders increased 1-2 times compared with the previous year, and 3-4 times compared with last year. At present, all overseas travel photography has been suspended, and the company has carried out more upgrades to the R & D of domestic travel photography products and routes to meet the diversified travel photography needs of new people.
He said that after the epidemic, young people's marriage consumption is more rational. Wedding record data show that 69% of the couples prefer to choose the mid-range range of 5000-6000 yuan in terms of travel package consumption.
"In terms of shooting location, the studio and local location can no longer meet the needs of this generation of new people, and the travel photography that pays more attention to real experience has become the shooting choice of more new people.". Wu Feng said that more and more post-95s tend to choose travel photography, playing while shooting, which can leave good memories and make their feelings warm up.
Indeed, the post-90s CICI, who works in Hangzhou, said: "originally, I wanted to go to Bali. Later, due to the epidemic situation abroad, I moved to Sanya. I just took advantage of the May Day holiday and wanted to take pictures while playing. So I plan to play in Sanya for five days. Three days is for wedding photos, and the other two days are for Sanya. By the way, I can have a show in the" circle of friends photography competition. "
Sanya, known as "Hawaii of the East", has always been the most popular tourist destination in China, followed by Chengdu, Xiamen, Lijiang, Qingdao, Wuhan, Chongqing, Lhasa, Dalian and Hong Kong. Wuhan, the hero city, ranks first in terms of the increase in the number of tourist orders. More newcomers choose to record the most beautiful moment in Wuhan after the epidemic, such as yellow crane tower, Yangtze River Bridge and cherry blossom trees, and complete a "dream trip".
Master of ceremonies hosts 9 weddings in 5 days Guangzhou bride makes 100000 yuan in 5 days
During May Day, in addition to weddings, hotels were full, and four King Kong including master of ceremonies, makeup, camera and photography were also very busy.
Data show that the four King Kong's trading volume increased by 12% year on year, and the MC's booking volume was the most tight, up 211% year on year. Xiaodong, a person in charge of a Shanghai MC company, told reporters that during the May Day holiday, he presided over every wedding every day" A gold medal emcee presided over nine weddings in five days, and three weddings on the busiest day. "
(wedding data chart of May Day holiday)
In addition to the emcee, the makeup artist was too busy to collapse. EVA, the makeup artist of Guangzhou's wanghong, and his team are still fighting on the front line at 4:00 a.m. and 5:00 a.m. every day during the holidays. EVA introduces that "although the key point of wedding makeup is bridal makeup, the mother-in-law and mother also need to dress up carefully, and the groom is more and more particular about it. During the whole wedding, they have to mend makeup constantly, and they are too busy to drink water.".
Although she is busy, the income during the holiday also makes EVA happy" Due to the impact of the epidemic, the income of wedding makeup decreased a lot last year, but this holiday earned 100000 in five days, which is equivalent to the income of almost a few months last year. "
When it comes to bridal make-up, with the hit of "sister riding the wind and waves" this year, the sisters who can be salty, salty and sweet are highly sought after. Wedding statistics show that "Lang Jie makeup" is ranked in the top 1 in bride mention rate. At the most important moment of life, every bride hopes to be the heroine shining in the audience. In addition, the natural beauty of "transparent makeup" is also loved by many brides.
Netizens attending the wedding "poverty due to marriage" rush to 6 weddings in 5 days
"Fujian netizens go bankrupt with their members"
It's not only the newlyweds and businesses, but also the people who attend the wedding" Six weddings in five days and "going bankrupt with money" have become hot topics. Many netizens said that they "went back to poverty because of marriage" because of attending weddings.
(wedding data chart of May Day holiday)
As a large number of followers, economically developed and lavish, Fujian people have always been proud of the whole country. According to the statistics of Mr. He from Fujian, he received a total of 10 weddings in the five days before and after the May Day holiday. Because of the time, he only made six weddings and chose to send red envelopes online for the other four" At the end of May Day, almost all the followers spent 50000 yuan to return to pre liberation overnight. According to the data, with the convenience and intelligence of online transactions, the younger generation like Mr. He has chosen to go online with the increase of 61% over the same period of last year, and "one click red packets" can easily convey blessings and human feelings.
"It's hard to find bridesmaids, but rent bridesmaids service"
On a good day, bridesmaids have become very popular… How difficult is it to find bridesmaids at this year's wedding peak? After investigation, the reporter found that the difficulty of finding bridesmaids has become a big problem for many prospective couples to get married. A girl from Hangzhou has been a bridesmaid for five times in a row. She is a friend, a cousin, and even a colleague with a normal relationship. "They all say that bridesmaids can't be more than three times. After five times in a row, can I still get married?" after the wedding, the girl teased herself in her circle of friends.
It's hard to find bridesmaids, which gives birth to the service of renting bridesmaids. The reporter found that the topic of renting bridesmaids on May Day ranked top 5 in the community. In the comments area, there are various kinds of bridesmaids posts: "I'm anxious for a sister Bridesmaid in Hangzhou", "help, there's still one Bridesmaid left, so I can't find anyone else", "in order to get together four bridesmaids, I've already pulled my 12-year-old niece"
"The bridegroom cries when he can't rent a wedding car"
What is the experience of not renting a wedding car? Mr. Wang of Xi'an is deeply aware of it" I called in mid April to inquire about the wedding car service. At that time, the merchants told me that the popular models, such as Porsche, Rolls Royce and Bentley, had already been fully reserved, and only some domestic cars could be rented. ".
Mr. Wang told reporters that he had promised his girlfriend that when he got married, he would arrange a luxurious motorcade to marry her. But now he can't rent a car, and he can't afford to buy it. His girlfriend has quarreled with him about it. In the end, I had no choice but to rent Rolls Royce at a high price, so the wedding was held smoothly.
In this regard, the reporter interviewed Zhang Feng's wedding car, a business in Xi'an. The relevant person in charge said that the May Day order is much more than usual, even than last year's national day, renting 30-40 groups a day on average, and the popular models have been fully reserved in early April.
On the one hand, it is difficult to book popular wedding cars, and on the other hand, due to the diversified demand for new couples, domestic cars and new energy wedding cars have become new luxury, with the rental rate rising by 11%.
"Gold price rises, 37% of brides give up" three gold "due to high gold price"
"No three gold, no marriage.". Many places have the custom of buying "three gold", which is given to the bride by the bridegroom's family, representing the importance of the husband's family to the bride. However, affected by the rise of international gold prices, the prices of gold jewelry in domestic gold shops have also been raised repeatedly. In addition, in the peak consumer demand season of May Day golden week, the rise of gold prices has deterred many newcomers.
According to wedding related data, 37% of brides give up "three gold" because of high gold price. Miss Lu, the Chengdu bride who married on May Day this year, resolutely gave up the three gold medals" I don't think it's useful for me to buy three gold medals anyway. After discussion, we only buy a ring when we get married. Cbndata: why do we love wonder woman more? New house e-commerce report: what do employees want most besides money? Hiled: the most popular software engineer in 2019 Python has destroyed 83% of wild animals and half of plants since the birth of human civilization DB engines: in March 2018, the global database ranking MySQL index continued to soar occupational and environmental medicine: research shows that noise increases by 5 dB, waist circumference becomes thicker by 0.21cm Caixin Media & BBD: Yili consumption upgrading index report in May 2018 (attached) Housing cost of 60 square meters in cities around the world national human resources and social security: the highest minimum wage standard in Shanghai in 2019 shows that 1 / 4 people suffer from "low electricity anxiety disorder". In China, it is not enough to focus on one health right. PNAs: people who love to make friends are more likely to live a long life WTW: 2017 global welfare survey report (download attached)
If you want to get the full report, you can contact us by leaving us the comment. If you think the information here might be helpful to others, please actively share it. If you want others to see your attitude towards this report, please actively comment and discuss it. Please stay tuned to us, we will keep updating as much as possible to record future development trends.
RecordTrend.com is a website that focuses on future technologies, markets and user trends. We are responsible for collecting the latest research data, authority data, industry research and analysis reports. We are committed to becoming a data and report sharing platform for professionals and decision makers. We look forward to working with you to record the development trends of today's economy, technology, industrial chain and business model.Welcome to follow, comment and bookmark us, and hope to share the future with you, and look forward to your success with our help.