Life data
By 2020, 30% of college students in China will fail in physical health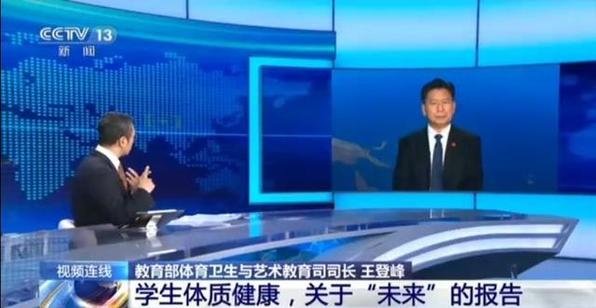 The following is the By 2020, 30% of college students in China will fail in physical health recommended by recordtrend.com. And this article belongs to the classification: Life data.
According to CCTV news reports, by 2020, 30% of college students in China have failed in their physical health, and the most important factor is "laziness". Recently, a survey on the physical health of more than 1.15 million students shows that the "failure rate" of students' physical health in China is basically on the decline, but the data related to eyesight and obesity are on the rise.
By 2020, the National Students' failing rate of physical health is 6.5% for primary school students, 14.5% for junior high school students, 11.8% for senior high school students and 30% for college students. Why is there such a change? Wang Dengfeng, director of the Department of sports, health and art education of the Ministry of education, said that the physical health level of primary school students is the highest. Compared with high school, junior high school and even primary school, universities have a significant decline. This is related to the length of schooling or education policy. Primary school students do not have any pressure to go to school. They enter school nearby at the beginning of primary school, and there is no need to hold entrance examination and upgrade examination. Therefore, quality education is promoted in primary schools, students develop in an all-round way, curriculum arrangement is not so tense, and the pressure on homework is relatively small, So primary school students can have more time for physical exercise and other activities.
From junior high school to senior high school, the learning pressure is further increasing. In addition, many people may not have formed a good and healthy lifestyle and exercise habits, so the burden of schoolwork is heavier, coupled with the pressure of entering a higher school, their physical health level will decline significantly.
In people's expectation, college students should have more time for physical exercise or participate in various activities to improve their comprehensive quality.
But the actual situation is, on the one hand, only freshmen and sophomores have college physical education, and there is no very clear goal; On the other hand, because the life interest of college students is more colorful, many people will be more attracted by their studies or other things, and the participation in physical exercise and sports competition is very little. This may be the reason for the further decline in the level of physical health after the University.
As for this solution, Wang Dengfeng pointed out that the first requirement is to have a good class and at the same time fully guarantee the activity time. In this way, although the teachers are not so professional, the school can also organize some related sports to teach according to local conditions, and encourage local traditional sports to be introduced into the school physical education classroom. The main thing is to ensure that children can learn one or two special sports skills, while ensuring their physical education and physical exercise time. This is a hard target. We hope that schools around the country will strengthen supervision and take the implementation as an important indicator for the assessment of schools, principals and local education administrative departments.
It is reported that the state and the Ministry of education encourage all localities to formulate a three-year action plan to strengthen school physical education teachers, and strive to basically meet the needs of school physical education teaching during the "14th five year plan", which is a rigid requirement. At present, various localities are also adjusting measures to local conditions and have put forward a lot of corresponding solutions. Some local governments have specially set up business establishment, and the government will purchase services, hire physical education teachers, and then assign them to various schools.
At the same time, people from all walks of life are encouraged to participate in the work. We should take a multi pronged approach to ensure that school physical education and students' physical exercise can be carried out on time.
In addition, mental health problems are very similar to the influencing factors of physical health. If a person is sedentary, overloaded with schoolwork, and does not have enough time for physical exercise, he will not only have physical problems, but also mental problems. Therefore, when we say "one increase and one decrease", it is equally important to increase the time of physical education and physical exercise, enhance students' art practice activities and labor education for improving students' mental health.
Cbndata: why do we love wonder woman more? NOAA: July 2019 was found to be the hottest month on record. National human resources and social security: minimum wage standards across the country in 2019, Shanghai's highest tuhu car maintenance: report on online maintenance behavior of Chinese car users in 2018. The survey shows that 1 / 4 people suffer from "low battery anxiety disorder" in China, Caixin Media & BBD: Yili consumption upgrading index report in May 2018 (with download) WTW: 2017 global welfare survey report (with download) yuanzhuo: insight into China's daily chemical consumer goods industry (with download) PNAs: people who love to make friends, World Meteorological Organization: 2020 or one of the hottest years on record
If you want to get the full report, you can contact us by leaving us the comment. If you think the information here might be helpful to others, please actively share it. If you want others to see your attitude towards this report, please actively comment and discuss it. Please stay tuned to us, we will keep updating as much as possible to record future development trends.
RecordTrend.com is a website that focuses on future technologies, markets and user trends. We are responsible for collecting the latest research data, authority data, industry research and analysis reports. We are committed to becoming a data and report sharing platform for professionals and decision makers. We look forward to working with you to record the development trends of today's economy, technology, industrial chain and business model.Welcome to follow, comment and bookmark us, and hope to share the future with you, and look forward to your success with our help.