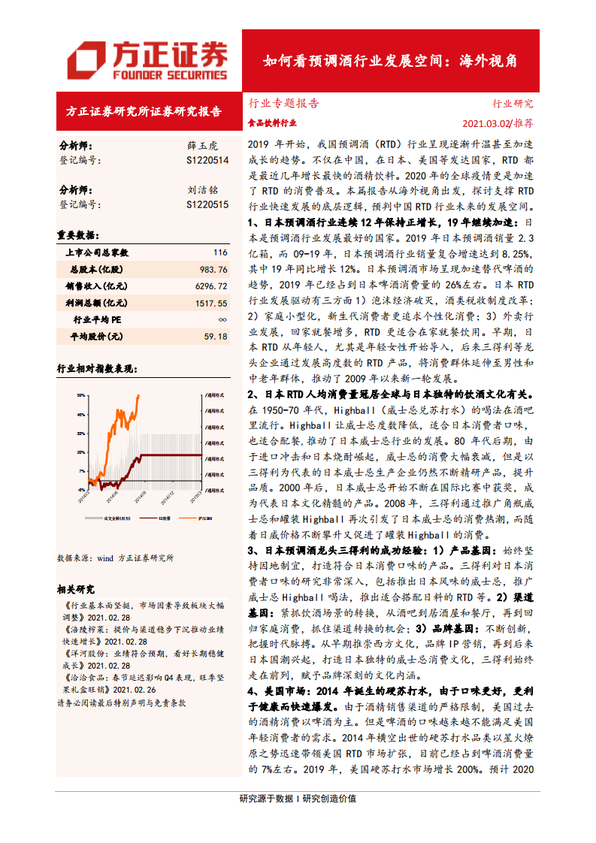 The following is the How to see the development space of premix industry From Founder Securities recommended by recordtrend.com. And this article belongs to the classification: Securities report, Life data.
Since 2019, China's pre mixed liquor (RTD) industry has shown a trend of gradual warming and even accelerated growth. Not only in China, but also in Japan, the United States and other developed countries, RTD is the fastest growing alcoholic beverage in recent years. The global epidemic in 2020 has accelerated the popularization of RTD consumption. From an overseas perspective, this report explores the underlying logic supporting the rapid development of the RTD industry, and predicts the future development space of China's RTD industry.
1. Japan's premix industry has maintained a positive growth for 12 consecutive years, and continued to accelerate for 19 years: Japan is the country with the best development of premix industry. In 2019, the sales volume of premixed liquor in Japan was 230 million cases, while in 2009-19, the compound growth rate of sales volume of premixed liquor industry in Japan reached 8.25%, with a year-on-year growth rate of 12%. Japan's Premixed liquor market is accelerating the trend of replacing beer, accounting for about 26% of Japan's beer consumption in 2019. There are three aspects in the development of RTD industry in Japan: 1) the bubble economy is broken, the liquor tax system is reformed; 2) the family is miniaturized, and the new generation consumers are pursuing personalized consumption; 3) the development of the takeaway industry and the increase of home meals, RTD is more suitable for eating at home. In the early days, Japan's RTD began to be introduced from young people, especially young women. Later, Suntory and other leading enterprises extended the consumer groups to men and middle-aged and elderly groups by developing high-level RTD products, which promoted a new round of development since 2009.
2. Japan's per capita consumption of RTD is the highest in the world, which is related to Japan's unique drinking culture. In the 1950s and 1970s, highball was popular in bars. Highball reduces the degree of whisky, which is suitable for Japanese consumers' taste and catering, and promotes the development of whisky industry in Japan. In the late 1980s, due to the impact of imports and the rise of Japan, whisky consumption declined significantly. However, the whisky manufacturers in Japan, represented by Suntory, continued to research their products and improve their quality. After 2000, Japanese whisky began to win awards in international competitions and became a product representing the essence of Japanese culture. In 2008, Suntory once again triggered the consumption boom of Japanese whisky by promoting the corner bottle whisky and canned highball. With the rising price of Nippon whisky, the consumption of canned highball was promoted.
3. The successful experience of Suntory, the leader of premixed liquor in Japan: 1) product gene: always adhere to suit measures to local conditions, and create products that meet the taste of Japanese consumers. Suntory's research on Japanese consumers' taste is very in-depth, including the introduction of Japanese style whisky, the promotion of whisky highball drinking method, and the introduction of RTD suitable for matching with Japanese materials. 2) Channel gene: pay close attention to the change of drinking scene, from bar to tavern and restaurant, to return to family consumption, seize the opportunity of channel change; 3) brand gene: keep innovating, grasp the pulse of the times. From the early praise of western culture and brand IP marketing to the rise of Japan's national trend to create a unique whisky consumption culture in Japan, Suntory has always been in the forefront, giving the brand a profound cultural connotation.
4. U.S. market: hard Suda water, which was born in 2014, has a better taste and is more conducive to health. Due to the strict restriction of alcohol sales channels, beer was the main alcohol consumption in the United States in the past. But the taste of beer is increasingly unable to meet the needs of young consumers in the United States. In 2014, the category of hard soda, which was born in the sky, rapidly led the expansion of RTD market in the United States with a single spark, and now accounts for about 7% of beer consumption. In 2019, the us hard Soviet water market will grow by 200%. It is expected to continue to double in 2020. Due to its low calorie, gluten free and innovative brewing method, hard Suda is popular among consumers. Among them, white claw has become a phenomenal product, established its brand in 2016, and its retail sales will exceed US $2 billion in 2020. Boston Beer is also popular in the capital market because of the rapid growth of its truly soda.
5. Five major factors jointly promote China's premix industry to enter the outbreak period, with a market capacity of at least 25 billion to 40 billion. There are few kinds of alcohol in China, and the drinking occasions are mainly for social and business purposes. The demand for easy drinking and happy drinking has not been fully met. With the development of China's economy and the emergence of new consumer groups, the drinking structure will inevitably tend to be diversified: 1) the post-90s who grew up drinking drinks begin to drink, pursue more individuality and freedom and equality, and are more likely to accept the cross-border products of wine and drinks; 2) the progress of production technology makes it possible to have good and easy to eat RTD products; 3) with the development of network technology, home scenes become more and more, Premixed wine is most suitable for family consumption; 4) women's awareness of consumption is awakened, and they are no longer worried about the pressure of public opinion; 5) new media and new channels help premixed wine to be popularized faster. According to the development of premixed liquor market in Japan and the United States, we estimate that the lower limit of development space of China's RTD industry is at least 25 billion to 40 billion.
If you want to get the full report, you can contact us by leaving us the comment. If you think the information here might be helpful to others, please actively share it. If you want others to see your attitude towards this report, please actively comment and discuss it. Please stay tuned to us, we will keep updating as much as possible to record future development trends.
RecordTrend.com is a website that focuses on future technologies, markets and user trends. We are responsible for collecting the latest research data, authority data, industry research and analysis reports. We are committed to becoming a data and report sharing platform for professionals and decision makers. We look forward to working with you to record the development trends of today's economy, technology, industrial chain and business model.Welcome to follow, comment and bookmark us, and hope to share the future with you, and look forward to your success with our help.