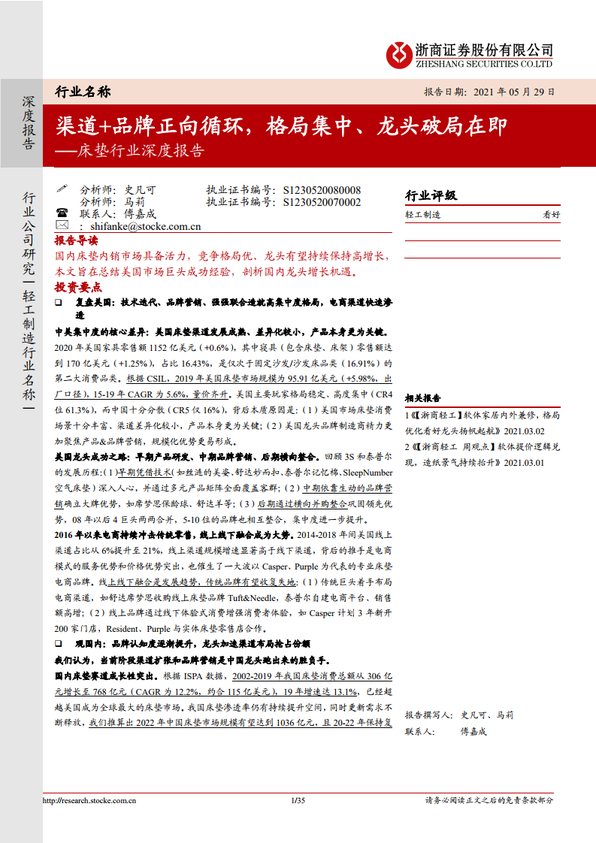 The following is the In depth report of mattress industry in 2021 From Zhejiang securities recommended by recordtrend.com. And this article belongs to the classification: Brokerage Report, Life data.
The core difference of concentration between China and the United States: the mattress channel in the United States is mature and less differentiated, and the product itself is more critical. In 2020, the retail sales of furniture in the United States reached US $115.2 billion (+ 0.6%), of which the retail sales of bedding (including mattress and bedstead) reached US $17 billion (+ 1.25%), accounting for 16.43%, which is the second largest consumer category after fixed sofa / sofa bed category (16.91%). According to CSIL, the market scale of American mattresses in 2019 was US $9.591 billion (+ 5.98%, factory caliber), and the CAGR in 15-19 years was 5.6%, with both volume and price rising. The main players in the United States are stable and highly concentrated (61.3% of Cr4), while China is very scattered (only 16% of Cr5). The underlying reasons are: (1) the mattress consumption scene in the United States market is very rich, the channel differentiation is small, and the product itself is more critical( 2) American leading brand manufacturers focus more on products & brand marketing, and large-scale advantages are easier to form.
The road to success of American leaders: early product R & D, medium-term brand marketing and later horizontal integration. Review the development process of 3S and tepur: (1) in the early stage, it was deeply rooted in the hearts of the people with technology (such as Silian's beauty, Shuda Miaoer buckle, tepur memory cotton and sleepnumber air mattress), and fully covered the customer base through a diversified product matrix( 2) In the medium term, we rely on vivid brand marketing to establish major brand advantages, such as Simmons bowling, Shuda sheep, etc( 3) In the later stage, the leading advantage was consolidated through horizontal M & A integration. After 2008, the four giants merged in pairs, and the brands of 5-10 were integrated with each other, further improving the concentration.
Since 2016, e-commerce has continued to impact traditional retail, and online and offline integration has become a general trend. From 2014 to 2018, the proportion of online channels in the United States increased from 6% to 21%. The growth rate of online channel scale was significantly higher than that of offline channels. The driving force behind it was the prominent service and price advantages of e-commerce model, which also gave birth to a large wave of professional mattress e-commerce brands represented by Casper and purple. Online and offline integration is the development trend, and traditional brands are expected to recover their lost ground: (1) traditional giants begin to layout e-commerce channels, such as Shuda Simmons's acquisition of online mattress brand tuft & needle, tepur's self built e-commerce platform and high sales growth( 2) Online brands enhance consumer experience through offline experiential consumption. For example, Casper plans to open 200 new stores in three years, and resident and purple cooperate with physical mattress retail stores.
At home: the brand awareness is gradually improving, and the leader accelerates the channel layout to seize the share. We believe that channel expansion and brand marketing are the winners and losers of China's leaders at the current stage.
The growth of domestic mattress track is outstanding. According to ISPA data, from 2002 to 2019, China's total mattress consumption increased from 30.6 billion yuan to 76.8 billion yuan (CAGR was 12.2%, about 11.5 billion US dollars), with a growth rate of 13.1% in 19 years, surpassing the United States to become the world's largest mattress market. China's mattress penetration still has room for continuous improvement, and the renewal demand is constantly released. We calculate that the scale of China's mattress market is expected to reach 103.6 billion yuan in 2022, and maintain a compound growth rate of more than 10% in 20-22 years. In the short term, the real estate cycle also forms a catalyst: the 21-year completion boom is expected to run through the whole year, and the mattress will not be impacted by hardcover, and retail will benefit the most.
Domestic sales competition pattern: the national brand will develop brand marketing & channels, and the share will be further concentrated to the leader. According to Pan home network, the total number of six domestic brand stores of mousse, Xilinmen, Gu Jia, zhihuashi, mengbaihe and Suibao in 14 / 17 / 19 was 5242 / 8004 / 11393 respectively, and the total number of stores of 3S + jinke'er in the same period was 668 / 2330 / 2925. Domestic brands have significantly led in network density, and the share of leading listed brands of Xilinmen, Minhua, Gu Jia and mengbaihe continued to increase. In the follow-up, we are optimistic that the share will continue to focus on the leader: (1) with the rising trend of consumption upgrading, consumers' requirements for the quality and quality of mattress products are improved, and the brand effect is becoming more and more important( 2) Compared with customized furniture and other furniture, mattress products have stronger standardized and large-scale attributes, and the large-scale advantages of leading enterprises are gradually emerging( 3) During the 20-year epidemic, a large number of small and medium-sized brands broke their capital chains and accelerated their withdrawal from the market, and high-quality store resources were preempted by the leaders.
Product side: the degree of differentiation is small, the leading extension price belt covers more customers, intelligent sleep or a new outlet in the next 3-5 years.
Qudaoduan: (1) offline leading high-speed stores, dealers prefer big brands, and muse added an average of 540 stores every year from 14 to 19 years; Xilinmen has an average annual net increase of 535 in 16-20 years, and plans to add 800-1000 in 21 years. With the resources of high-quality large dealers and the location of high-quality stores in Ka stores being preempted by large brands, it will be very difficult for small brands to rise later( 2) The e-commerce channel leader is growing rapidly, Xilinmen is far ahead (the total turnover of double 11 in 20 years is 720 million, and the second is mousse 250 million). It has won the first sales of mattresses on tmall platform for three consecutive years and the first sales of Jingdong and Suning mattresses for six consecutive years. At the same time, the e-commerce team is excellent and is expected to develop mattresses, which is worthy of attention. Brand side: marketing activities are deeply rooted in the hearts of the people, and the influence of domestic brands continues to improve.
Export channels: the impact of anti-dumping is differentiated. Minhua (mattress) and Xilinmen (independent brands account for more than 60%) with a high proportion of domestic sales are expected to be less affected.
Impact of raw material price increase: the leaders have carried out price increase measures one after another, which can basically hedge the impact of most raw material price increases. Considering that the company has stock of raw materials and the lack of motivation for the continuous price increase of subsequent raw materials, it is expected to fall back. We are optimistic about the stability of the profitability of the leaders.
If you want to get the full report, you can contact us by leaving us the comment. If you think the information here might be helpful to others, please actively share it. If you want others to see your attitude towards this report, please actively comment and discuss it. Please stay tuned to us, we will keep updating as much as possible to record future development trends.
RecordTrend.com is a website that focuses on future technologies, markets and user trends. We are responsible for collecting the latest research data, authority data, industry research and analysis reports. We are committed to becoming a data and report sharing platform for professionals and decision makers. We look forward to working with you to record the development trends of today's economy, technology, industrial chain and business model.Welcome to follow, comment and bookmark us, and hope to share the future with you, and look forward to your success with our help.