Box office data
Life data
In February 2021, China's box office exceeded 12.2 billion, a record high From Lighthouse professional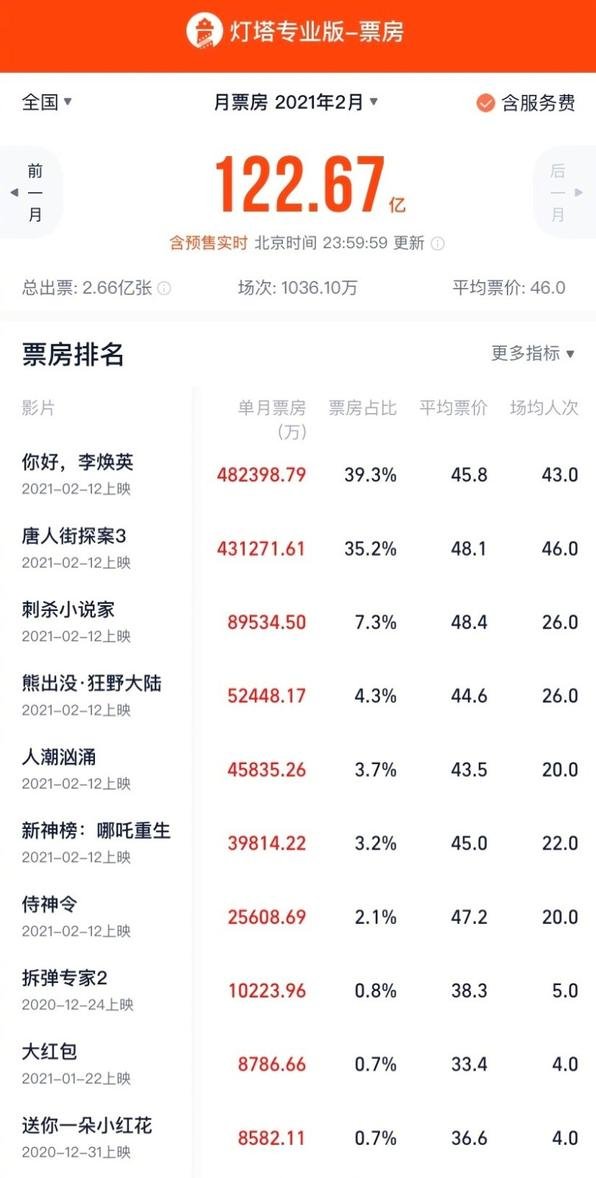 The following is the In February 2021, China's box office exceeded 12.2 billion, a record high From Lighthouse professional recommended by recordtrend.com. And this article belongs to the classification: Life data, Box office data.
Recently, according to the data of Lighthouse professional edition, the box office in February 2021 totaled 12.267 billion yuan, an increase of 1.1 billion yuan compared with the highest monthly box office record in the mainland set in February 19, a new record for the global market in a single month, about US $500 million higher than the highest monthly record in North America.
Except for the special year 2020, the box office of China's film market in February over the years is as follows: 11.163 billion yuan in 2019, 10.147 billion yuan in 2018 and 6.17 billion yuan in 2017. The box office in February 2021 increased 270% month on month, much higher than that in January (3.329 billion yuan).
In February, there were 266 million viewers, the same as in the same period of 18 years. The top three monthly tickets are "Hello, Li Huanying", which has a box office of 4.823 billion yuan, "Chinatown detective 3", which has a box office of 4.312 billion yuan, and "assassinating novelist", which has a box office of 895 million yuan.
In February this year, there were 266 million viewers, 10.361 million shows, and the average ticket price was 46 yuan. In February 2019, there will be 262 million person times, 10.5137 million shows and an average ticket price of 42.5 yuan. This may mean that the film market is recovering. Not long ago, the strongest Spring Festival Show in history ended with a box office of 7.8 billion yuan. In 2021, the box office of China's film market exceeded 10 billion, 230 days earlier than that in 2020.
Read more: National Film Funding office: in 2020, the box office of mainland China will reach 20.274 billion and 549 million person times. Cat's eye: in February 2021, the box office of China will reach 11.164 billion yuan, a record. In the 13th week from March 28 to April 3, 2016, the box Office of China will exceed 750 million yuan The average monthly box office exceeds 1.4 billion yuan. Ali film: China's box office will exceed 60 billion yuan in 2018. State film administration: China's total box office will reach 32.03 billion yuan in the first half of 2018, with a year-on-year growth of nearly 18%. Cat's eye: as of August 2019, China's total box office will exceed 40 billion yuan. Lighthouse Research Institute & poisonous eyes: it is estimated that the box office will reach 20 billion yuan in 2020 About 30% of last year's Lighthouse data: as of December 30, the annual box office has exceeded 20 billion yuan. Yien Consulting: it is estimated that China's box office revenue will exceed 16 billion yuan in 2016. Qingyiannian will reach the top of the hot list for five consecutive days, with good reputation and high exposure. Beijing Municipal Bureau of culture: Beijing's box office revenue exceeded 1.7 billion yuan in 2017. Office: May 9-15, 2016. National box office weekly: January June 15, 2015 On July 18, 2015, the national box office output reached 435 million yuan
If you want to get the full report, you can contact us by leaving us the comment. If you think the information here might be helpful to others, please actively share it. If you want others to see your attitude towards this report, please actively comment and discuss it. Please stay tuned to us, we will keep updating as much as possible to record future development trends.
RecordTrend.com is a website that focuses on future technologies, markets and user trends. We are responsible for collecting the latest research data, authority data, industry research and analysis reports. We are committed to becoming a data and report sharing platform for professionals and decision makers. We look forward to working with you to record the development trends of today's economy, technology, industrial chain and business model.Welcome to follow, comment and bookmark us, and hope to share the future with you, and look forward to your success with our help.