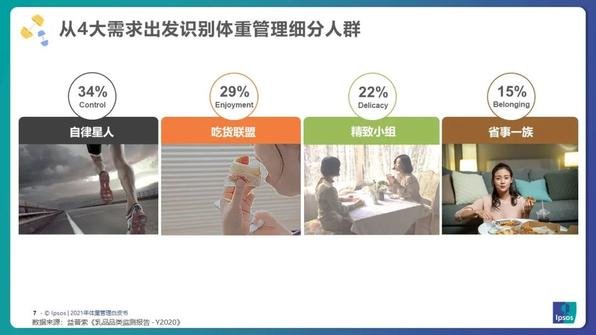 The following is the New trend of weight management, dairy products help new trend of weight management From Ipsos recommended by recordtrend.com. And this article belongs to the classification: Life data, Ipsos.
In recent years, consumers' health awareness has increased, and the demand for weight management has increased accordingly. According to the white paper on adult health management in China published by Ipsos, the average health concern of consumers will reach 8.72 in 2020. About one-third of consumers said they were very concerned about weight, obesity and figure.
Zhong Chuyao, research manager of Ipsos China & new representative of talent training program, was invited to participate in the online Salon of weight management sponsored by the food ingredients exhibition, and released the new trend of weight management in 2021 – dairy products help the new trend of weight management.
At present, weight management presents a trend of younger, with 16-25 years old as the main population. Nearly half of consumers will improve their health by drinking dairy products. Ipsos insight results show that the four emotional needs of weight management are: self-discipline / fat reduction; hi eat / weight reduction; delicacy / health; ease / follow suit. Through these four demands, we can subdivide the crowd of weight management into self-discipline star, foodie alliance, exquisite group and trouble saving group.
Self discipline star
This group of people is characterized by self-discipline, the pursuit of pragmatic and efficient, amateur activities are mainly concentrated in yoga and jogging. They pursue balanced nutrition, high protein, muscle and fat, and require regular health and security.
For example, Yili's high protein low-temperature yoghurt Beihuan focuses on the nutritional needs of consumers one hour before and after exercise, and has high protein and low calorie. Or Jane Eyre 0% sugar yogurt, no sugar, no addition, this kind of pure intake without pressure, is the type of people love.
Foodie Alliance
The foodie alliance is a group of young people who love to eat and play and pursue easy burden reduction. Amateur activities are more focused on surfing the Internet, watching short videos and traveling shopping. For dairy products, they both hope that the products can make them relaxed and happy, but also need to release energy.
Suitable for their needs of dairy products need to be both healthy and low negative, but also have a good taste. For example, siggi's plant-based yoghurt on the market uses pea protein and macadamia as raw materials, with a variety of consumer favorite flavors to meet consumer demands.
Exquisite group
This group is mainly concentrated in women who pay attention to high quality and life ritual. According to Ipsos dairy monitoring report-y2020, quality of life and authority are very important to the exquisite group. They have higher requirements for quality, origin of import, natural ingredients and high quality packaging. Chunzhen and MOSCHINO's co branded yoghurt is highly praised for its genuine ingredients, fashionable packaging and high appearance.
Save trouble
The people who save trouble pay attention to health and family. Their spare time activities mainly focus on cooking dramas, playing games and parties. They have a higher demand for meal replacement, muscle enhancement, convenient and novel packaging, and rich taste levels. For the choice of dairy products, they hope to integrate into the group and express their love and care.
In their choice, they prefer dairy products that can replace dinner. For example, Soylent meal replacement milkshake provides comprehensive nutrition, satiety and convenience; project breakfast liquid breakfast innovates in product form, and its plant-based products and low-carbon water meet the needs of such people for low calorie.
summary
With the rapid rise of a new generation of consumers, their pursuit of delicious, nutritious, healthy and scientific eating habits has brought opportunities for the development of weight management dairy products. According to the precise needs of four types of weight management population, four trends of weight management product development are summarized
For self-discipline star people, it is necessary to highlight the function enhancement, and emphasize the functionality of products through the description of ingredients and efficacy;
For the food alliance, it needs to meet the requirements of both delicious and healthy, not only to express that the product is healthy and light burden, but also delicious;
For the exquisite group, it is necessary to highlight the quality upgrading, which can reflect the quality of the product by adding some rare / exclusive ingredients, and pay attention to the appearance of the packaging;
For the convenience group, it needs to meet the requirements of convenient use, and can reflect the convenience of products through a variety of packaging forms and packaging design.
More reading: Ipsos: 92% of Chinese believe that we have the responsibility to protect the earth Ipsos: global consumer confidence index in October 2019 Ipsos: epidemic trend and its impact on China's medical industry Ipsos: the young generation under the epidemic situation Ipsos: Research Report on the audience of popular advertising slogans in China in 2019 Ipsos: more efforts are needed to achieve gender equality Ipsos & Baidu: 2018 white paper of China's beauty industry Ipsos: 2020 overseas study trend report (with download) Ipsos Google: survey report on smart phone users in Chinese cities
If you want to get the full report, you can contact us by leaving us the comment. If you think the information here might be helpful to others, please actively share it. If you want others to see your attitude towards this report, please actively comment and discuss it. Please stay tuned to us, we will keep updating as much as possible to record future development trends.
RecordTrend.com is a website that focuses on future technologies, markets and user trends. We are responsible for collecting the latest research data, authority data, industry research and analysis reports. We are committed to becoming a data and report sharing platform for professionals and decision makers. We look forward to working with you to record the development trends of today's economy, technology, industrial chain and business model.Welcome to follow, comment and bookmark us, and hope to share the future with you, and look forward to your success with our help.