Life data
The study said that turning attention to accuracy can effectively reduce the misleading of online false information From Nature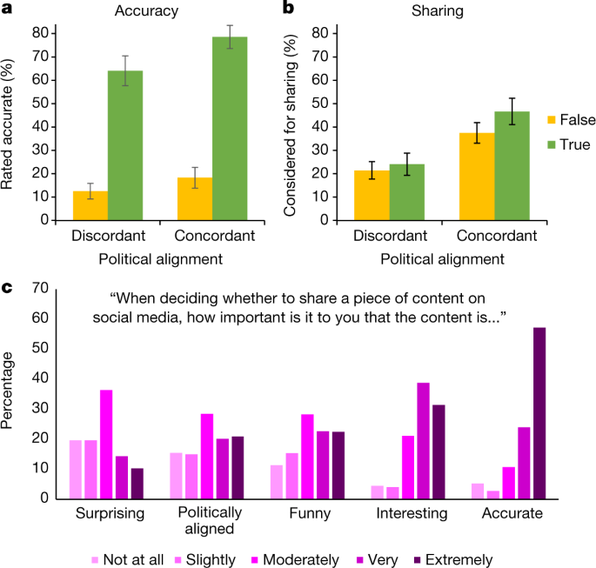 The following is the The study said that turning attention to accuracy can effectively reduce the misleading of online false information From Nature recommended by recordtrend.com. And this article belongs to the classification: Life data.
In recent years, misleading false information has become more and more popular in social media. At the same time, many scholars and practitioners are asking why people are easily induced by such misinformation. The good news is that a research article published recently in nature has deeply explored the causes behind the incident and provided effective solutions on how to reduce false information misleading.
Research chart – 1: users' sharing intention is stronger than the judgment of message accuracy.
A team of international researchers collected a set of headlines and abstracts from news reports shared on social media, and then mixed the clear, correct and false headlines evenly, taking into account the segmentation differences between the supporters of the two parties.
Results after recruiting hundreds to thousands of American volunteers in each group, they found that the experimental data of different groups had certain repeatability, and the performance of the participants was basically the same.
Research chart – 2: enticing test participants to consider the accuracy of news will produce positive guidance for their sharing.
Obviously, people are usually able to judge the accuracy of news headlines. Participants showed a gap of up to 56% between accurate and apparently untrue titles.
Although the mode of thinking of human beings is not perfect and they often make mistakes, their performance in this respect is much more positive.
Research chart – 3: if attention is not focused, the error of information sharing is also higher.
Secondly, ideology does not seem to play a major role in the accuracy evaluation of news headlines. Although people are more inclined to rate titles that are consistent with their political views, the gap is only 10%.
The researchers point out that this is quite noteworthy from both social and statistical perspectives. Unfortunately, in the face of the flood of false information, all walks of life still have a lot of efforts and room for improvement.
Research chart – 4: the accuracy of seeking non political headlines from Twitter users also improved the quality of news sharing.
But when a person is asked if he is willing to share the same story, political orientation plays a bigger role. But the gap between the titles and the actual positions is only 20 percentage points.
For example, in a sensational and false news about illegal immigration, only 16% of the Conservatives in the government respondents would rather believe it, but more than half of them are willing to share it on social media.
Extended data – 1
In general, participants believe that the probability of sharing false headlines consistent with their political orientation is about twice as high as their assessment of news accuracy.
Surprisingly, when asked whether it's important for the same group to share accurate content on social media, the most common answer is "extremely important.".
Extended data – 2
The researchers estimate that partisan positions have as much as 16% influence (half share misinformation). In contrast, less than one-third of the reasons for unrecognized error messages.
Finally, the researchers interviewed more than 5000 real Twitter users. Overall, the quality of news sources shared by these people has improved by 5%, which means that they are 2.8 times more likely to share the content of mainstream news websites.
Extended data – 3: distribution of sharing intention by condition and Title Accuracy
Details of this study have been published in the recently published journal Nature, with the original title of "shifting attention to accuracy can reduce misinformation online".
More reading from cnBeta: Nature: survey shows that one third of doctoral students are likely to be depressed 51% of the respondents plan to escape from nature: to reduce the non repeatability of research, we must solve the temptation of academic fraud. Hot map tells you where users' attention is?? Nature: Top 100 in nature index in 2019 17 Chinese institutions are on the list corocorocoro: the most favorite games for Japanese children in 2020 nature: top universities in mainland China in 2018 top 200 graduate direction and employment salary survey report of Harvard University Graduates in 2019 who: research shows that sweeteners may not be better than sugar health socialized marketing IKEA: global city life report 2015 only 1 / 5 of Shanghai women make up in the morning
If you want to get the full report, you can contact us by leaving us the comment. If you think the information here might be helpful to others, please actively share it. If you want others to see your attitude towards this report, please actively comment and discuss it. Please stay tuned to us, we will keep updating as much as possible to record future development trends.
RecordTrend.com is a website that focuses on future technologies, markets and user trends. We are responsible for collecting the latest research data, authority data, industry research and analysis reports. We are committed to becoming a data and report sharing platform for professionals and decision makers. We look forward to working with you to record the development trends of today's economy, technology, industrial chain and business model.Welcome to follow, comment and bookmark us, and hope to share the future with you, and look forward to your success with our help.