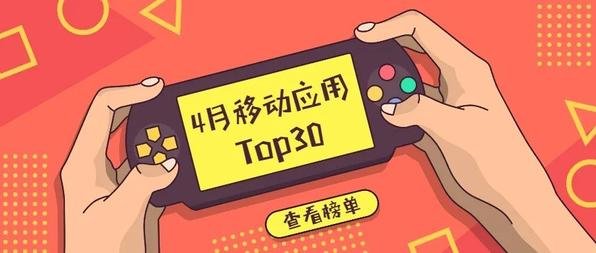 The following is the Top apps in April 2021 From Master cicada recommended by recordtrend.com. And this article belongs to the classification: Mobile applications.
April's app list is fresh. Let's see if the app store market in China is still dominated by Tencent, byte beat, Alibaba and other big companies in April? Is there a "rising star" in the fields of long and short video, social networking and shopping that people are looking forward to?
Top 30 popular apps in April
In April, pinduoduo returned to the top with 6.0799 million downloads, while Tencent's social giant wechat caught up with 5.7142 million downloads. Taobao special edition, which performed well in March and ranked top 3, suffered Waterloo in April, ranking top 12 with only 3084700 downloads. In April, the short video giant "jitter" was always successful in Top3 tiktok.
From the top 30 of the list of downloads, the market pattern that new applications are hard to come out and big companies are hard to shake has not changed. Among them, Tencent still has super traffic products in the fields of social networking, entertainment and music segmentation.
(wechat downloaded 5.7142 million in April)
(4.7021 million downloads in April)
(2.509 million Tencent video downloads in April)
(2.2486 million QQ music downloads in April)
"Mobile Taobao", "Taobao special edition" and "LEIYU" continued to help Ali stay in the first place in the shopping field (although pinduoduo ranked first, it couldn't hold the other party's huge number of people).
(mobile Taobao downloaded 3.7982 million in April)
(3.0847 million downloads of Taobao special edition in April)
(2.2585 million downloads of salted fish in April)
Tiktok tiktok, the 5 million 174 thousand and 700 downloads of the "flick", the 5 million 31 thousand and 400 downloads of the "cut" and the 2 million 695 thousand and 800 downloads of the "flick" are all higher than the 2 million 542 thousand and 100 of the "Kwai".
Of course, if you want to find a surprising app in April, it must be the national anti fraud center. This app, developed by the Criminal Investigation Bureau of the Ministry of public security, not only became the only new app on the list in March, but also continued to be popular in April, ranking 7 places and successfully ranked in the top 10.
(national anti fraud center downloaded 4.2846 million in April)
The "hot" of the "national anti fraud center" cannot be separated from the vigorous publicity of relevant units. Take wenheyou in Shenzhen for example. Due to the hot market of the red square of the website, "wenheyou queuing strategy" has become a major focus of Shenzhen People's attention. In this regard, the police of Luohu just grasped this point, and their anti fraud propaganda adopted "scan the code at the gate of wenheyou, download and register the app of the national anti fraud center, and the police uncle will directly take you to the fast track!", The effect of online transmission is quite good.
Top 30 revenue of popular apps in April
In April, there was little change in the revenue list of popular apps, and no one could shake the gold absorption ability of all kinds of long and short video and social apps. In the top 30 list of APP revenue estimates, there is still no new face.
(slide left and right to see the list)
From the list ranking, the "vibrato", "Tencent video" and "Iqiyi tiktok" are firmly in the top three positions, with revenue estimates of $55 million 306 thousand and 200, $29 million 337 thousand and 500 and $22 million 39 thousand and 200 respectively. Compared with last month, Xinyue Club ranked 8 places higher, ranking top 6 with a revenue of 8.5884 million US dollars. In addition, "climbing reading" ranked 14 places higher than last month, and "tiger teeth live" was the highest climbing app in the top 30 list. The former's total revenue in April was $3.6286 million, while the latter's total revenue in April was $1.1936 million.
From the perspective of application manufacturers, Tencent still dominates the market. There are seven applications in the top 30, which are in full bloom in the four major segments of entertainment, social networking, music and tools.
From the perspective of application classification, social applications are the most, with a total of 8 shortlisted, namely QQ, tantan, Weibo, soul, Zhihu, Momo, wechat and aichao. Short and long video applications took the second place, with a total of 7 shortlisted, while music applications ranked third, with a total of 4 shortlisted. In addition, there are also three book applications shortlisted. It can be seen that in addition to strong social and entertainment needs, Internet users' willingness to pay for knowledge can not be underestimated.
Finally, the download / income list function of cicada master will be fully updated from the analysis dimension, data dimension and time dimension in the near future. Log in to cicada master's official website, the analysis dimension can be expanded from the application, company and industry trend. The data dimension includes three categories: comprehensive, application and game. The time dimension supports query by week, month, quarter, semi year and year. In addition to the general list, you can also view the breakdown list. Welcome to experience, if you have any product / function / experience suggestions and comments, please feel free to contact us. Read more: cicada master: online education industry data and ASO release report of Q1 in 2021 Tencent app Bao: popular app list in August 2014 Qimai data: popular app list in January 2021 Qimai data: popular app list in March 2021 cicada master: popular mobile app list in March 2021 cicada master: game list in April 2021 Tencent app Bao: popular app list in July 2014 Master cicada with ranking: March 2021 mobile game ranking Evans: IOT, machine learning technology and artificial intelligence will become the first choice for app development fitness sports app user scale exceeds 100 million, women account for more than 60% app Annie: March 2018 China app market analysis Qimai: 2017 China mobile application market interpretation short video Midia research: Mobile Games account for 84.9% of the total revenue of app store and Google play?
If you want to get the full report, you can contact us by leaving us the comment. If you think the information here might be helpful to others, please actively share it. If you want others to see your attitude towards this report, please actively comment and discuss it. Please stay tuned to us, we will keep updating as much as possible to record future development trends.
RecordTrend.com is a website that focuses on future technologies, markets and user trends. We are responsible for collecting the latest research data, authority data, industry research and analysis reports. We are committed to becoming a data and report sharing platform for professionals and decision makers. We look forward to working with you to record the development trends of today's economy, technology, industrial chain and business model.Welcome to follow, comment and bookmark us, and hope to share the future with you, and look forward to your success with our help.