Mobile games
In the fourth quarter of 2020, the total revenue of Japan's mobile game market is 4.6 billion US dollars, with a year-on-year growth of 34% From Sensor Tower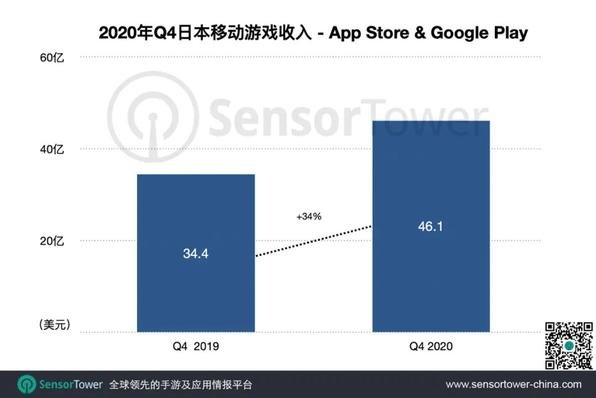 RecordTrend.com is a website that focuses on future technologies, markets and user trends. We are responsible for collecting the latest research data, authority data, industry research and analysis reports. We are committed to becoming a data and report sharing platform for professionals and decision makers. We look forward to working with you to record the development trends of today's economy, technology, industrial chain and business model.Welcome to follow, comment and bookmark us, and hope to share the future with you, and look forward to your success with our help.
The following is the In the fourth quarter of 2020, the total revenue of Japan's mobile game market is 4.6 billion US dollars, with a year-on-year growth of 34% From Sensor Tower recommended by recordtrend.com. And this article belongs to the classification: Mobile games.
According to the latest data of sensor tower store intelligence, the revenue of Q4 Japan's mobile game market will exceed 4.6 billion US dollars in 2020, with a year-on-year growth of 34%. The number of Chinese mobile games shortlisted in the top 100 of the best-selling list further increased to 30, taking 27% of the market share. Detailed data are as follows.
Market scale of mobile games in Japan
In 2020, the total revenue of Q4 Japan's mobile game market in app store and Google play will reach US $4.61 billion, a year-on-year increase of 34%. Among them, the revenue in December was nearly US $1.77 billion, up 46.2% year on year, the highest since 2014. In terms of platforms, IOS accounted for 57.8% of revenue, while Google play accounted for 42.2%.
The download volume continued the decline of Q3, and the total download volume of Q4 Japan app store and Google play mobile games further decreased to 164 million times, a year-on-year decline of 12.3%. Among them, 59% of the downloads came from the app store and 41% from Google play.
Popular mobile games in Japan
After being listed for more than seven years, mixi's "monster marbles" has been ranked first in Q4 Japan's mobile game revenue with us $230 million, and Sony's "fate / grand order" has been ranked second in the list with nearly US $200 million in revenue.
There are up to three Chinese mobile games in the top ten of this issue's list, namely "wilderness action", "original God" and "place girl". As Chinese manufacturers have more resources to invest in the operation and promotion of games, the success rate of Chinese Games in the Japanese head Market in the past two years has been higher than that of Nintendo, SEGA and other local enterprises.
The annual New Year holiday (January 1) is the golden age of Japan's mobile game market, which attracts a large number of manufacturers to launch new products in advance. In the Q4 download list, there are as many as nine new tours from local and overseas enterprises, which is the most active quarter of new product launch in recent years.
However, innersroth's "good US" has the highest download volume, winning the top of the list with more than 2.3 million downloads, surpassing Sega's new tour "the colorful stage of world plan! Feat.
Among the five new tours from Japanese manufacturers in this issue, there are as many as three music games. In addition to the colorful stage of world plan mentioned above, there are also honeyworks premium live and d4dj groovy mix. Another new tour "mainland bully" also focuses on single player play, while "save them all" is a super leisure game. In the new wave of local mobile game players eager to get social experience, most Japanese game manufacturers still seem to stay in the stand-alone era.
Also on the list are magic tavern's "project maker" and Bili's "remake".
Chinese mobile games in Japan
In recent years, the popularity of going to sea in Japan continues to heat up. In this issue, 30 Chinese mobile games are shortlisted in the top 100 of Japan's best-selling mobile games list, with a total revenue of more than US $910 million, accounting for 27% of the total revenue of the top 100. Both the number of shortlisted products and the market share have reached a new height.
Netease's "wilderness action" topped the list with $140 million, followed by MIHA you's "Yuanshen" mobile terminal with $136 million. At the turn of the new year, with many years of operation experience in the Japanese market and the grasp of the demand for holiday activities, the revenue of a number of products, such as wilderness action, place girl, idol dream Festival, music and ark of tomorrow, all hit a record high on January 1.
In terms of download list, there are 5 new tours shortlisted in this issue. In addition to project makeover, the other four are two-dimensional mobile games, which are Zhanji, Zhanshuang pamish, dream link and food language.
More reading: Sensor Tower: from January to September 2020, the cumulative revenue of Japan's mobile game market accounts for a quarter of the global total. Sensor tower: Q1 Japan's mobile game market trend in 2020. Sensor tower: Q2 Japan's mobile game market trend and Chinese manufacturers' market share in 2019. Zebra net: according to the survey, Chinese players value Japanese mobile game pictures most, accounting for 41% of the total Top 30 of China's Mobile Games successfully launched in May 2020? Cyberz: in 2013, the scale of mobile games in Japan was US $5.4 billion, accounting for 50% of the game market. More than 50% of Japanese mobile game paying players are reluctant to make a public statement. Guangho: in April 2013, the users of "Zhilong Fancheng" broke 11 million zebra webs: the survey shows that 41% of the attraction of Japanese mobile games comes from pictures. The current situation and release experience of Japanese mobile game market Annie: advertising revenue of Japanese mobile game market will increase again
If you want to get the full report, you can contact us by leaving us the comment. If you think the information here might be helpful to others, please actively share it. If you want others to see your attitude towards this report, please actively comment and discuss it. Please stay tuned to us, we will keep updating as much as possible to record future development trends.