Mobile games
Japan mobile game market in the first quarter of 2021 From Sensor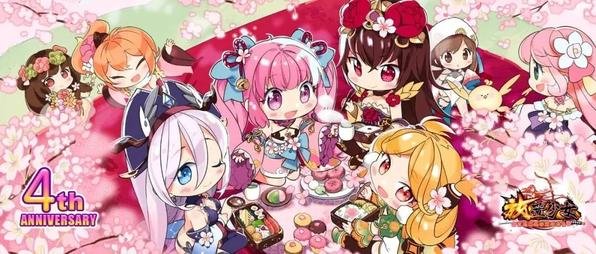 The following is the Japan mobile game market in the first quarter of 2021 From Sensor recommended by recordtrend.com. And this article belongs to the classification: Mobile games.
According to the latest data of sensor tower store intelligence, the revenue of Japan's mobile game market in Q1 of 2021 exceeded US $5.1 billion, with a year-on-year growth of 35%, reaching a new high. At the same time, the Japanese market attracts Chinese products with high returns and high growth. In this issue, a total of 29 Chinese mobile games were shortlisted in the top 100 of Japan's best-selling list, taking 25% of the market share. Detailed data are as follows.
Market scale of mobile games in Japan
In 2021, the total revenue of Japan's mobile game market in app store and Google play reached US $5.16 billion in Q1, an increase of 35% compared with the outbreak of Q1 epidemic last year, and a month on month increase of 13.5%, reaching a new record. Among them, on the new year's day on January 1, the revenue of Japan's mobile game market reached 268 million US dollars, which was 4.7 times of the average daily revenue of Q1, an increase of 65.2% over January 1 last year. In terms of platforms, IOS accounted for 55.7% of revenue, while Google play accounted for 44.3%.
Although some big commercial products such as "Neil" mobile game and "jockey girl" have landed in the Japanese market in Q1, Chinese manufacturers have successfully locked in revenue by virtue of their strong development and operation strength. The 29 Chinese mobile games that were shortlisted in the top 100 mobile game bestseller list attracted a total of US $900 million, accounting for 25% of the total revenue of the top 100.
Due to the listing of many new games in Q1, the total number of downloads of mobile games reached 189 million, an increase of 15.8% compared with Q4 in 2020; However, compared with the outbreak of Q1 last year, it dropped by 10.8%. On the platform side, 59% of the downloads came from the app store and 41% from Google play.
Popular mobile games in Japan
As the new year (January 1) is the most expensive festival for mobile game players in Japan, manufacturers prepare a lot of game content at this time of year. In this issue, with the help of new year's activities, a total of four mobile games have attracted more than US $200 million in the Japanese market, including mixi's monster marbles, Sony's fate / grand order, Konami's soul of professional baseball a, and gungho's Zhilong City, all of which have been listed for more than five years.
Unexpectedly, cygames cymbals (horse daughter pretty Derby), the city was solidified at the beginning of the city. In front of the Japanese app store, you will be in front of you. On February 24, the bottom of March, the total amount of imported goods was 1.62 yuan.
In this issue, there are 5 kinds of Chinese mobile games that are shortlisted in the top 20 of the list, namely, the original God of MIHA, the wilderness action of Netease, the place girl of love and entertainment, the underworld storm of youta and the idol dream festival of music elements!! Music》。
Nier re [in] carnation, with more than 4 million downloads, ranks first in the list of downloads of Q1 mobile games in Japan, and is the mobile game with the highest number of downloads in a single quarter in the past year《 Jockey girl ranked second with nearly 2.7 million downloads.
Disney Music parade   He was the sixth disciple of Nobuyoshi. This is a big powder group in Japan. The sound music part is expected to be the same.
The new products shortlisted in this issue are Youxing's blue files, King's Crash Bandicoot and Netease's cat and mouse.
Chinese mobile games in Japan
In this issue, the mobile terminal of MIHA Tour "Yuanshen" has attracted more than 132 million US dollars in Japan, becoming the highest income mobile game in China. Although "Ma Ma Niang" has dominated the list for a long time after its listing, a number of Chinese made two-dimensional mobile games have set new revenue records with their unique themes, playing methods and new year's activities. Among them, "place girl", "idol dream sacrifice!! The revenue of music and bird soul increased by 23%, 33% and 370% respectively. It can be seen that the two-dimensional mobile game still has broad growth space in Japan, but the key to win is to develop the market segmentation with unique game experience.
In terms of download list, the top three in this issue are mobile games. Among them, the number of downloads of "project maker" increased by nearly 200% to 2.1 million times on a month on month basis, and the number of downloads of "Puzzles & survival" increased by 390% on a month on month basis.
In the past few years, the elimination of mobile games represented by "Zhilong Fancheng", "qilongzhu Z Burst battle" and "Disney Tsum Tsum" have always been frequent customers at the top of the best-selling list in Japan. With China's mobile game manufacturers adding weight to the layout and Japan's elimination of mobile game tracks, the follow-up market potential of these products is also worth looking forward to.
More reading: sensortower: Q2 Japan's mobile game market in 2020, Kagawa game: Top 10 Japan's mobile game revenue in 2019, Netease's "wilderness action" revenue reaches 2.7 billion yuan "Yellow" explores the latest development of Japan's mobile game market – information chart over 50% of Japanese mobile game paying players are reluctant to make a public announcement cyberz: in 2013, Japan's mobile game market was 546.8 billion yen, up 78% year on year gamelook: in December 2013, 212 mobile games were launched in app store in China, 4 times as many as those in Japan GABA: in 2014, 31.8% of Japanese businessmen played mobile games in their spare time Major event sensortower: the top 20 mobile games purchased by Apple store search ads in October 2018 sensortower: the top 30 Mobile Games successfully launched in March 2021 sensortower: it is estimated that the revenue of "smart baokemeng go" is expected to exceed $3 billion in 2019
If you want to get the full report, you can contact us by leaving us the comment. If you think the information here might be helpful to others, please actively share it. If you want others to see your attitude towards this report, please actively comment and discuss it. Please stay tuned to us, we will keep updating as much as possible to record future development trends.
RecordTrend.com is a website that focuses on future technologies, markets and user trends. We are responsible for collecting the latest research data, authority data, industry research and analysis reports. We are committed to becoming a data and report sharing platform for professionals and decision makers. We look forward to working with you to record the development trends of today's economy, technology, industrial chain and business model.Welcome to follow, comment and bookmark us, and hope to share the future with you, and look forward to your success with our help.