Mobile games
Top 30 Chinese Mobile Games successfully launched in January 2021 From Sensor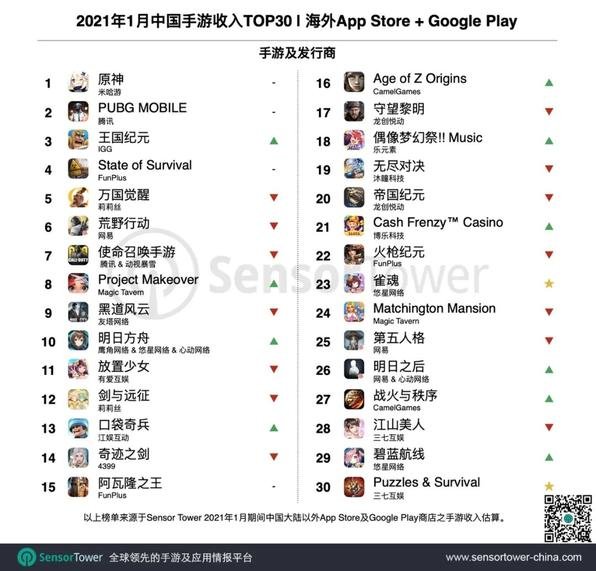 The following is the Top 30 Chinese Mobile Games successfully launched in January 2021 From Sensor recommended by recordtrend.com. And this article belongs to the classification: Mobile games.
According to the latest data of sensor tower store intelligence platform, in January 2021, China's mobile game products ranked top 30 in terms of revenue and download volume in overseas market. The detailed changes of the list are as follows.
Top 30 list of sea revenue
In January, the overseas mobile terminal revenue of MIHA tour Yuanshen reached US $114 million, ranking the first in the revenue list of going to sea for four consecutive months. After the 1.3 version of mingxiaosheng Haiping was launched on February 3, the revenue of the game once again ushered in a cyclical peak, and is expected to set a new overseas revenue record in February. Since its launch in September last year, every new version of Yuanshen has been able to give consideration to the game preferences of both domestic and overseas players, and at the same time, fully stimulate consumption, which can be regarded as the most successful model of globalization in head mobile games.
With the start of the 17th season on January 19, the overseas revenue of Tencent's "pubg mobile" increased by 31% month on month and 34% year on year, breaking through $100 million again.
In early January, IgG era launched its gold pass and a series of monthly activities of Kingdom labs, which doubled its overseas revenue and set the highest record in five years since its listing. It is worth noting that after the launch of gold pass, the total revenue from the United States and Germany increased from 44% to 64%, while the total revenue from Japan and South Korea decreased from 27% to 11%, indicating that European and American players are more willing to accept the combat pass mode.
Revenue from magic tavern's new mobile game work "project maker" Rose 71% to $44 million from December, ranking eighth on the list. In the U.S. market with the highest revenue of eliminating mobile games, it ranked the eighth best seller of mobile games in January, and magic tavern has also become a rival of king and playrix in eliminating mobile games.
On the other hand, the mobile game "Puzzles & survival" also ushered in a substantial growth in revenue, and successfully entered the list. Unlike project makeover, which digs deep into female players' pursuit of dress up, "Puzzles & survival" adopts the theme of doomsday survival in a new way. At present, its income is also in a rapid rising channel.
January 1 of every year is the highest income time for mobile games in Japan, and new year's day this year is no exception. On that day, krypton gold, a Japanese mobile game player, exceeded US $300 million, an increase of 87% over last year, a record high. Operation wilderness, which is deeply rooted in the Japanese market, also ushered in its peak revenue, attracting more than US $10 million in Japan on the same day.
On January 15, Youxing network's "soul of birds" launched a joint activity with "talented mahjong girl". The income of this mahjong mobile game for the Japanese market soared immediately, and jumped to the second best seller of local iPhone mobile game. In January, the game's revenue was 8.2 times that of December last year, and ranked 23rd on the list.
Top 30 Downloads
Project makeover topped the list with more than 22 million downloads, with the top three downloads in this issue being the United States, Brazil and Japan, accounting for 25.6%, 7% and 6% respectively. In January, the game increased its purchase through multiple channels, becoming the largest game product launched by AdMob and applovin in the US.
"Puzzles & survival" also increased its purchase in this issue, and the app store strongly recommended it in the Japanese market. Compared with December, its download volume increased by 176%, making it the 26th place on the list.
Kitten match, No. 30 on the list, is a mobile game that integrates the collection and dressing of pets into the manor simulation business. Pet settings make the purchase materials of this work have obvious differentiation advantages in similar products. After a long period of debugging, its download volume and income have increased significantly recently, and it is expected to become another popular domestic mobile game abroad.
In January, the in app purchase revenue of overseas puzzle solving mobile games exceeded US $1.1 billion, accounting for 16.7% of the total mobile games of overseas mobile games. Although king, playrix and Zynga account for more than 40% of the market share, there is still considerable room for growth in high-quality and innovative puzzle solving mobile games.
Read more: Sensor Tower: top 30 Chinese Mobile Games successfully launched in January 2021 sensor tower: top 30 Chinese Mobile Games successfully launched in June 2020 Top 30 sensor tower: top 30 sensor tower: top 30 sensor tower: top 30 sensor tower: top 30 sensor tower: top 30 sensor tower: top 30 sensor tower: top 30 sensor tower: top 30 sensor tower: top 30 sensor tower: top 30 sensor tower Top 30sensor Tower: money absorption and market share of China's mobile travel overseas reached a new high in Q1, 2018 top 30sensor Tower: China's mobile travel overseas in 2018 top 30sensor Tower: China's mobile travel successful in December 2020 top 30sensor Tower: China's mobile travel successful in May 2020 top 30sensor Tower: China's mobile travel successful in August 2020 top 30sensor tower Tower: a total of 37 Chinese mobile games will generate more than US $100 million in overseas market in 2020
If you want to get the full report, you can contact us by leaving us the comment. If you think the information here might be helpful to others, please actively share it. If you want others to see your attitude towards this report, please actively comment and discuss it. Please stay tuned to us, we will keep updating as much as possible to record future development trends.
RecordTrend.com is a website that focuses on future technologies, markets and user trends. We are responsible for collecting the latest research data, authority data, industry research and analysis reports. We are committed to becoming a data and report sharing platform for professionals and decision makers. We look forward to working with you to record the development trends of today's economy, technology, industrial chain and business model.Welcome to follow, comment and bookmark us, and hope to share the future with you, and look forward to your success with our help.