Mobile reading
In 2020, the scale of China's digital reading industry will reach 35.16 billion, with a growth rate of 21.8% From China audio visual and Digital Publishing Association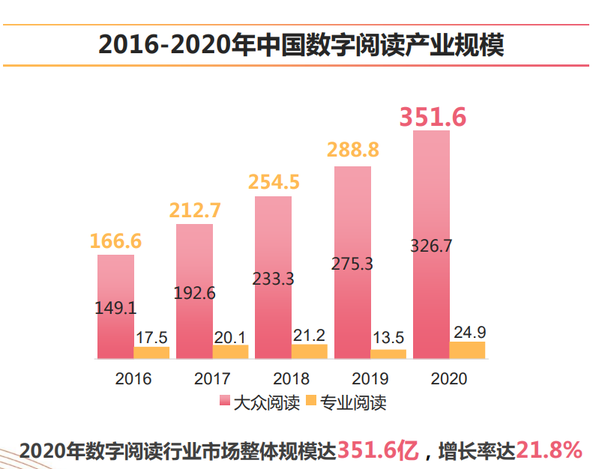 The following is the In 2020, the scale of China's digital reading industry will reach 35.16 billion, with a growth rate of 21.8% From China audio visual and Digital Publishing Association recommended by recordtrend.com. And this article belongs to the classification: Mobile reading.
Continuous growth of industrial scale   9.1 e-books per capita
The report points out that in 2020, the scale of China's digital reading industry will reach 35.16 billion, with a growth rate of 21.8%; The number of digital reading users reached 494 million, with a growth rate of 5.56%. The number of e-books per capita was 9.1, and the number of audio books per capita was 6.3. At the same time, the number of paper books read per capita was 6.2, 2.6 less than last year.
In 2020, the average time of single electronic reading is 79.3 minutes, that of paper reading is 63.2 minutes, that of audio reading is 62.8 minutes, and that of 17:00-22:00 is the "evening peak" of reading.
The post-95s love to read comic books, and overseas readers like urban themes
There are obvious preference differences among different age groups. According to the data of the report, people prefer fitness books before 70 years old; The Post-70s prefer military war; The post-80s prefer fashion books, the post-90s prefer travel books, and the post-95s prefer comic books.
In addition, children have also become important users of reading. The payment for children's digital reading has increased by 56.5%. The average daily digital reading time is 29 minutes, and the peak of children's digital reading is 20-22 o'clock every night.
In recent years, under the guidance of policy, the content of digital reading is more diversified. In 2020, the total number of digital reading overseas works will exceed 150000, and urban workplace, martial arts and fantasy will be the top three themes of digital reading.
Listening market grows significantly, new technology brings more immersive experience
With the development of digital reading habits, more and more users are willing to pay for high-quality content. In 2020, 26.8% of E-reading paying users will spend an average of 100 yuan or more per month.
With the rise of knowledge service economy, audio payment has increased significantly, accounting for 60% of audio reading revenue. With the continuous progress of new technologies such as AI voice simulation, the listening hardware devices such as AI earphone are more intelligent, and the user's listening experience is further improved. As a leader in the digital reading industry, Migu reading app is the first to launch the 24bit perfect sound quality experience, which is comparable to the sound quality of lossless records. Users can intuitively feel the emotions conveyed by the works, and bring a new experience of immersive listening to books for audio reading users.
Income structure of audio reading
5g + speed up the development of digital intelligent cloud bookstore and open the bookstore 3.0 era
  2020 is a year of special significance in the development of the industry. The outbreak of the epidemic and the popularity of 5g business accelerate the transformation of reading from digital to digital. In this context, the digital reading industry continues to explore the "5g +" reading mode, and AI, AR, VR and other new technologies and modes expand the new space and scene of digital reading.
With the acceleration of 5g new infrastructure, cloud services and Internet of things in the field of digital reading have entered the fast line of development, and new scenes and models such as cloud library and cloud Bookstore have emerged. At this China Digital Reading conference, Migu digital media will release the business operation mode of Migu cloud bookstore. It will join hands with more than 300 domestic book publishing units and cultural industry partners to build an online and offline knowledge and cultural life cloud platform, bring users one-stop cultural content experience such as paper books, e-books, knowledge payment and cultural creation, and open the bookstore 3.0 era.
More reading: in 2017, the scale of China's digital reading market reached 15.2 billion yuan, with a year-on-year growth of 26.7%. China audio visual and Digital Publishing Association: in 2019, China's online literature writers reached 19.36 million, with an average monthly income of 5133 yuan. Momo: reading report of Internet users in 2020: 56.2% reading volume of Internet users increased during the epidemic period. Reading group: development report of online literature in 2018 Momo: reading report of Internet users in 2020: 20 In the first half of 20 years, the revenue was 3.26 billion yuan, which was affected by the impairment of sunri's goodwill and the performance did not meet the expectation. The net loss was 3.3 billion yuan. Standing at the crossroads of the digital era, how can the physical Bookstore rebirth? Active "ear economy" in the dark: 200 million people spend 10.9 billion hours a year listening to books. Research Institute of press and publication: the 17th national reading survey. China Research Institute of press and publication: the 16th National Reading survey. 2019 Shanghai University Students' classic reading index cbndata: 2019 film and Television Literature IP reading and consumption guide (attached with download) Observation of reading form: how to solve the prediction of "reading out of date" by diversification? Jingdong big data research institute: book reading report in 2019 (with download)
If you want to get the full report, you can contact us by leaving us the comment. If you think the information here might be helpful to others, please actively share it. If you want others to see your attitude towards this report, please actively comment and discuss it. Please stay tuned to us, we will keep updating as much as possible to record future development trends.
RecordTrend.com is a website that focuses on future technologies, markets and user trends. We are responsible for collecting the latest research data, authority data, industry research and analysis reports. We are committed to becoming a data and report sharing platform for professionals and decision makers. We look forward to working with you to record the development trends of today's economy, technology, industrial chain and business model.Welcome to follow, comment and bookmark us, and hope to share the future with you, and look forward to your success with our help.