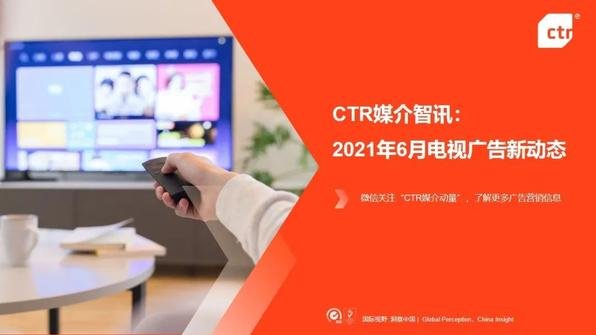 The following is the Mid year report on TV, radio and outdoor advertising markets From CTR recommended by recordtrend.com. And this article belongs to the classification: CTR, network marketing.
whole  | body  | city  | site
CTR data show that in June 2021, advertising market spending increased by 20.7% year-on-year and decreased by 5.4% month on month. The cost of TV, radio and elevator advertising continued to rise year-on-year, and the cost of traditional outdoor, newspaper and magazine advertising further reduced.
The following are the data of TV, radio and outdoor market segments released by CTR:
1. TV advertising
1. Data overview
CTR data show that in June, the cost of TV advertising increased by 0.5% year-on-year and decreased by 6.6% month on month.
2. Head industry
The advertising expenses of drugs, activities, cosmetics / bathroom supplies increased significantly year-on-year, especially in the cosmetics industry, with a year-on-year increase of 27.9%. In the industry, the growth was mainly driven by the substantial increase in investment in cosmetics / bathroom series products, shampoo, hairdressing and hair care products and skin care products. Among the top brands, the advertising expenses of Pantene, Piao Rou, lux, lion king and other brands increased significantly.
3. New brand of provincial satellite TV
A number of beverage products focusing on the concept of 0 sugar have been added to provincial satellite TV channels, such as Master Kang sugar free iced black tea, Dongpeng 0 sugar special drink and Pepsi sugar free cola. Meanwhile, bubble drinks are still popular in midsummer. Yiliyou yoghurt & milk steam bubble milk and soda are put on a large number of popular programs of Hunan Satellite TV and Zhejiang satellite TV.
4. New product launch
The brand of ofmom mommy love, which belongs to Korean pharmaceutical enterprise Hanmei group, released a new infant formula runermei series last year. This series is committed to combining the latest research results of mommy love global maternal and infant nutrition center in breast milk nutrition and infant intestinal health, so as to help the baby grow and develop. The brand advertisement landed on Anhui Satellite TV and Zhejiang satellite TV in June.
SOUL App   It is a virtual social network for a new generation of young people based on the product design of interest map and game playing method. Founded in 2016, the brand is committed to creating a "social meta universe of young people". In June, the brand launched the provincial satellite TV channel for the first time, and put advertisements in Hunan Satellite TV's programs such as "every day up" and "seeking truth in news".
Bosch electric unveiled the only professional beauty luxury refrigerator in the market Bosch Vita radiant refrigerator at its recent new product launch. Based on Bosch's new skin care needs for contemporary women, this product specially designed a storage space for skin care products independent of the refrigerator to ensure that skin care products remain in good condition. New product advertisements are broadcast on five provincial satellite TV channels such as Anhui Satellite TV, Oriental satellite TV and Hunan Satellite TV.
2. Radio advertising
1. Data overview
CTR data show that in June, the cost of broadcasting advertising increased by 4.2% year-on-year and 1.6% month on month.
2. Frequency variation
Among all frequency types, the frequencies of transportation, life service and culture and entertainment showed positive growth in single digits month on month. Music, news, information and finance frequency showed a single digit negative growth month on month, and the cost of sports frequency publishing decreased significantly month on month, with a decrease of 11.8%.
3. Head industry
Compared with the same period of last year, the household goods industry in the top ten industry list increased significantly year-on-year, with an increase of 47.2%, mainly driven by the investment increase of home decoration service brand quanbaoyuan and Haihai. The real estate / construction engineering industry continued to show a double-digit year-on-year decline; Compared with the previous month, the broadcasting and advertising expenses of the food, transportation, entertainment, leisure and financial industries in the list showed double-digit growth.
4. Head brand
Among the top ten brands in the list of broadcast publication costs, home decoration service brands all inclusive and Shanghai appeared in the list for the fourth time this year, with a year-on-year increase of 101.6% and 28.3% respectively. All inclusive advertising is mainly put on the transportation, culture and entertainment frequencies in Xi'an, Beijing and Tianjin, while Shanghai focuses on the major frequencies of Shanghai People's radio. Compared with the previous month, the month on month growth of Baoyuan and Xiaoxian stew in the list was obvious, with an increase of 71.5% and 14.4% respectively.
5. New brand
The top ten new brands of radio advertising come from five industries respectively. Big blue whale is a wechat applet of member selected good goods service under Jiangsu Radio and television, which is mainly promoted on Jiangsu traffic radio network (fm101.1) and Jiangsu classic pop music radio (fm97.5);
The Danish dairy enterprise Mille's brand mecome water test radio advertisement mainly puts three sets of Central People's Radio (voice of music FM90.0); 999's beauty and health food collagen peptide time small white bottle is the first broadcast advertisement, mainly Jiangsu classic pop music broadcast (fm97.5).
3. Electric outdoor advertising
1. Data overview
CTR data show that in June 2021, the cost of publishing cases of traditional outdoor advertising decreased by 21.7% year-on-year and 7.1% month on month; The year-on-year growth rate of elevator LCD increased by 10 percentage points over the previous month, up 48.5%, showing a negative growth month on month, down 8.1%; Elevator posters maintained double-digit growth year-on-year, but the increase was reduced to 28.4% and increased by 1.5% month on month.
2. Overall analysis
The top10 brands of outdoor advertising mainly come from e-commerce, beverage, cosmetics / bathroom supplies and alcoholic beverage industries. At 618, tmall, Suning Tesco and Jingdong Mall entered the list at the same time. The advertisements of tmall and Jingdong Mall cover five delivery channels, focusing on elevator channels.
Suning Tesco's advertising spending on elevator LCD accounts for more than 90%, and a small amount is put into TV channels, while offline retail service brand Suning also ranks in the list, mainly investing in elevator poster advertising. In addition, functional beverage brand Dongpeng and beer brand snowflake were listed for the first time.
3. Key industries
The overall outdoor advertising in the cosmetics / bathroom products industry maintained a high growth trend year-on-year, with an increase of 226.3%. The industry's performance in the delivery of elevator LCD and elevator poster was eye-catching, with a year-on-year increase of 211.6% and 451.8% respectively.
The top three cosmetics / bathroom products brands of elevator LCD are Lin Qingxuan, mystery of New Zealand and runbaiyan respectively. The three brands contribute 79.2% of the industry's spending on elevator LCD advertising; The top three cosmetics / bathroom products brands of elevator posters are membrane family, Yunnan Baiyao and Shufujia, accounting for 72.6% of the investment in elevator posters in the industry.
In mid June, when the European Cup was launched and the Tokyo Olympic Games was approaching, the overall outdoor advertising in the alcohol industry increased by 86.0% year-on-year, and the investment cost of elevator LCD in the industry increased by 86.5% year-on-year, reaching 453.5% month on month.
In particular, the beer category took advantage of the momentum to vigorously publicize and promote sales. The two major beer brands of snowflake and Heineken contributed 91.6% of the expenses of the alcohol beverage industry in elevator LCD advertising.
More reading: CTR: TV, radio and outdoor advertising market observation in October 2020 CTR: advertising market spending decreased by 2.0% year-on-year and 9.5% month on month in January 2021 CTR: a brief analysis of TV viewing characteristics of young viewers in small and medium-sized cities emarketer: newspapers become victims of digital migration of advertisers' budgets CTR: TV has not been abandoned, Multi screen viewing becomes a trend Ofcom: August 2018 British communication market report McKinsey: a glimmer of hope for newspapers – lost users, Reliable information social media marketing: from the number of users to the quality CTR: TV advertising spending in May 2021 increased by 12.5% year-on-year CTR: data analysis of the communication value of outdoor LED large screen media CTR: Monthly Analysis of passenger car advertising in May 2020 CTR: 2019 China's advertising market trend (with download) CTR: review report on China's advertising market in the first half of 2017 Tam ADEX: 2020 TV advertising on Ott platform increased by 98% in the first five months CTR: advertising market data "Fundamentals" in May 2021
If you want to get the full report, you can contact us by leaving us the comment. If you think the information here might be helpful to others, please actively share it. If you want others to see your attitude towards this report, please actively comment and discuss it. Please stay tuned to us, we will keep updating as much as possible to record future development trends.
RecordTrend.com is a website that focuses on future technologies, markets and user trends. We are responsible for collecting the latest research data, authority data, industry research and analysis reports. We are committed to becoming a data and report sharing platform for professionals and decision makers. We look forward to working with you to record the development trends of today's economy, technology, industrial chain and business model.Welcome to follow, comment and bookmark us, and hope to share the future with you, and look forward to your success with our help.