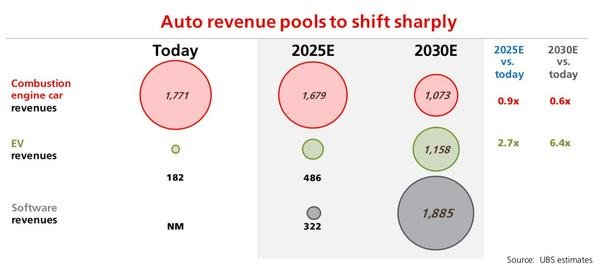 The following is the How much does it cost to truly realize global electrification? recommended by recordtrend.com. And this article belongs to the classification: New energy vehicle industry.
Wall Street and Silicon Valley will invest billions of dollars in 2020 to bet on the future development of EV industry. With the rise of Tesla, the electric transformation of the whole automobile industry is accelerating. The investment field once composed of Tesla and a few fuel cell companies has rapidly developed into a sub industry integrating industry, technology and transportation.
However, the transformation of electrification costs a lot of money. The latest research shows that it needs more than 2.5 trillion US dollars of investment to completely eliminate internal combustion engine models and realize a zero carbon emission pure electric world. At present, the lack of investment is becoming a stumbling block for the development of the industry.
Three pillars of EV development
The breakthrough of battery technology, improvement of charging infrastructure and environmental friendly policies or incentives are becoming the key forces to promote the development of EV industry.
As we all know, the cost of battery accounts for a large proportion of the cost of electric vehicles, but with the progress of technology, Tesla and other leading enterprises are infinitely close to the $100 / kWh cost barrier. The batteries with lower cost, longer endurance and faster charging speed will undoubtedly guarantee the further popularization of electric vehicles. At the same time, the improvement of charging basic design also alleviates the mileage anxiety of consumers to a certain extent. In addition, driven by the mandatory measures of governments, the future dispute between electric vehicles and diesel locomotives no longer exists, and the global automobile manufacturers have long realized that "the transition to electric vehicles has become an irreversible trend".
Tesla is undoubtedly the leading player in this field, but GM, Ford and other traditional car manufacturers are also unwilling to lag behind. They have increased investment in electric vehicles and autopilot cars. GM has even announced that they will gradually phase out diesel engines in less than 15 years. Tesla will join the S & P 500 index in 2020 after finally achieving sustained profitability. EV start-ups such as Weilai, Nikola and Fisk have attracted great attention of investors, and backdoor listing through reverse merger has almost become a common phenomenon in this field.
Spac is just a huge funding gap
According to the data of CB insights and Dow Jones market data Department, the total investment of governments and enterprises in the field of electric vehicles will reach at least US $28 billion in 2020. But analysts from Bank of America predict that car manufacturers, investors and governments around the world will need to invest at least $2.5 trillion to achieve electrification on a global scale. This is an astronomical number, and the lack of funds is becoming a huge obstacle to the global EV reform. Therefore, the transformation from diesel locomotive to electric vehicle will not become a reality in the short term, and the road of industrial transformation is difficult and long.
At present, electric vehicles account for about 2% of global car sales, and the industry also has great differences on their future expectations. Some organizations say that global EV sales will account for 10% to 20% of the total sales by 2030, but the most optimistic forecast is that the proportion will be as high as two-thirds. According to UBS analysts' forecasts, by 2030, the revenue generated by global automobile manufacturers in the field of electric vehicles will soar from the current $182 billion to $1.16 trillion. On the contrary, the revenue from diesel locomotives will be cut from $1.77 trillion to $1.07 trillion. In addition, by 2030, the revenue generated by the software business will account for a larger share, reaching nearly $2 trillion.
The huge funding gap will promote EV start-ups to go public through reverse acquisition to raise funds. According to a recent report released by Garrett Nelson, an analyst at the center for financial research and analysis (CFRA), blank check companies played a more important role in US investment last year, when the number of IPOs through spac exceeded the total of previous years. The analyst also pointed out that trading activities in 2021 are expected to "far exceed" last year. Some of the biggest SPAC transactions may again appear in the field of "emerging electric vehicles and autopilot". In fact, according to Dealogic, 90 spacs applied for listing in January alone, most of which focused on sustainable development and EV industry.
Electric vehicles may be the real subversive force in the automotive industry
While interested in electric vehicle manufacturers, investors are also concerned about laser radar, batteries, sensors and other auto driving key components industries. However, fully automatic driving has been proved to be a thorny and more expensive field, with many regulatory and technical barriers.
Although it has lofty goals, most of the cars on the road today are still equipped with advanced driving assistance systems, which are not much different from those in previous years. In the near future, autopilot is hard to enter the reality and become a disruptive force to change people's life and economy. At present, the focus of automobile manufacturers is still on some automatic driving and advanced driving assistance system products that can be commercialized in the short term. Electric vehicles still take the lead in consumer interest and regulatory promotion.
Ministry of industry and information technology: it is estimated that the production and sales of China's new energy vehicles will increase by 100% in 2019. JC: China's new energy vehicle sales will exceed 21000 in November 2020. J.D. Power: research shows that users who choose electric vehicles will no longer consider buying fuel vehicles. JC: Wuling Mini: new energy sales list in August 2020 China Society of Automotive Engineering: in 2035, the average fuel consumption of new cars and passenger cars (including new energy) will reach 2L / 100km. China bancassurance: the scrapping rate of power system of new energy vehicles is three times that of fuel vehicles. Evsales: May 2020, global list of new energy vehicles, model 3, sales volume: 20000 cars. CIRC: January to October 2019, insurance coverage of new Chinese made vehicles Guo Jin motor only 53 MIIT: it is estimated that by 2025, the sales of new energy vehicles will reach 25% or so. J.D. Power: consumers' confidence in EV and autopilot cars is not very confident. China's automobile finance and inflation rate research committee members: the average value of new energy vehicles in the past three years is only 32.31% Volkswagen: the Volkswagen China's new energy vehicle sales volume is more than 50%2018 in 2035. China's new energy vehicle sales reached 1.25 million in 2020, accounting for half of global sales
If you want to get the full report, you can contact us by leaving us the comment. If you think the information here might be helpful to others, please actively share it. If you want others to see your attitude towards this report, please actively comment and discuss it. Please stay tuned to us, we will keep updating as much as possible to record future development trends.
RecordTrend.com is a website that focuses on future technologies, markets and user trends. We are responsible for collecting the latest research data, authority data, industry research and analysis reports. We are committed to becoming a data and report sharing platform for professionals and decision makers. We look forward to working with you to record the development trends of today's economy, technology, industrial chain and business model.Welcome to follow, comment and bookmark us, and hope to share the future with you, and look forward to your success with our help.