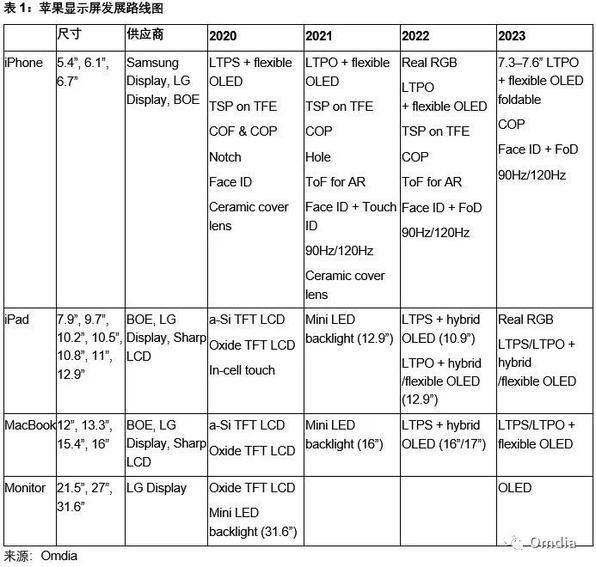 The following is the Apple's display technology roadmap 2021 – 2023 From Omdia recommended by recordtrend.com. And this article belongs to the classification: professional knowledge.
In different display technologies, Apple has always been the trend leader of display applications. In most cases, apple is not the first company to use the latest display technology in its products, but it is an early adopter.
Apple's display applications, such as iPhone, iPad, macbook and pro display, have always led the way. Among OEMs, ODMs and brands, apple is one of the few companies that have invested heavily in display technology; Apple has its own display research team, laboratory and trial production line.
When the new display technology comes out, apple always has the ability and strength to improve the display technology, making it more customer-oriented and easy to be accepted by the market. Apple has hired many display experts in the field. Therefore, even if Apple does not first adopt the latest display technology in its products, it is also regarded as an important early adopter and leader of display trend.
Here's omdia's historical timeline for sorting out Apple's new display technologies.
In 2010, Apple's iPad 9.7-inch tablet panel first adopted in cell touch
In 2012, Apple's ipad Mini 7.9-inch tablet computer panel built-in oxide TFT LCD panel for the first time
In 2013, Apple's MacBook Air laptop panel was built with 13.3-inch oxide TFT LCD panel for the first time
In 2015, Apple's iPad Pro tablet panel supported active pen input Apple pencil for the first time
In 2015, apple watch launched its first smart watch equipped with flexible OLED
In 2017, for the first time, the 5.85 inch and 6.45 inch screens of iPhone x changed from LCD screen to flexible OLED screen
In 2019, Apple Pro display XDR will launch a 32 inch desktop display with mini LED backlight for the first time
In 2020, Apple will launch its first 5.8 -, 6.1 – and 6.7-inch iPhone 12 with a ceramic cover
In 2021, Apple's iPad Pro 12.9-inch will adopt Mini led backlit tablet panel for the first time
In 2021, Apple's MacBook Pro 16 inch will adopt Mini led backlit notebook panel for the first time
In 2020, apple continues to update its display roadmap. Vigorously develop the iPhone 12 series: 5.4-inch, 6.1-inch and 6.7-inch high-resolution flexible OLEDs, touch sensor on film packaging (TSP on TFE), chip on polymer (COP), driver IC bonding, slotting design and face recognition.
At the same time, in 2020, Apple will continue to update its iPad series and invest more energy in developing larger size products, such as 10.5-inch, 10.8-inch, 11 inch and 12.9-inch, as well as high-end Apple Pro display XDR.
Table 1 shows omdia's forecast for Apple's display development roadmap from 2021 to 2023.
Here are some key points:
In 2021, the new iPhone (iPhone 13) will use ltpo backplane instead of LTPS
Both Samsung Galaxy high-end series and foldable mobile phone display adopt ltpo backplane. Ltpo, commonly known as mixed oxide and polycrystalline silicon (hop), has a more complex TFT process, but it combines the advantages of low temperature polycrystalline silicon and oxide to achieve better power consumption. Apple is expected to launch the iPhone 13 series with ltpo in 2021. The display suppliers of iPhone 12 are Samsung display, LG display and BOE, which are newly certified in 2021. Samsung display and LG display are ready to supply ltpo backplanes for Apple's iPhone 13 in 2021.
More new display technologies in the new iPhone (iPhone 13)
In 2021, the new features of iPhone 13 are expected to include time of flight (TOF) for augmented reality (AR) applications, face ID and fingerprint touch ID for better biometric authentication, and display drive frequencies of 90hz and 120Hz. These will help improve the iPhone's display performance.
Mini LED backlight in iPad and macbook
In 2020, Apple bought 60 million LCDs for iPad and 18 million LCDs for MacBook. Apple is an important user of high-end mobile PC displays. Due to the ultra-thin, color performance, fast response time and theoretically low power consumption of OLED, omdia believes that Apple has always been interested in incorporating OLED into its mobile PC. OLED performs better in mobile devices, which has been proved in smart phones. Samsung Galaxy Tab tablet has been using OLED for a long time. However, due to the limited capacity of OLED, and it may take some time to achieve good yield, it may take some time for apple to adopt OLED on iPad. The mini LED backlight provides excellent contrast and high dynamic range (HDR), and matches the ultra-thin design of the current iPad and MacBook. As a result, Apple will take the lead in using mini LED backlight in the 12.9-inch iPad pro and 16 inch MacBook. LG display and sharp are important suppliers of oxide TFT panels for iPad and MacBook. LG display and sharp will be the main suppliers of LCD panels with mini LED backlight.
Hybrid OLED for iPad and MacBook in 2022
OLED performs well in mobile devices such as iPhone. Flexible OLEDs provide excellent thinness and image performance, such as color and contrast. As a manufacturing solution between flexible OLED and rigid OLED, flexible and rigid hybrid OLED provides a good cost and middle ground. The hybrid OLED shows that the OLED panel has a thin glass substrate but is packaged in a flexible film. Omdia believes that Apple will consider applying OLED to iPad and MacBook in 2020 and is currently conducting trials.
However, there are also many challenges in the introduction of these technologies, such as:
Supply – are Samsung display and LG display the only two suppliers? Will China's OLED panel manufacturers become suppliers?
Product preparation – can flexible 12.9-inch OLEDs achieve yield as high as 6.1-inch OLEDs?
Technology choice flexible, rigid or flexible and rigid hybrid OLED?
Omdia believes that because Apple always maps the display technology roadmap 18 months before the product launch, the answer will be revealed in the next few months.
At the same time, omdia doesn't think that means Apple will end its mini led backlit LCD iPad and MacBook in 2021. On the other hand, Apple's mobile PC will include traditional a-Si TFT LCD, oxide TFT LCD, oxide TFT with mini LED backlight, and hybrid OLED and flexible OLED for different iPad and MacBook series according to different market segments and consumer needs of Apple products. The 10.9-inch iPad is most likely to use LTPS and hybrid OLED; the 12.9-inch iPad Pro will use ltpo and hybrid / flexible OLED; and the 16-17-inch MacBook Pro will use LTPS and hybrid OLED.
Samsung display and LG display are developing mobile PC OLED panels for apple. Sharp LCD will also develop iPad OLEDs at its Hakusan LTPS TFT LCD plant in Japan, which was acquired from Japan display Inc. (JDI). Sharp may also consider developing MacBook OLED panels in the Sakai Gen 4.5 OLED plant in the future.
In 2023, the iPhone will have a foldable or deformable OLED display
Whether successful or not, all key mobile phone brands have launched foldable devices. Apple is no exception. Apple is one of the few brands that can provide the best user experience. As a result, Apple's foldable or scrollable display, despite its high cost, should be more user-friendly. Apple is likely to launch a 7.3-7.6-inch foldable OLED smartphone in 2023, and the OLED display will integrate all the best functions in the market into one main foldable display. Apple may add a stylus to its folding iPhone.
OLED desktop displays in 2023
After OLED enters the apple watch market, the iPhone and iPad also follow, and Apple may further apply OLED to its desktop display. This includes the latest QD OLED. OLED seems to have a clear adoption sequence – first apple watch, then Apple's iPhone, iPad and MacBook, and finally Apple's big screen display.
More reading: omdia: it is estimated that the global display glass substrate will continue to be in short supply in 2021 omdia: AMOLED will account for 29% of the total shipment of smart phone displays in 2020 omdia: China's AMOLED production capacity will increase significantly in 2021 omdia: the shipment of large-size panels will reach 63.44 million in April 2020, down 2% on a month on month basis omdia: the shipment of large-size panels will reach 64.16 million in March 2020 Omdia: it is estimated that Samsung's OLED panel shipment of display smart phones will reach 460 million pieces in 2021. Omdia: in May 2020, the shipment of large-size panels will rise 16% on a month on month basis, reaching a record high of 7 in recent years, Omdia: 13 panel manufacturers will ship 153 million smart phone panels in June 2020, up 11% year on year Omdia: Sales of 19.5 million iPhones in the first half of 2020 omdia: Sales of 37.7 million iPhones in the first half of 2020
If you want to get the full report, you can contact us by leaving us the comment. If you think the information here might be helpful to others, please actively share it. If you want others to see your attitude towards this report, please actively comment and discuss it. Please stay tuned to us, we will keep updating as much as possible to record future development trends.
RecordTrend.com is a website that focuses on future technologies, markets and user trends. We are responsible for collecting the latest research data, authority data, industry research and analysis reports. We are committed to becoming a data and report sharing platform for professionals and decision makers. We look forward to working with you to record the development trends of today's economy, technology, industrial chain and business model.Welcome to follow, comment and bookmark us, and hope to share the future with you, and look forward to your success with our help.