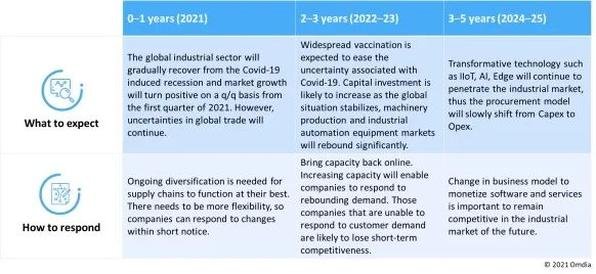 RecordTrend.com is a website that focuses on future technologies, markets and user trends. We are responsible for collecting the latest research data, authority data, industry research and analysis reports. We are committed to becoming a data and report sharing platform for professionals and decision makers. We look forward to working with you to record the development trends of today's economy, technology, industrial chain and business model.Welcome to follow, comment and bookmark us, and hope to share the future with you, and look forward to your success with our help.
The following is the Manufacturing technology: a trend worthy of attention in 2021 recommended by recordtrend.com. And this article belongs to the classification: professional knowledge.
The new covid-19 epidemic and geopolitical uncertainty made 2020 a challenging year for the global economy and industrial market. Omdia's latest research shows that the global machinery production and industrial automation equipment market is expected to shrink by 12.4% and 7.1% respectively in 2020. The future of covid-19 and the recovery of new crown will be affected by several key trends and leading technologies.
Figure 1: 2021 and beyond
Source: Omdia
Five noteworthy trends in 2021
Subcontracting and supply chain diversification
When China's new covid-19 epidemic hit, governments around the world began to realize that they were overly dependent on the risk of manufacturing in many fields, especially in the fields of automobiles, medical equipment, electronic components and raw materials. The US government actively encourages enterprises to bring the manufacturing industry back home through preferential tax policies. The Japanese government is also guiding Japanese enterprises to shift manufacturing from China to Southeast Asia or Japan through subsidies.
In addition, the Sino US trade war has accelerated the speed of American companies' subcontracting to North America, and many companies will consider this option more seriously. A survey shows that most American companies with production facilities or supply chains in China do not intend to move them. However, in the long run, subcontracting is inevitable. At least there will be a shift from China to the rest of Asia, which is already happening and will continue.
It seems that manufacturing industry around the world is shifting from offshore outsourcing to subcontracting or near offshore. The global trade openness index shows the dynamics of Global trade. The global subcontracting trend is uncertain, but the Chinese market has certainly been diversified by overseas manufacturers. According to Colney's China diversification index, China's share of the value of US imports from Asia has declined from 67 in the first quarter of 2018 to 56 in the fourth quarter of 2019. This is equivalent to about $31 billion of import value being transferred from China. Vietnam is the main beneficiary, absorbing nearly 50%. Compared with 2018, Vietnam's exports to the United States increased by US $14 billion in 2019.
In the industrial automation equipment market, subcontracting may take more time. But omdia expects subcontracting and supply chain diversification to continue in 2021 as manufacturers aim to remain competitive in the industrial market.
Cloud and edge computing
The new covid-19 epidemic has led to a decline in investment in automation. However, it also increases the focus around iiot applications, such as remote monitoring and operation. Omdia predicts that the medium-term effect will be the acceleration of investment in digital transformation, which will benefit edge computing.
The growth of new technologies and customer demand for more open solutions will shake automation design. Technologies used in enterprise it, such as virtual machines and containers, are being introduced into operational technology (OT). Among other benefits, these solutions also decouple ot software from hardware. This shift is leading some automation vendors to introduce software definition automation.
Omdia expects that as part of the hybrid edge cloud model, it vendors will continue to build hardware and software solutions that support ot edge computing. However, the mix of different analysis methods may hinder the development of the market in the short term. Industry integration around open standards is hindered by a large number of competitive methods, confusing end users and reducing the absorption of new technologies.
Monetization of software and services
Covid-19 associated with the new crown outbreak led to a short-term capital expenditure (Capex) reduction. When the new covid-19 epidemic first hit, the world economy entered a strict blockade, which affected the manufacturing industry. When the production line is running in the way of reducing production capacity or idle, it is a good time for enterprises to consider restructuring the supply chain, digitalizing the existing manufacturing process or upgrading the system and equipment. This will ensure that enterprises remain competitive, and at the same time allow enterprises to comply with the new standard operating procedures (SOPs), including the social distance of production workshops, when adapting to the new normal in the post epidemic era.
Omdia expects that the business and procurement model in the industrial sector will continue to accelerate in 2021. Traditionally, the procurement model is based on CAPEX and supported by OPEX. End users use capex to purchase equipment for new projects, while OPEX will be used for subsequent maintenance and services. However, it is expected that the procurement work will gradually transition to the OPEX only mode.
Omdia expects end users to spend more on software and services for several reasons.
In the process of recovery from the economic recession caused by the epidemic, due to the reduction of capital expenditure budget in the short term, end users in cost sensitive regions and industries will spend more on repair and maintenance services, so as to extend the service life of machines as much as possible.
In order to adapt to the new normal in the post epidemic environment, end users will continue to upgrade their existing machines, platforms and processes to gain competitive advantages.
Adoption of transformative technologies will be a key driver of the software and services market. This includes the connection between automation equipment, the communication between enterprises and organizations, and even the implementation of augmented reality (AR) in the factory workshop to achieve the purpose of training.
Automation and Robotics
During the new covid-19 pandemic, the end users of discrete industries began to realize the importance of Remote Intelligence and automation to reduce dependence on human resources. Covid-19, covid-19, and so on, the new problems of the crown disease are new problems besides manufacturing cost, labor shortage and other common production problems. The manufacturing industry also has new problems, such as ensuring production safety, observing new processes and procedures for the new crown epidemic situation and avoiding production line congestion.
There will be high demand for cobots, AGV, AMR, intelligent logistics and robot sorting system in 2021. These robots and automation systems are expected to grow as the logistics, warehousing, packaging and semiconductor industries recover.
Green and Sustainability
For a long time, industrialization has been one of the important factors causing environmental pollution. As governments around the world are committed to tackling pollution, energy efficiency and sustainability will become the focus of industrial markets.
The local climate policy and the availability of green energy will become important factors for OEM manufacturers and enterprises to decide the location of new manufacturing facilities. For example, technology groups such as apple and Facebook are trying to shift their global supply chains to 100% renewable power. As a result, parts suppliers participating in the supply chain are under pressure to eliminate the carbon footprint of their manufacturing facilities. Therefore, a country's government development plan and the availability of renewable energy are crucial for attracting foreign direct investment and establishing manufacturing bases.
The global industrial automation equipment market is mainly subject to the minimum energy performance standards (MEPs) legislation. New legislation in 2021 and beyond:
All low-voltage motors sold should meet the minimum standard of ie3. From July 2021, IE2 motors and low-voltage drives will no longer be allowed to be sold in pairs.
From June 1, 2021, the low-voltage motor sold in Chinese mainland must meet the IE3 minimum energy efficiency standard.
From July 2023, all 75kW to 200kW Motors sold will reach the minimum efficiency of IE4.
At present, the three regions are moving to more efficient systems, and this trend will continue in 2021 and beyond.
From: omdia
Read more: the future of manufacturing: what do you know about 11 advanced technologies? Pew Research Center: six development trends of American news industry fortune Chinese: five predictions of social media development trend in 2014 ITU: global digital TV broadcasting development trend in 2013 four development trends of mobile product user experience Analysis: development trend of global LTE market Forrester: Australia and New Zealand still adopt a wait-and-see attitude towards big data where will business intelligence go in 2014 — Bi future development trend Roland Berger: development trend of China's pickup market in 2020 white paper on development trend of user experience & problems caused by plagiarism products car time sharing rental: development trend and business model Posterscope: development trend of outdoor advertising in 2017 (with report) eight development trends of data field in 2017 Boston Consulting: development trend of global financial technology (with download)
If you want to get the full report, you can contact us by leaving us the comment. If you think the information here might be helpful to others, please actively share it. If you want others to see your attitude towards this report, please actively comment and discuss it. Please stay tuned to us, we will keep updating as much as possible to record future development trends.