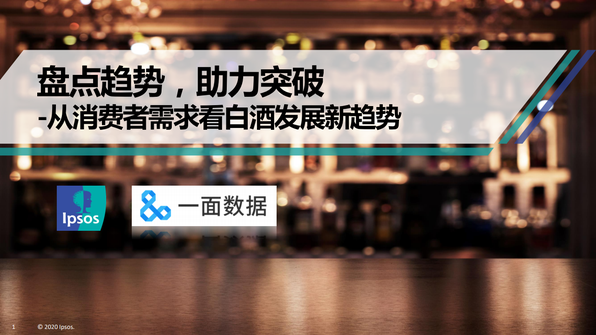 The following is the 2020 Chinese Baijiu industry trend report From Ipsos recommended by recordtrend.com. And this article belongs to the classification: Life data, Ipsos, research report.
This year, the outbreak of COVID-19 has a great impact on the Baijiu industry as a whole. According to the data released by the National Bureau of statistics, the output of Baijiu in the first half of 2020 was 350.1 million liters, down 8.6% from the same period last year. From the semi annual reports of listed companies, except for a small number of head liquor companies, the revenue of most of them has declined to varying degrees, and Matthew effect is obvious.
For most wine companies, if they want to survive in the increasingly fierce competition, they must firmly grasp the industry trend, insight into consumer demand and step on the market tuyere. China's senior Chinese Baijiu Baijiu liquor trade association, Jing Wong, senior research director of the China wine industry, was invited to the 103rd National Sugar Baijiu Wine Fair, and released the 2020 China liquor industry insight report at the conference.
Healthy Baijiu, improve health through drinking
Consumers' demand for health is increasing rapidly, health and diet are inseparable. The health needs of consumers for diet have penetrated into many categories. Baijiu, such a non-traditional health drink, consumers also hope it is healthy. Baijiu Baijiu has been on the rise in the past two years. The consumption of liquor and consumption price of liquor are increasing. 60% of the users of liquor show that the frequency of healthy Baijiu is higher, while 43% of consumers say that the price is more expensive.
Refreshing and fatigue relief; Baijiu can not drink up; gastrointestinal burden is small, and other factors, are consumers interested in the health of liquor function. In order to meet the needs of consumers, many brands are trying to meet the diverse health needs of consumers, such as Tongrentang's sanbian liquor, whose main function is to replenish blood, produce essence, strengthen brain and kidney.
However, 50% of consumers expressed no belief in the effectiveness of the health baijiu. In contrast, if the product focuses on single effect, it is easier for consumers to accept, such as Baijiu Jin wine, the main improvement sleep, old white dry top, etc., to facilitate the transmission of liquor credible and healthy.
Wang Jing, Ipsos China's liquor growth official, said that health can be more relaxed. For example, from the relaxed enjoyment of consumers, the taste can be low, gentle and light. When meeting the real feelings of consumers, Baijiu flavor needs to be mellow and layered. Consumers' demands differ from different drinking scenes and emotions. Baijiu needs to understand the deep needs of consumers.
The old wine companies are competing with each other
Moutai, Wuliangye, Fenjiu, Xun Baijiu, Langjiu, sage, Dong Jiu, Xifeng and Quanxing have been actively participating in the old wine market, competing to host the old wine home and product launch activities. As a representative of the new generation Baijiu brand, Jiang Xiao Bai will also invest a lot of money in the old wine reserve after C financing. Laojiu has become a hot track for major liquor companies this year, and consumers have shown great interest in Laojiu. 86% of consumers are willing to buy old wine and pay more (85%).
In fact, old wine is an external form of consumption upgrading. Old wine meets consumers' demand for "drinking better". At the same time, old wine has the properties of banquet, gift giving, collection and so on, which has become a popular choice for banquet and gift giving.
Enterprises need to pay attention to three things to do a good job in Laojiu: to clearly transfer the definition of Laojiu and build a "moat" for the industry; to strengthen the functional benefits and applicable scenes of Laojiu in communication and transfer the core value of Laojiu; to create the image of Laojiu through a series of products to avoid the potential risks brought by the direct link between the parent brand and the concept of Laojiu.
Low alcohol liquor meets consumers' demands for enjoyment
In Chinese Baijiu 2019 Baijiu insight report, we have proposed that "enjoy" will become the new key word of liquor demand in the future. When 90% of the Baijiu becomes the main consumer of liquor, they will be more eager to enjoy and enjoy the drinking process. The core logic of the popularity of low alcohol liquor is to meet the consumers' pursuit of "enjoyment". Young people and women are the main consumers of low alcohol.
Fruit wine and fruit flavor Baijiu fully embodies the "enjoyment" of drinking experience. The taste is slightly sweet, refreshing, smooth in the mouth, bubbles, strong fruit flavor and real pulp, all of which can bring consumers "enjoyment" drinking experience. Compared with drinks (carbonated drinks, fruit juice, etc.), there are more kinds of wine, which bring different "enjoyment" to consumers. Low alcohol wine is also more suitable for the scene of "enjoyment". You can drink low alcohol wine from the vertical barbecue stand, hot pot restaurant, exquisite afternoon tea, and fashion night show.
Different from the traditional Baijiu marketing, the marketing of low alcohol Baijiu liquor needs to be adjusted in time according to the characteristics of the 90s and even after 00. Today's young people like to use microblogs, catch up with traffic stars and watch short videos. What they pursue is the most direct and fastest pleasure experience, and they pay attention to "entertainment first". They also pay attention to "flourishing circles". Young people gather together in circles with common interests and preferences, create their own discourse system and communication mode, and become the originator of many network popular cultures.
In this era, work pressure, economic pressure and emotional pressure make young people collective anxiety. They have been looking for ways to vent their emotions. In marketing, low alcohol liquor can focus on "solving problems" for consumers, thus resonating with consumers.
This is the most challenging era, but also full of opportunities. Only by understanding the consumers can we truly grasp the future market trend and lead the brand to achieve growth.
If you want to get the full report, you can contact us by leaving us the comment. If you think the information here might be helpful to others, please actively share it. If you want others to see your attitude towards this report, please actively comment and discuss it. Please stay tuned to us, we will keep updating as much as possible to record future development trends.
RecordTrend.com is a website that focuses on future technologies, markets and user trends. We are responsible for collecting the latest research data, authority data, industry research and analysis reports. We are committed to becoming a data and report sharing platform for professionals and decision makers. We look forward to working with you to record the development trends of today's economy, technology, industrial chain and business model.Welcome to follow, comment and bookmark us, and hope to share the future with you, and look forward to your success with our help.