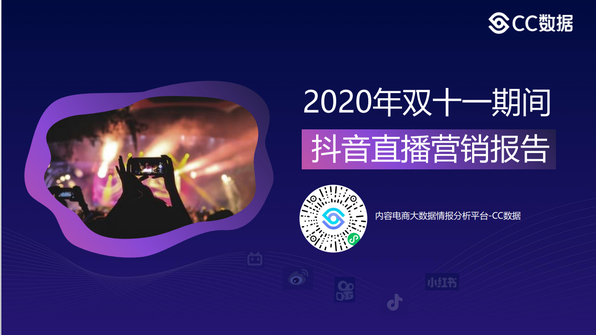 RecordTrend.com is a website that focuses on future technologies, markets and user trends. We are responsible for collecting the latest research data, authority data, industry research and analysis reports. We are committed to becoming a data and report sharing platform for professionals and decision makers. We look forward to working with you to record the development trends of today's economy, technology, industrial chain and business model.Welcome to follow, comment and bookmark us, and hope to share the future with you, and look forward to your success with our help.
The following is the 2020 tiktok live marketing report for double eleven period From CC data recommended by recordtrend.com. And this article belongs to the classification: research report, Webcast.
This year, double 11 people are a bit "inhumane", Tmall, Jingdong, jitter three tiktok cumulative sales exceeded 760 billion yuan, a substantial increase over last year.
Behind this huge sales volume, we can also see the rapid rise of live e-commerce, and the anchors play an extremely important role in the double 11.
CC data is based on the data intelligence output tracked in October 25, 2020 11 -11, 2020, "the tenth decade of the tiktok live broadcast marketing report", and I hope to provide reference and reference for you.
01 China's live e-commerce transaction scale will exceed trillion yuan
·In 2019, the overall turnover of live e-commerce reached 451.29 billion yuan, an increase of 200.4% year on year, accounting for only 4.5% of the overall scale of online shopping.
·In 2020, the overall transaction scale is close to trillion yuan, and the market scale is very large.
02 tiktok, Taobao Kwai, head anchor, inventory.
Tiktok, Taobao and Taobao are the best players in the content business platform. Their heads are Luo Yonghao, Xin Youzhi and Kwai ya.
From the cumulative sales of eleven, Luo Yonghao is not as fast as Simba and Taobao's Kwai ya.
03, the "tiktok" is the most powerful.
The sales of the tiktok head anchor are close, and there is no particularly prominent sales volume.
Tiktok Kwai: this also gives feedback to a signal: the decentralized mechanism of the jitter is more fair to all players, and it will not cause the phenomenon of "one dominant" but "strong and strong". Matthew effect is not as obvious as Taobao and fast game player.
04 double 11 tiktok overall market trend
11.11. The TikTok festival began in October 25th, and the total sales volume of head anchors reached its peak in November 11th.
·Compared with before the festival (October 20 – November 1) and after the festival (November 11 – November 15), the sales of commodity categories during November 1 – 11 increased nearly twice.
05 double 11 period – tiktok live sales shop ranking
·Among the best-selling shops, the best-selling commodities in six shops are investment gold bars with a value of 20000 yuan.
06 double 11 period – tiktok live distribution category distribution
·Clothing, shoes and bags category is the sales champion, with a total sales of nearly 3 billion, followed by beauty personal care and catering food category, with a total sales of over 1 billion.
07 double 11 period – Analysis of clothing, shoes and bags
1. Commodity price range distribution
·The distribution of the price range of clothing, shoes and bags is relatively balanced, and the goods with the price range of 20-40 yuan and 60-80 Yuan account for the highest proportion.
·Among them, the boxed socks recommended by @ Hu Xuan (number of fans: 986000) sold for only 1.08 yuan, with a total sales of 45000 pieces.
2. Distribution of the number of anchors and the number of live broadcasts corresponding to the commodity
·72% of the best-selling clothing and footwear products have less than 2 anchors, and 63% of the best-selling clothing and footwear products appear less than 10 times in the live broadcast room.
·Six pairs of pure cotton rainbow socks are the highest number of live shows, with more than 1300 live shows and nearly 80000 cumulative sales.
·Socks, which are cheap and need to be replaced frequently, often appear in the live broadcasting rooms of anchors.
3. Quantity distribution of single product
·41% of the best-selling products of clothing, shoes and bags are women's wear, followed by shoes and boots, accounting for 24%.
·Underpants are hot selling items for women's wear, while household slippers and men's board shoes are hot selling items for shoes and boots.
08 pairs 11 period – top brands of clothing, shoes and bags
·Among the top 10 popular brands of clothing, shoes and bags, the other brands are all local brands in China, except sketch brand from the United States.
·From the perspective of hot selling goods of major brands, down jacket and casual shoes are more popular with consumers.
09 double 11 period – Analysis of the anchor Market of clothing, shoes and bags
1. Fans distribution of popular anchors
More than half of the fans of tiktok live clothes are in the 10w-50w range, with a total of 4 sales of over 20 million of the total number of hosts.
·They are @ Yixi recommender, @ upstar, @ Li Meili Kimi, @ big fish, and low pink anchor can sell tens of millions of sales.
2. The distribution of average sales volume and live frequency of popular anchors
·48% of the popular anchors of clothing, shoes and bags have average sales in the range of 1w-10w, and anchor @ Zhang Ting has the highest average live sales, exceeding 16 million.
During the tiktok eleven period (18 days), 46% of the popular hosts were broadcast live at 10-20 times.
3. Top anchor sales ranking
·@Nono is the anchor of the vertical category in the field of clothing, shoes and bags. Although the number of fans is only 640000, the cumulative sales during the double 11 period exceeded 50 million, ranking third.
·@Yige and boss @ Yue have a fan base of more than 10 million and started selling gold bars worth 20000 during the double 11 Festival.
Analysis on the delivery potential of 10 clothing, shoes and bags anchor @ Yige
·Anchor @ Yige's brand reinvestment rate is up to 40%, and the most reinvestment brand is domestic beauty and skin care brand franca. The re investment rate of stores reached 22%, and the stores with the most re investment were the official flagship stores of semma e-commerce.
If you want to get the full report, you can contact us by leaving us the comment. If you think the information here might be helpful to others, please actively share it. If you want others to see your attitude towards this report, please actively comment and discuss it. Please stay tuned to us, we will keep updating as much as possible to record future development trends.