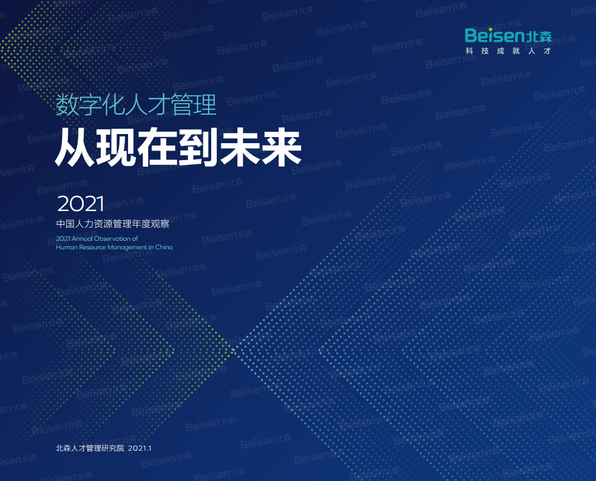 RecordTrend.com is a website that focuses on future technologies, markets and user trends. We are responsible for collecting the latest research data, authority data, industry research and analysis reports. We are committed to becoming a data and report sharing platform for professionals and decision makers. We look forward to working with you to record the development trends of today's economy, technology, industrial chain and business model.Welcome to follow, comment and bookmark us, and hope to share the future with you, and look forward to your success with our help.
The following is the 2021 annual observation report on human resource management in China From Beson recommended by recordtrend.com. And this article belongs to the classification: research report, Online recruitment.
Based on the investigation and analysis of the current situation of more than 600 Chinese enterprises in the digital transformation of human resource management, the report deeply discusses the current situation and trend of talent management, the maturity of digital scene, and the driving factors.
Three characteristics of HR digital transformation
The survey results show that 22.2% of Chinese enterprises have practical experience in HR digitalization, 70% of them are ready to develop in the field of HR digitalization, but only 3.2% of them think they have successful practice, and there is still a huge space for the transformation and development of HR digitalization.
Although enterprises may be in different stages of development, information-based, and have different demands for digital development, on the whole, they have three characteristics: leapfrog development, interactive development and multi role embedded development.
Among them, enterprises with leapfrog development pay attention to the ultimate goal and have relatively mature technology and platform support, which can change from the step-by-step practice of informatization, digitization and intelligence to "step into the intelligent stage"; enterprises with interactive development connect and infiltrate in multiple scenarios through the mutual cooperation of tools, data and platform, so that mature business and management main force can develop interactively However, enterprises with multi role chimeric development solve talent management problems through multi role perspectives of employees, HR, managers and leadership teams, and realize the penetration of talent data and business data.
Digital penetration of talent management 1 + 6 scenarios
At present, the penetration of digitalization in talent management is mainly realized through 1 + 6 business scenarios. That is to say, taking talent portrait as the talent standard, it runs through six scenes: talent attraction and recruitment, performance management, talent inventory and development, whole career learning, organizational effectiveness and employee dedication, shared service and employee experience. Each scene not only overlaps each other, but also has its own specialty.
Among them, the talent portrait can be regarded as the user portrait within the enterprise, which is the beacon to guide the work of talent management in each scene. With the help of various scientific evaluation tools and technologies, enterprises can comprehensively and scientifically evaluate and quantify the ability and potential of outstanding employees, link various business or performance data to enrich the talent portrait, and apply it to future talent or business decision-making.
Among the other six scenes, digitization has also brought scene changes of different degrees.
Talent attraction and recruitment is the most leading digital talent management position, and efficiency, quality and experience are the most concerned recruitment topics of HR. In the future, with the continuous penetration of digitization and intelligence in the recruitment scene, talent attraction and recruitment will realize long-term connection, comprehensive knowledge, and engineering efficiency upgrading.
Performance management will be in the next five years, relying on digital to achieve the upgrading of management ideas. The combination of personal goals and organizational goals, the setting of personal goals with both work tasks and personal development, the setting of assessment schemes by integrating different systems / businesses / functions of enterprises, the regular guidance or timely feedback of supervisors, and periodic employee assessment have become new ideas of comprehensive performance management.
In the scene of talent inventory and development, digitalization will make management value explicit. Continuous light-weight inventory, more basis for talent decision-making and extending career life cycle around talent design mechanism are the main embodiment of the digital upgrading value of this scene.
With the development of digital technology, the whole career learning accelerates the change, leading the organization to change from knowledge learning to ability development. In the future, enterprises will pay more attention to the stimulation of employees' learning motivation, and use AI and other technologies to build a learning system that meets business needs.
At the same time, digitalization also makes it possible for organizations to listen to employees anytime, anywhere. The report shows that less than 4% of enterprises do not care about the work status and feedback of employees, and through digital technology, organizational behavior can be analyzed layer by layer, combined with key business data to form effective organizational observation and measurement.
Based on the above scenario of digital upgrading, shared services and employee experience has become a new hot spot of organization management and talent management in recent years. With the application of digital technology, digital employee service will present the characteristics of employee experience design, intelligent experimental area and ecological trend.
Four accelerators of digital talent management
The report points out that from the perspective of the realizability of digital transformation, enterprises can start from any one of the 1 + 6 scenarios and gradually realize the digital transformation of comprehensive talent management in combination with the current digital foundation. In addition, there are four accelerators to promote the digital transformation of talent management.
First, the use of new technology and new tools will help improve the ability of enterprises to solve problems. The report points out that machine learning, virtual reality, natural language processing and other technologies are increasingly applied to solve scene problems. In 2020, Beisen launched AI family, a family of artificial intelligence products, to provide AI services covering all scenarios of human resources.
Second, mastering the ability of talent data analysis can improve the efficiency of digital application and answer business questions with data. The report points out that HR with the ability of talent data analysis is becoming a "Star" in the team, and the enterprise's recognition of the importance of talent data analysis has reached 83.1%.
Thirdly, digital talents and leadership, reserve digital talents, reconstruct digital leadership and enhance digital literacy are the key.
Fourth, choose the right digital partners, enhance their own ability through cooperation, and realize the digital ecology of talent management. The report points out that choosing the right partner can enhance the digital capability of enterprises several times in a relatively short period of time, and can also help enterprises avoid the digital "trap".
If you want to get the full report, you can contact us by leaving us the comment. If you think the information here might be helpful to others, please actively share it. If you want others to see your attitude towards this report, please actively comment and discuss it. Please stay tuned to us, we will keep updating as much as possible to record future development trends.