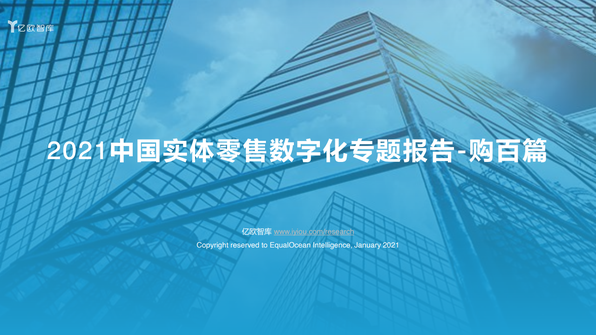 The following is the 2021 digital report on China's physical retail From Yiou think tank recommended by recordtrend.com. And this article belongs to the classification: Consumer research, research report.
Shopping industry includes department store, shopping center and factory direct sales center
Department stores and shopping centers in China are similar, and the formats of factory direct sales centers and shopping centers are very similar. Based on the above reasons, the report will study these three types of business as "buy 100 industry". Based on the basic starting point of "managing passenger flow and enabling merchants", the report focuses on the digitization of shops, users, sales channels and additional services, and finally explores the role of supply chain digitization and commodity digitization in the future development of shopping mall.
Shopping industry enters into digital marketing stage
At present, the digital transformation of shopping mall industry has entered the digital marketing stage from inventory digitization and customer static digitization, which links consumers with scenes, carries out digital marketing, and creates an integrated consumption experience. With the deepening of 5g, big data, cloud computing and other technology empowerment, the main consumer groups gradually iterate and subdivide. Experiential consumption will still be the main theme of offline consumption, and the digital value creation ability will become an important direction of shopper's digital transformation.
Digital transformation should adhere to the basic idea of "managing passenger flow and enabling merchants"
The digital transformation of shopping mall should adhere to the basic idea of "managing passenger flow and enabling merchants": the operating passenger flow can be divided into three aspects: "attracting flow, efficient transformation and ensuring retention"; in addition, for shopping mall enterprises with mature digital construction, the concept of "field" should be further broadened to create additional revenue.
Digital multi dimensional enabling shopping industry
The traditional marketing methods represented by "newspaper advertising, radio and television" have the disadvantages of "limited access to traffic and inaccurate customers", and the effect of communication and transformation is poor. Data show that nearly 70% of consumers will conduct online + offline research before shopping, and shopping enterprises should "focus on where the marketing is", and carry out all scene and all channel digital marketing.
Social app is the most time-consuming application for consumers to surf the Internet, which has the property of carrying goods. According to the data, 50% of consumers said they knew about a product through social platform, 48% of consumers became interested after seeing the products recommended by social platform, and finally 25% of consumers bought the products recommended by social platform. Therefore, purchasing 100 enterprises through social platform marketing will achieve more efficient customer.
At this stage, the vast majority of consumers are highly concentrated in the flow pool of a few platforms, of which wechat monthly live number has exceeded 1.2 billion, covering almost all potential customers in the shopping industry. Hundreds of businesses can diversify their marketing by using the advantages of Tencent and other social platforms such as the circle of friends, official account push and social marketing. This kind of marketing is vivid in form and has the advantages of "long-term communication and accumulation of favor".
Data shows that thanks to the large number of active users and rich application solutions, wechat has become the main position of digital marketing of shopping mall enterprises. Among them, service number (72%), subscription number (54%) and small program (46%) had the highest utilization rate.
Digitalization and efficient transformation
Circle based on interest generally has high stickiness and high consumption ability, and identifying the same circle people through big data to accurately match goods and people is an important means to achieve efficient transformation. Internet enterprises with big data base can expand the amount based on the "seed data" provided by purchasing 100 enterprises, establish comprehensive brand crowd portraits, and formulate targeted marketing operation strategies according to the characteristics of different crowd, so as to achieve deep consumer insight and meet the demand of purchasing 100 enterprises for "directional bait".
Research shows that consumers generally have impulse shopping tendency for clothing and other FMCG products. Social e-commerce can effectively shorten the transaction link. After content recommendation, it can directly provide relevant transaction channels to facilitate consumers' transaction and fully grasp consumers' impulse shopping psychology. Among them, the combination of circle of friends advertising and small program direct purchase can provide better returns, and has become an important tool for social e-commerce to achieve efficient transformation. Data shows that the Gmv of wechat app has reached 800 billion, accounting for 40% of the total retail sales of social e-commerce, while the Gmv of app still maintains a high growth, with a year-on-year growth of about 160% in 2019.
Through advertising exposure, purchasing 100 enterprises can guide users to enter the landing page of wechat apps with one click. In the short term, it can achieve a growth rate of return on investment that exceeds expectations. In the long term, it can effectively precipitate private domain traffic in small apps and continue to affect sales growth.
In addition, the phenomenon of "exhibition hall" systematically reduces the purchase volume of stores, which has a huge impact on the sales of physical retail enterprises. The online push of coupons and vouchers can effectively reduce the "exhibition hall phenomenon". The data shows that 80% of consumers will receive the push of coupons, and 43% of them will consume because of coupons.
Digitalization ensures user retention
The e-membership system makes it possible for shopping enterprises to make targeted touch based on consumers' preferences in all aspects of the shopping link, making it possible to "open up the consumption closed loop and efficient link management". At the same time, for shopping enterprises with chain stores or multiple formats, the e-membership system helps to get through the members of its chain stores and enhance the linkage of enterprises.
Private domain operation makes it easier for consumers to "consume for life" and "fission" through more temperature and more targeted consumer access. The transformation from public domain to private domain needs more mature strategy support, and in order to ensure the consumption and fission of users, shopper needs to have detailed insight into consumers in all aspects of private domain operation.
Tencent can provide relevant solutions and multi-level long-term ROI tracking for purchasers according to user paths and consumer contacts, and build a new ROI tracking and transformation system to reflect the real effect of iceberg.
The concept of digital broadening "field"
Online shopping has stronger anti risk ability because of its non-contact. According to the data, 67% of online shopping malls reported that the epidemic situation had little impact on their performance. With the normalization of epidemic prevention and control, it is imperative to expand online sales channels for shopping malls.
The wechat ecological interconnection provides multi-contact sales channels for shopping mall enterprises, helping to build shopping mall for shopping mall enterprises. Wechat ecology can activate consumers' purchase decisions through multiple contacts, and provide corresponding channels to complete transactions, so as to meet consumers' demand for zero time difference transactions. Based on wechat payment, wechat can provide a series of online transaction channels such as "community order, wechat store" to help purchasers quickly expand transaction scenarios.
After the completion of the construction of the digital second floor, in addition to providing more sales channels for existing brands, buy100 enterprises can also carry more brands in the form of online shopping malls, provide more sales channels for brands and obtain additional revenue, so as to achieve a win-win situation with brands.
Integrated linkage of platform merchants
The establishment of a close cooperative relationship between purchasers and brands is conducive to the communication between the two sides during the epidemic period. Purchasers will be more calm and avoid being in a passive position in the face of sensitive situations such as rent negotiations.
The role of shopping mall can be divided into three categories: shopping mall itself, brand business and shopping guide. Brand business plays the role of goods provider and needs to have certain data analysis ability to assist in product selection decision. However, purchasers should integrate on-site and off-site data, and connect with brands in the middle of the platform for data empowerment.
Prospect of digital transformation trend of shopping mall
"Strong franchisee" becomes the best choice in the early stage of digital transformation of shopping mall industry
Considering that the digital transformation of the shopping mall industry is still facing great challenges, nearly half of the shopping mall enterprises have problems such as lack of talents and capital investment pressure, and the "strong franchisee" will become the best choice for the early digital transformation of the shopping mall industry. Tencent advertising and other digital service providers can provide digital consulting services and digital marketing solutions to help traditional shopping mall enterprises complete the first step of digital transformation. When purchasers have digital technology and get enough data, they can form a complete digital logic and further empower other players in the ecosystem.
Based on the digital development of self support, to create differentiated advantages
On the one hand, the joint venture mode makes the department stores encounter the ceiling of gross profit; on the other hand, it fails to acquire the sensitivity of the consumer market and the control of the supply chain. With digital empowerment, department stores can accurately analyze customers' preferences, and properly improve self operated stores that are more in line with consumers' preferences has gradually become the focus of department stores' development.
Dig deep into the value of scene and become the developer and operator of life experience space
5g and other new technology applications will bring a new experience to shopper consumers. Through the scene experience digital tools, shopping enterprises can dynamically understand customers' preferences in real time, understand consumer demand through visualization and digital analysis, and give better product selection and operation suggestions, so as to achieve better transformation effect. It is necessary to form a closed-loop consumption chain from customer connection to after-sales service, and further improve the operation ability through data analysis, so as to give full play to the advantages of offline differentiation.
If you want to get the full report, you can contact us by leaving us the comment. If you think the information here might be helpful to others, please actively share it. If you want others to see your attitude towards this report, please actively comment and discuss it. Please stay tuned to us, we will keep updating as much as possible to record future development trends.
RecordTrend.com is a website that focuses on future technologies, markets and user trends. We are responsible for collecting the latest research data, authority data, industry research and analysis reports. We are committed to becoming a data and report sharing platform for professionals and decision makers. We look forward to working with you to record the development trends of today's economy, technology, industrial chain and business model.Welcome to follow, comment and bookmark us, and hope to share the future with you, and look forward to your success with our help.