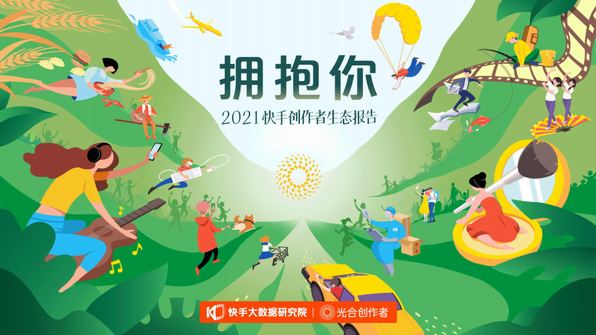 The following is the 2021 Kwai Fu creators ecological Report From Kwai Tai big data Institute recommended by recordtrend.com. And this article belongs to the classification: Life data, research report.
In 2021, the content creation of short video and live broadcasting platform seems to be more realistic and diversified; At the same time, the live broadcast of e-commerce on the air outlet also makes creators, brands, institutions, platforms and other parties work together more closely.
Kwai Kwai Kwai, the 2021 fastest ever Creation Conference in Guangzhou, will be held in -23 April 22nd. It is the largest platform ecological conference since its establishment. It will show the new trend and new ideas of the new content in all directions.
Kwai Kwai has been China's leading enterprise in short video industry. Its fast hand has been attracting attention in the past year: early year, it reached exclusive cooperation with Spring Festival Gala, and went to Dong Mingzhu's live broadcasting with goods, Jay Chou's entry, homemade short plays and variety shows, and then went public in 2021, and laid out sports head copyright IP.
In April 21st, the fast hand big data Institute jointly released the "2021 fast creator ecology report" with the creator of the Kwai Kwai assembly. It shows nearly more than 40 cases of 300 users and institutions in the more than 40 business segments, and over 100 operations and business trends. Kwai Chung's new creators and content ecology can be seen from the beginning.
Embrace each unique you
Kwai Kwai Kwai released its first performance announcement since March. The data show that in 2020, the average monthly activity of the app and the applet in China was 777 million, of which 25% of the fast users were active users.
It is reported that the Kwai has more than 40 large content categories and 80 thousand interest points. Whether it's short drama, beauty, fitness, beauty, bivariate, or pet, mother and baby, real estate, finance, automobile, each creator can publish content based on his own unique interests and expertise. Recommendation algorithm will let like-minded users connect with each other, and deepen the social brand of the platform from long-term interaction.
The one and only Kwai Mei Kwai is a young artist who is embracing the fast hands. They are shining because of their uniqueness: the 13 year old bell Mei Mei has been like nature itself and has been popular in the fast track. As a successor of the national non heritage Beijing dough Lang, 95 boys later on the one thousand and one night stage, the Kwai Kok Tsun was seen by more young people.
The addition of many celebrities and celebrities also makes Kwai's content ecology more solid and full of feelings. Spanning two generations of youth, Jay Chou has been a fast moving hand and a spokesperson. Kwai sang shows magic tricks, takes pictures in milk tea shops, and makes fun of his "fat, thin, free and happy eating". As the only Chinese social media in the whole network, Kwai Chow has made the distance between "Zhou classmate" and fans closer. Kwai Lo Kwai, the world's soccer superstar, has also landed on the continent to become a fast moving hand, becoming a sports spokesman for China's national short video application, sharing training in C and daily life.
During the epidemic, live broadcast has become a new infrastructure for economic recovery. All walks of life have embraced the Kwai Fu, and have been put into the live broadcast of the electricity supplier to break through in adversity. Creators of various industries have found that their previously accumulated content and fans have made them more resilient in special times, while the booming home economy has given the industry vitality. It is worth noting that GREE Kwai Dong Mingzhu, NetEase NetEase, Ctrip Liang Jianzhang, and other enterprises "bosses" also joined in the fast track live goods row, completed a number of successful enterprise transformation and upgrading test.
Mainstream media and government agencies are also exploring new models of information dissemination through Kwai Tung. For example, CCTV news, from the end of January 2020 to the early April, Kwai Chung, Wuhan restarted, live 1791 hours, a record of the fast track single account live long live. In the live broadcast, many users witnessed the construction of huoshenshan and leishenshan hospitals in a short period of time, the first time to watch the epidemic situation press conferences in various places, and also witnessed the moment when Wuhan was unsealed and the medical aid team in Hubei triumphed
In addition, many government agencies are Kwai Tsing daily authority information and a piece of news. Taking health and health institutions as an example, during the period of COVID-19, they made outstanding contributions in health science popularization and professional rumor control. The report shows that as of April 15, 2021, the fast hand health China fast health program has more than 500 national health committees and Kwai Wei health committees, Health Industry Council directly affiliated health industry associations and organizations, public hospitals and non-public three hospitals. More than 3000 doctors, nurses, pharmacists, laboratory technicians and (Radiology) medical imagers have been certified in public hospitals and non-public tertiary hospitals.
Kwai Fu change
From the report, we can see that Kwai is actively embracing changes, constantly improving technology and upgrading business to better empower the creator.
Through continuous improvement technology, Kwai has created a better playback experience for creators. The report shows that Kwai is the first short video platform supporting 1080P Full HD, 60 frame high frame rate and HDR high dynamic range, and the overall resolution, frame rate and color upgrade means that the screen of the work has a higher degree of reduction. In addition, the technical threshold of user creation is constantly decreasing, and the diversified creation needs can be met. For example, "quick Kwai scissors", users can log on to web pages to produce high-quality videos and press a key to contribute. Live broadcast, "Kwai live cloud live" to achieve cloud broadcast, cloud distribution, cloud guided broadcast, covering the whole process of live broadcast of users. Officially launched Kwai Fu special platform in December last year, it has attracted hundreds of millions of users. Users can collocation various tools, beauty, beauty and makeup, and develop their own filters.
Kwai Fu also creates a better environment for creation, and respects not easily won achievements and protects the rights and interests of the creators. In March 22nd, the 2021 Kwai Kwai music copyright ecology conference was held in Beijing. It became the first Internet platform to offer the copyright settlement standard for short video and live music. The support words and copyright were settled separately, and the independent music settlement channel was opened to encourage more excellent works.
Kwai Fu also expands content boundaries. From snooker to CBA, Kwai has successively acquired the copyright of top sports events, introducing sports copyright content, head celebrities and sports organizations, creating a strong sports community atmosphere in the station. Kwai has become the official live and short video platform of the CBA League, and allows users to create "two innovations" for CBA events. It encourages users to express new expressions and produce new contents according to their interests and understanding, so that more users will become the fun of the creator.
He who has perseverance has constancy
The increasingly abundant creators matrix, constantly improving creative environment, and Kwai's efforts to expand their content boundaries also mean stronger opportunities for realisation of creators.
Looking back in 2020, Kwai has GREE CEO Dong Mingzhu, who has been delivering live products for 310 million hours in a 3 hour live season.
According to Kwai Kwai prospectus, 9 billion users concerned about each other in the 9 months ended September 30, 2020, and the number of short videos and live Kwai points, forwarding and comments reached 2 trillion and 340 billion, and 23 million users were getting quick income. The creator publishes the content, establishes a deep relationship in the interaction with fans, and accumulates private domain traffic, so as to realize. It is worth noting that the total number of e-commerce transactions applied by Kwai TSE in 2020 was 381 billion 200 million yuan, with an average rate of 65%. Trust is the most important factor in the rapid growth of Kwai Chung e-commerce business.
The "second brother" was talking about cars and commenting cars quickly through short videos and live broadcast about 4 years ago. Many fans have been watching him and interacting with him for his professional Kwai Fu. By the end of 2020, the "second brother" had sold nearly 3000 cars in Kwai Tung.
The interaction between people and people and content makes the Kwai build a powerful ecosystem with self growth ability to meet the needs of users. There are also many industries moving from offline to online, Kwai Ting trying to break through the ecological closed-loop of content and business, and find out their own business paths. The report mentions that the new US industry class in November 2020 can see Kwai's exploration of local life businesses. Practitioners are also creators, publishing content, attracting fans, gathering traffic, plus platform guidance, expanding hairdressing, manicure, wedding from content to service, from online drainage, bringing new profit growth points for offline stores.
On how to help the creator realize this issue, he quickly launched the "magnetic Kwai star" as the official sole creator eco marketing platform, which effectively connects customers and creators, and helps the creator to commercialize cash. It also promotes the service of "fast noodles" and helps the anchor to expand its powder, and promotes the ecological value of Kwai Kwai noodles from three dimensions: "flow, content and transformation".
The founder of fast light, Kwai Ho and Cheng Yi CHO, started a business with a belief: respect for people, respect for labor and creativity. They hope to help people find their needs and play their strengths through fast hands, hoping that there are constant products in perseverance, perseverance in the constant production, and the promotion of Kwai Kwai to become the most trustworthy and most trustworthy community.
Kwai Kwai will be able to reveal more new ideas, new directions and new policies in 2021, so that every unique creator can produce more wonderful photosynthesis as full of vigour seedlings.
If you want to get the full report, you can contact us by leaving us the comment. If you think the information here might be helpful to others, please actively share it. If you want others to see your attitude towards this report, please actively comment and discuss it. Please stay tuned to us, we will keep updating as much as possible to record future development trends.
RecordTrend.com is a website that focuses on future technologies, markets and user trends. We are responsible for collecting the latest research data, authority data, industry research and analysis reports. We are committed to becoming a data and report sharing platform for professionals and decision makers. We look forward to working with you to record the development trends of today's economy, technology, industrial chain and business model.Welcome to follow, comment and bookmark us, and hope to share the future with you, and look forward to your success with our help.