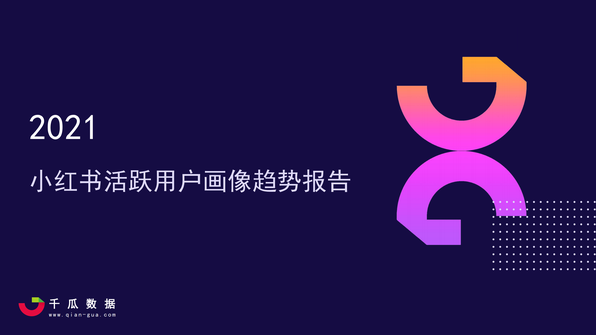 The following is the 2021 Little Red Book active user portrait Trend Report From A thousand melons recommended by recordtrend.com. And this article belongs to the classification: Life data, User Research, research report.
Qiangua data exclusively launched "2021 xiaohongshu active user portrait trend report", which analyzes four core groups of xiaohongshu active users, namely beauty, food, mother and baby, and home furnishing, providing data support and marketing direction for brand insight into xiaohongshu portrait and consumption trend of different groups.    
01. The backbone group of little red book
Chanel and YSL talk about health food. They don't like to be yellow faced or spicy. They pay attention to the sense of life ceremony. They love big brands and have strong consumption power. They are the main force of social networking sites and shopping platforms. They also support the absolute proportion of the content ecology of little red book.
According to the latest data of little red book, there are more than 100 million monthly live users of little red book. In 2020, nearly 300 million notes will be published, and more than 10 billion notes will be exposed every day.
The active users of little red book tend to be younger, and their ages are mainly 18-34 years old, accounting for 83.31%; Female users accounted for 90.41%, and male users accounted for 9.59%.
Urban white-collar workers and elite women in the workplace are the main user groups with strong consumption ability, corresponding consumption demand and pursuit of quality life, which is consistent with the female portraits of urban white-collar workers, urban middle class, exquisite mothers, urban blue collar workers and urban genz in the concept of eight consumer groups proposed by Ali.
In terms of brand selection, they adhere to the standard of beauty without size and pursue the quality of life. They use the most brands and have the highest market share of high-end products and foreign brands. They prefer keywords such as "specific brand", "origin" and "ingredients" in brand communication. Their demand for quality is still rising, and the sales volume and price of new products / brands related to it will continue the existing growth trend.
In the process of launching the little red book, the brand needs more detailed crowd analysis, data analysis and insight for user portraits of different groups and preferences. Through six mechanisms of classification, labeling, statistics, analysis, tracking and feedback, it can match product TA 360 degrees and provide a solid foundation for business decision-making.
02. User insight of four core categories
In the digital era, in order to help the implementation of brand crowd operation methodology, it is necessary to build a closed-loop consumption ecosystem around the goal of customer acquisition, integrate its life scenes, cover the whole life cycle of brand users, and realize the continuous high transformation after crowd insight.
The first step is to make a crowd perspective of brands and products, identify the specific strategic groups, and further analyze the preference characteristics of strategic groups for goods and markets.
Beauty: segmentation + personality
Among the first category of beauty products in little red book, skin care is slightly more concerned than color makeup. The most popular topic discussed by users in little red book is skin. There are more and more ingredients. They are very concerned about whether certain ingredients in products can improve the skin condition, and prefer the ingredients based products that can directly hit the pain point.
In terms of make-up, users of little red book generally prefer products with high face value and high cost performance. Colorful eye makeup and lip makeup become their fashion and personality self-expression.
They love big brands, but also support cost-effective domestic products. In the past year, YSL had the most interactions with xiaohongshu beauty brands, with more than 32.74 million times. However, domestic brands with high cost performance have gradually attracted their attention. In the past year, among the top ten beauty brands of xiaohongshu interactive, there are two domestic color brands, namely perfect diary and orange flower( Click the blue text to directly jump to the brand growth strategy)
The second step is to identify the growth factors of key strategic groups and customize the exclusive strategy of brand products from the perspective of strategic groups, combined with lifestyle, penetration contact and other growth factors.
Mother and baby: word of mouth + self satisfaction
According to the analysis of xiaohongshu's mother and baby category, as the main group of active users of xiaohongshu's mother and baby category, the choice of baby products is more and more high standard and refined, and the brand with high qualification and good reputation is their first choice. The report shows that in the past year, 80% of the top ten international brands in xiaohongshu's mother and baby brand interaction have obvious advantages.
With the rise of women's consciousness, "before you become a mother or wife, you are yourself first" makes delicate mothers pay more attention to postpartum repair and pregnancy wear.
The third step is to select landing scenarios for growth factors, build Omni channel flow pool of public domain flow and private domain flow, and make targeted strategic measures to improve product matching, optimize marketing investment, and optimize channel layout.
For example, food brand Oreo will invite KOL talents to output creative content in a multi-stage and targeted manner in combination with different use scenarios of young people.
Food: beauty + identity
In the little red book of "beauty is in charge", Oreo's business notes are all "immortal beauty", which are in line with the aesthetic preferences of young ladies and sisters. At this time, combined with social media activities, Oreo will introduce the public domain traffic into the brand private domain traffic rhythmically and chain, and complete the closed loop from traffic to grass planting and weeding.
Figure 1000 melon data
In addition, according to the analysis of xiaohongshu's food categories, the active users of xiaohongshu's food category pursue the beauty from inside to outside, enjoy the happiness brought by "eating" beauty, and beauty food is sought after.
From the analysis of xiaohongshu mall, it can be seen that the proportion of 100-300 in the price preference of purchased users is the highest, and the preference proportion of products with higher unit price is not inferior, showing a strong consumption strength.
Finally, the establishment of accurate 360 degree panoramic user portrait, real-time evaluation and continuous optimization of strategic initiatives.
Home: Creation + self expression
In xiaohongshu, the active users of home categories are mainly urban middle class, exquisite mothers and urban blue collar groups. Triggered by the "she" economy, young women's decision-making ability of home consumption is gradually apparent, they are willing to pay for convenience, and form their own style preference.
IKEA's simple and modern style is sought after by the users of xiaohongshu, occupying the top 1 of xiaohongshu household brand interaction for nearly a year with absolute advantage.
From the household hot search words cloud: good things sharing, INS, storage, shelf, light luxury and so on, we can see that the active users of xiaohongshu household class keep up with the trend, and their life tends to be more and more quality and life-oriented. In the little red book, they can create their own content and express their aesthetic, love, personality and ideal through the home.
Qiangua data, as the first platform to launch data analysis service for xiaohongshu in the market, has strong big data product support, which can help brands gain insight into the preferences and trends of xiaohongshu user groups in real time, optimize the operation at the first time, and effectively improve the delivery effect.
summary
The core groups of xiaohongshu gradually form their own brand style in terms of consumption ability and preference. Their pursuit and enjoyment of quality life make them more willing to pay for high-quality goods and services.
·   The brand competition of xiaohongshu beauty is fierce and the product trend is diversified. The brand should be deeply rooted in the field of segmentation and focus on creating differentiated competitive advantage.
·   Users of little red book are willing to pay for distinctive food brands. It is the general trend to influence users' mind by passing brand stories and KOL planting grass.
·   Xiaohongshu maternal and infant international brand has obvious advantages and strong consumer strength. Local brands can focus on R & D strength + resource integration, and then combine with marketing blessing to strengthen user awareness.
·   Xiaohongshu home tends to be quality and life oriented, grasps the hot spots of users' attention, understands users' public opinion, and uses data tools to help accurate brand delivery.
If you want to get the full report, you can contact us by leaving us the comment. If you think the information here might be helpful to others, please actively share it. If you want others to see your attitude towards this report, please actively comment and discuss it. Please stay tuned to us, we will keep updating as much as possible to record future development trends.
RecordTrend.com is a website that focuses on future technologies, markets and user trends. We are responsible for collecting the latest research data, authority data, industry research and analysis reports. We are committed to becoming a data and report sharing platform for professionals and decision makers. We look forward to working with you to record the development trends of today's economy, technology, industrial chain and business model.Welcome to follow, comment and bookmark us, and hope to share the future with you, and look forward to your success with our help.