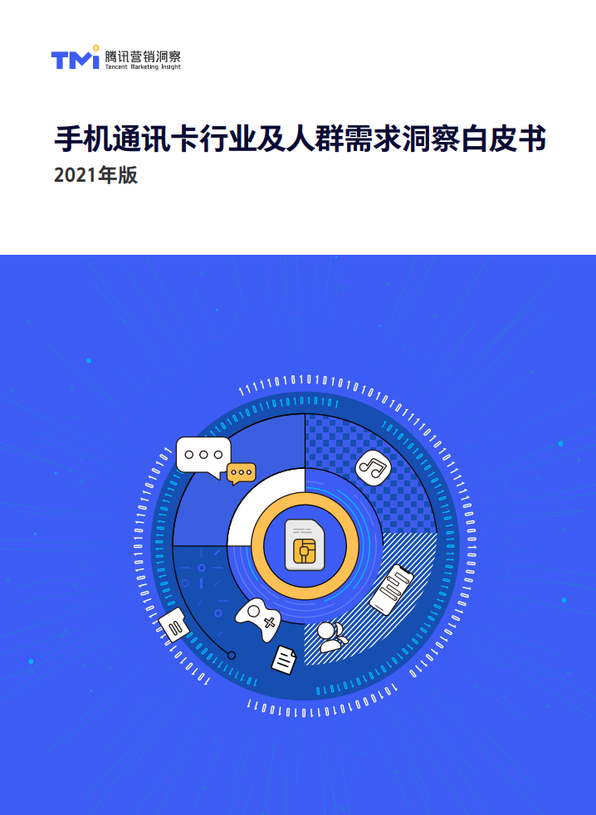 The following is the 2021 white paper on demand insight of mobile communication card industry and population From Tencent marketing insight recommended by recordtrend.com. And this article belongs to the classification: Intelligent mobile phone, User Research, research report.
Insight into the new card market: the word "province" is the first, and the demand is diverse
Tencent marketing insight (TMI) found that in the mobile communication card market, the main target audience of new card business has gradually changed from single card new customers to multi card users, and the proportion of multi card users has reached 89%, among which the growth rate of double card and three card is significant.
The reason for this situation, in addition to the new online card business ushered in a window period in recent years, also benefited from the joint boost of supply side and demand side.
On the supply side, with the simplification of online new card processing process and the multiple effects of operators' incentive policies, the sales of online new card products have been accelerated. On the demand side, consumers' demand for online entertainment and the epidemic situation have accelerated the development of new card business and moved to the line.
The mobile communication card industry is facing many challenges as well as new opportunities; In order to compete for the online traffic and market share, the service providers and operators who enter the market after entering the market make great efforts in the low-cost card market, which leads to the increasingly fierce competition and the further rise of customer acquisition cost.
However, most of the operators and service providers do not realize the seriousness of the situation due to the lack of marketing insight. Based on this, it is very important for operators and service providers to clarify the market environment and reconstruct their own products so as to seize the opportunity and achieve rapid development.
According to the white paper, in the multi card group, the highest proportion of consumer use is through the main card for work / business, while in the use of auxiliary card, 51% of consumers use it for entertainment alone.
In the process of new card processing, consumers will make the final decision based on the two dimensions of function and price.
At the functional level, the items that consumers pay more attention to include data traffic, voice calls, value-added services and free SMS.
At the price level, consumers pay more attention to package charges.
Data flow and call demand are the core driving factors when consumers apply for new cards.
In terms of data flow, when consumers exceed 24.7g on average for 3.2 consecutive months, they will choose to apply for a new card. 70% of consumers are free to apply for new cards based on the flow, and 86% of consumers have added new flow when they apply for new cards.
In terms of call demand, when the call duration of consumers exceeds 296.8 minutes on average for 3.2 consecutive months, they will choose to apply for a new card. At the same time, the call quality and free call duration are more concerned when consumers apply for a new card.
In the process of new card processing, more value-added services need to be stimulated. 50% of consumers are accustomed to using the value-added services of number card, but only 27% of consumers actively care about the relevant rights and interests.
In terms of package charges, although consumers expect cheap packages, 60% of them still choose to upgrade the packages after careful consideration. In addition, 91% of them will add extra consumption to the existing packages.
Based on the development of mobile Internet and the popularity of one person multi card, although the mobile communication card industry contains broad business opportunities, because consumers' expectations are not clear, operators and service providers need to further stimulate consumers' cognition, and effectively insight and perceive the personalized needs of subdivided groups, so as to feed back products and marketing strategies, and establish a smooth transformation path, To achieve real user life cycle management, so as to build a new accelerating engine of new card processing speed and income.
New card crowd insight: five typical customers with different and diverse needs
According to data research and statistics, the new card subdivides consumers into five typical groups: family backbone, student party, migrant workers, new employees and business elites. The common needs of these five groups of people for the new card are free flow, fast enjoyment and value-added benefits. However, there are differences in the motivation of new card processing, scene requirements and catalyst links.
Family backbone
Huihui, born in the 1980s, is a working mother. She has to be busy with her work, care about her children's study and parents' health, and co-ordinate all kinds of family expenses. In order to have unlimited traffic and save more money for family broadband, she recently opened her second mobile phone card and bound a more cost-effective family number for her parents, fully meeting the network needs of everyone in the family.
There are many new card users like Huihui. This group is named "family backbone" in the report. Most of them are mature married people with children, with an average age of 10 years old. Mobile entertainment time is mainly concentrated in commuting. This kind of people's daily attention covers all aspects of the family, such as education, health care, life services, etc., especially the children's consumer information, such as children's IP, children's clothing and children's shoes, etc. In terms of media access, this group prefers the coverage of social channels, such as access, grass planting and full link purchase, and wechat is particularly important.
For this group of people, the old card mainly has the pain points of insufficient call time, less SMS, lack of traffic and so on. The new card will be more attractive if it can provide abundant additional rights and interests, such as multi family number, short number, directional flow package and member account number, besides meeting the basic traffic, call and broadband needs.
Student party
In 2000, hehe was a college student. After school, he liked to stay in the dormitory, playing mobile games, chasing dramas, eating snacks and brushing his mobile phone. However, the traffic was in a hurry before the end of the month. To this end, hehe applied for a new mobile phone card, and chose a larger flow package, so that he can enjoy the network anytime and anywhere.
Hehe is one of the student parties mentioned in the report. This group of people are mainly young people who love online surfing. They are full of personality, have a wide range of daily life, and are curious. They use mobile phones in fragmented time throughout the day. Their daily traffic is mostly used for playing games, watching talk shows, reality TV videos, etc., searching for interesting information such as dressing and basketball, and learning purposes such as postgraduate entrance examination and university examination.
This group's requirements for the new card are to give consideration to both learning and entertainment, and at the same time, to pursue preferential tariff, to see major traffic and a happy entertainment surfing experience. In terms of media access, when the student party opens a new card, it is vulnerable to the influence of circle peers, and can accurately access it with the help of social app.
In addition to working mothers like Huihui and college students like hehe, there are three typical groups in the mobile communication card market.
Migrant workers
Men are more likely to use data traffic at night to watch long videos (such as variety shows, TV dramas), play games, read novels / listen to books, listen to music and other entertainment content. Cheap prices can meet the data needs of entertainment and social networking, and they are more likely to open new cards for them. When buying products, they pay more attention to discounts.
New employees
In this group, there are more women. They pursue both work and life. Their daily concerns are diverse, involving work, financial management, beauty, food, entertainment and other aspects. They pay special attention to job recruitment, dating and pet related information. Seeking a cost-effective package that can take into account both daily business and home network is the main motivation for this kind of people to open the card. The package includes a variety of free activities, providing member accounts and so on, which can stimulate their interest in card application.
Business elite
Most of them are high-income people, with a monthly income of 10000 to 25000 yuan. They are busy and pay attention to their work. When they use data traffic, they pay more attention to financial investment and news information. Their card opening is mainly driven by work and social interaction. In addition, they pay more attention to the multiple added equity value of the new card.
New card marketing opportunities and Enlightenment: focus on segmented groups and create differentiated products
At present, the development of China mobile network and broadband network attracts people's attention. According to the data of China Mobile Internet development report (2020), by the end of December 2019, the total number of 4G users in China has reached 1.28 billion, accounting for 80.1% of the total number of mobile phone users, far higher than the global average.
Under the background of the rapid development of domestic mobile Internet, "one person, multi card" has become the general trend. For operators and service providers, the real point with a broad market to be explored is to adopt multi touch according to different types of consumers, so as to provide differentiated customized services.
As for the mobile card service providers and operators, how to reconstruct the connection mode between business and consumers with data operation according to the characteristics of subdivided population, so as to realize the continuous growth of the industry, the report also gives the following marketing strategies:
At the moment of increasingly refined user demand, it also puts forward corresponding marketing enlightenment for service providers and operators in the mobile communication card industry
First of all, operators and service providers should provide precise navigation for precise touch through insight into the differentiated demands of segmented groups.
Secondly, by broadening the new product mix of online marketing, we can activate the new potential energy of high price card market.
Finally, the cooperation rights and interests of customized products are used to enable the competition of products and break the market segments one by one.
In 2021, there will be both "danger" and "opportunity" in the mobile communication card industry. For operators and service providers, relying on the digital platform to have a comprehensive insight into the portrait and in-depth needs of the crowd, and combining the different needs of the crowd to carry out differentiated product layout will be an important action in building a new infrastructure for business growth. With the tide of Internet development, operators and service providers actively explore the direction and ideas of future mobile card digital marketing, which is bound to boost the revenue growth of enterprises, ride the wind and waves, deeply cultivate the industry, and achieve considerable sustainable development.
If you want to get the full report, you can contact us by leaving us the comment. If you think the information here might be helpful to others, please actively share it. If you want others to see your attitude towards this report, please actively comment and discuss it. Please stay tuned to us, we will keep updating as much as possible to record future development trends.
RecordTrend.com is a website that focuses on future technologies, markets and user trends. We are responsible for collecting the latest research data, authority data, industry research and analysis reports. We are committed to becoming a data and report sharing platform for professionals and decision makers. We look forward to working with you to record the development trends of today's economy, technology, industrial chain and business model.Welcome to follow, comment and bookmark us, and hope to share the future with you, and look forward to your success with our help.