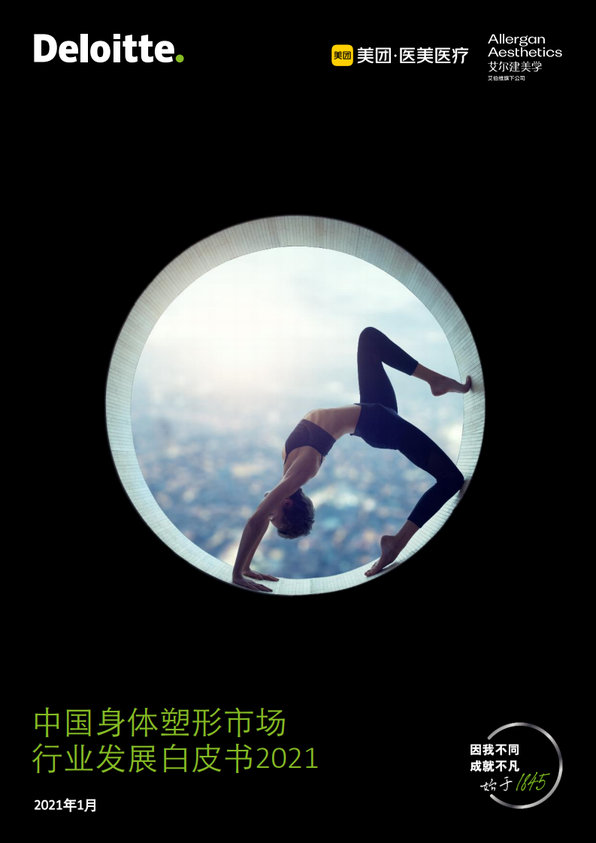 The following is the 2021 white paper on industry development of China's body shaping Market From Deloitte Consulting recommended by recordtrend.com. And this article belongs to the classification: Deloitte Consulting , Life data, research report.
With the vigorous development of "beauty economy", the upgrading of consumption, the refinement of aesthetic concepts and the iteration of medical and aesthetic technology, China's medical and aesthetic industry has maintained a growth rate significantly higher than that of the global market, showing great growth potential. Following the release of the "China medical beauty market trend insight report" in January 2021, Deloitte further made in-depth research on the booming medical beauty market segment – body shaping industry, and released the "white paper on the development of China's body shaping market industry 2021".
In 2020, the scale of China's medical beauty shaping segment will exceed 10 billion, and it is expected to grow at a rate of more than 25%, and reach 100 billion by 2030, becoming one of the most important growth drivers in the medical beauty industry. Deloitte, together with aierjian aesthetics, a global solution provider for the shaping industry, and meituan, an Internet platform for medical beauty, jointly released the white paper 2021 on the development of China's body shaping market, aiming to sort out the development status and trends of the domestic shaping industry and analyze the behavioral preferences of medical beauty consumers through systematic research, so as to solve the core pain points of various stakeholders. It is a book on medical beauty And the panoramic Research Report of shaping industry.
Shaping market space in China
China's shaping market is in a period of rapid development. The main market drivers for future market growth include:
Huge potential customers: China has a large number of obese people and is willing to pay to slim down
The penetration rate of shaping market is low and the growth space is large: in 2019, the penetration rate of China's market is 0.8 times per thousand people, which is far lower than 2.8 times of mature American market, and there is still a large growth space in market development
Refinement of shaping service: the industry concept is from "weight reduction" refinement to "sculpture" of body posture, aiming at customer needs more accurately
Three main technical schools in China's shaping Market
At present, there are three major technical schools in China's shaping market, namely non-invasive medical beauty shaping, invasive medical beauty shaping and life beauty shaping. Although surgical shaping is still the current mainstream, with the introduction of non-invasive technology, its higher safety, comfort and accuracy are rapidly promoting the expansion of this subdivision.
In the non-invasive fat reduction technology, considering the price, efficacy, safety, comfort and consumer feedback, the comprehensive score of frozen fat reduction is relatively good, and the increase of orders is also the most significant. The compound annual growth rate of 2018-2020 is 318%, which is far higher than other non-invasive fat reduction technologies.
At present, the largest shaping market in the world, the development process of the United States also confirmed the corresponding development trend: the United States began to introduce non-invasive shaping technology in 2014, and achieved a growth rate of more than 30% in the next five years, while the number of surgical shaping courses decreased. Of all the non-invasive techniques, frozen fat reduction is the most popular.
Consumer portraits in China's shaping Market
Deloitte Consulting divides Chinese shaping consumers into five categories according to their economic ability, amount of beauty consumption, specific shaping needs and doubts: high-income people who have high requirements for appearance, bodybuilders who are satisfied with appearance and body shape, middle-aged and elderly people who start to worry about the symptoms of early aging / aging, young people who pay attention to others' evaluation, and people who are not satisfied with appearance.
Shaping Market Ecosystem and business model in China
The ecosphere and business model of China's molding industry are becoming more and more perfect. The strengthening of policy supervision and the maturity of industry associations promote the improvement of the industry environment; the leading equipment manufacturers, medical and aesthetic institutions and online platforms cooperate more deeply to guarantee the long-term standardized and sustainable development of the industry through mutual empowerment and mutual endorsement. Major medical and aesthetic institutions have been actively exploring the layout, and constantly optimizing the selection, positioning, product design, customer access and transformation, and commercial operation of shaping projects.
Industry trend of China's shaping Market
Driven by the development of industry technology, improvement of professional level, standardization of supervision and more in-depth consumer education, China's medical beauty shaping industry is expected to present the following trends in the future:
The continuous iteration of non-invasive molding technology enables consumers to obtain diversified choices, and helps institutions to develop highlight projects, gain customers and accelerate expansion. The development of non-invasive technology will redefine the molding market;
With the large-scale growth of the molding market, professional molding centers and departments will emerge as the times require to provide consumers with more professional, comprehensive and full cycle molding solutions;
With the tightening of supervision and the integration of the industry, the market share will return to formal institutions and legitimate equipment in the future, and the development of the industry will be more healthy and orderly;
Consumers' understanding of medical beauty will gradually deepen, and their consumption decisions will be more mature and rational. They will tend to choose professional medical beauty institutions with formal equipment, high quality service and reputation.
If you want to get the full report, you can contact us by leaving us the comment. If you think the information here might be helpful to others, please actively share it. If you want others to see your attitude towards this report, please actively comment and discuss it. Please stay tuned to us, we will keep updating as much as possible to record future development trends.
RecordTrend.com is a website that focuses on future technologies, markets and user trends. We are responsible for collecting the latest research data, authority data, industry research and analysis reports. We are committed to becoming a data and report sharing platform for professionals and decision makers. We look forward to working with you to record the development trends of today's economy, technology, industrial chain and business model.Welcome to follow, comment and bookmark us, and hope to share the future with you, and look forward to your success with our help.