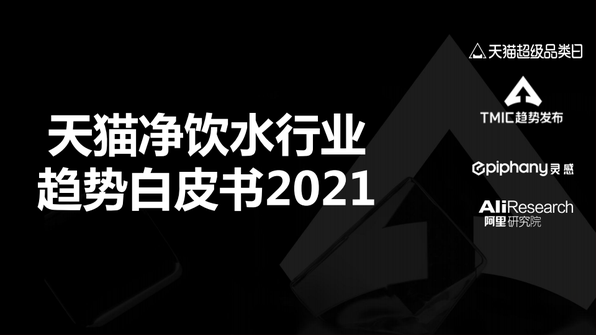 The following is the 2021 white paper on trends of clean drinking water industry From TMIC & Ali Research Institute recommended by recordtrend.com. And this article belongs to the classification: Life data, research report, Ali Research Institute.
Recently, tmall small appliance industry, tmall new product innovation center (TMIC) and Ali Research Institute jointly released the white paper 2021 on trends of clean drinking water industry. The white paper provides rich big data and accurate consumer feedback from TMIC Amoy, including the water purification market of living water purification and whole house water purification, as well as the insight of drinking water products and consumer groups in different scenarios, so as to point out a clear trend track for businesses, provide more trend goods to meet consumers, and transform target groups more efficiently.
The white paper points out that the overall market concentration of purified drinking water has not yet been formed, and the monopoly degree of star markets such as kitchen, instant hot and tea bar is still at a low level, with large opportunities. In the future, consumers will pay more attention to how to make drinking water purification products more "smart" and "versatile", provide better personalized experience and meet more water making scenarios.
With the gradual improvement of consumers' water purification awareness and the continuous refinement of drinking water demand, water purification products have developed into two main categories: domestic water purification and whole house water pretreatment products. Domestic water purification mainly includes kitchen water purifier, faucet water purifier, water filter and shower water purifier, and the whole house water pretreatment products include front water purifier and whole house water purifier. In addition, the industry also divides its products into water dispensers, instant hot water dispensers, tea bar machines and bubble water dispensers.
From the data point of view, domestic water purification products are the main sales body of water purification market, with a market share of 90%; there is still a large market popularization space for the whole house water pretreatment products, among which the front water purifier is the "Star" in the whole house water pretreatment products. In addition, the consumption of upgraded drinking water products has become the main body of the drinking water market, accounting for nearly 8% of the total, and is still growing strongly. In 2020, the year-on-year growth contribution rate will reach 167%. In particular, instant / desktop drinking water purifiers and tea bar machines, as typical upgraded drinking water products, are being accepted by more and more consumers, significantly opening the ceiling of the market scale.
More importantly, it is an open market with low degree of monopoly and more opportunities to enter. Traditional well-known consumer electronics brands use customer group advantages to expand the purified drinking water market horizontally, focusing on cost performance; while professional brands with technical advantages, relying on vertical development ability, focus on the layout of a full set of purified drinking water solutions, focusing on quality products. Especially with the continuous entry of high-value users, the market prospect of medium and high-end purified drinking water products is more and more broad.
Who are the customers of these medium and high price products? Their distribution is more urban, and their age is relatively concentrated between 25 and 49 years old. They prefer to upgrade consumption, import and luxury brands.
From the perspective of use scenarios, purified water is mainly for "drinking", but the demand for "using" purified water has increased significantly in the environment of consumption upgrading and product expansion. For example, the baby breeders pay great attention to the water purification scenes related to mother and baby (such as baby food brewing); the decorators have active demand for water purification in daily life (such as washing vegetables and rice, bathing and washing); the water purification scenes of the quality home focus on the quality life (such as tea brewing and bathing).
The core demand of consumers for purified water is to "get pure water", but the long tail demand is gradually emerging and there are group differences. Baby breeders pay more attention to the health of water quality; decorators pay more attention to the deep purification of water quality; quality experts pay more attention to the improvement of the taste of water quality. In terms of product selection, decorators prefer to choose cheap domestic brands, with a high preference for front-end products; quality experts prefer imported brands with high price products, with the highest number of aquatic products purchased per capita; baby breeders have a relatively balanced choice of brands and prices, with a high demand for filter pots.
In addition, intelligent monitoring, optional filtration level, automatic cleaning and faster effluent are the most concerned functions of aquatic products. Among them, baby breeders pay more attention to the adjustable water temperature and intelligent control; decorators prefer the "lazy" function of free cleaning and less waiting; quality experts prefer the experience upgrading brought by intelligence and functionality.
In terms of purchasing channels, online search, friends and relatives consultation, and offline store experience are the main ways, but the channels of consumers' decision-making information sources are becoming more and more rich and differentiated. Water quality safety is the basic decision-making factor for consumers to choose products, but the premium is driven by scientific and technological connotation, function and service, which leads to the composite trend of decision-making factors.
In the future, what kind of clean drinking water products can win the race?
According to the survey of the white paper, the product design trends that consumers are concerned about are "easy to use", "easy to put anywhere" and "clear at a glance". More consumers pay attention to product features such as simple operation, small and light weight, visualization and sense of design. In terms of industrial design style, simplicity, technology and light luxury are the mainstream design styles favored by consumers.
However, consumers never only look at the appearance, but also pay more attention to the connotation of drinking water purification products. According to the survey, more consumers are looking forward to technical breakthroughs in energy saving and efficiency, function gain and technology empowerment of purified drinking water products, which will promote longer service life, higher efficiency, more complete functions and higher intelligent level of products.
In the future, intelligent drinking water products with strong human-computer interaction function and better meet the personalized needs of users will become the development trend of the industry. The expanding water making scene also makes multi-functional products with different taste characteristics more popular.
Drinking water purification products are small appliances that consumers use frequently in their home life, and are an indispensable part of the blueprint of "smart home" in the future. In "smart home", consumers can realize multi-dimensional data monitoring (such as whole house water, water quality and health, personal drinking water, filter life, etc.) and intelligent use and control of products (such as personality mode, remote control, intelligent safety, etc.). However, at present, only part of the clean drinking water products have realized electrical intelligence and Internet of things, and the ability of cross scene linkage is weak, leaving a large space for the industry to develop.
If you want to get the full report, you can contact us by leaving us the comment. If you think the information here might be helpful to others, please actively share it. If you want others to see your attitude towards this report, please actively comment and discuss it. Please stay tuned to us, we will keep updating as much as possible to record future development trends.
RecordTrend.com is a website that focuses on future technologies, markets and user trends. We are responsible for collecting the latest research data, authority data, industry research and analysis reports. We are committed to becoming a data and report sharing platform for professionals and decision makers. We look forward to working with you to record the development trends of today's economy, technology, industrial chain and business model.Welcome to follow, comment and bookmark us, and hope to share the future with you, and look forward to your success with our help.