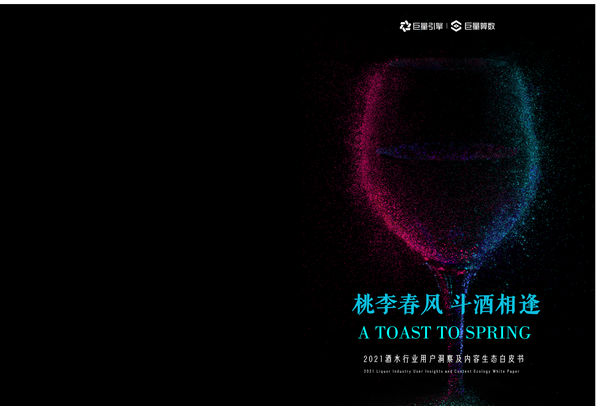 The following is the 2021 white paper on user insight and content ecology of beverage industry From Huge amount of calculation recommended by recordtrend.com. And this article belongs to the classification: Life data, User Research, research report.
In 2020, dramatic changes have taken place in the consumption environment under the epidemic situation, and the living environment and daily habits we used to take for granted have been forced to change dramatically. The consumption concept and behavior of consumers have been reshaped. Due to the influence of the blocked offline channels and the rise of home consumption, the enterprises and brands in the beverage industry are also actively or passively meeting the new challenges.
Combined with the content production and consumption, consumer demand and marketing trends of the beverage industry in the past year, this paper combs five new changes worthy of attention, including new categories, new people, new scenes, new emotions and new brands, and summarizes the new marketing methods of beverage brands.
01 drink related content
Drink interest user needs to generate content supply: tiktok content is fast bursts, today's headlines are super interactive.
Tiktok and Baijiu, which are the key elements of the 2020 home market and the demand for customers, are also growing rapidly. In 2020, nearly 7 million drinks related content will be published on the headline platform, and more than 31.7 billion articles will be read. Based on today's headline users' interest in wine related content, user interaction related data has achieved a high growth rate – in 2020, the number of likes of wine related content increased by 42% and the number of comments increased by 43% year on year.
From the perspective of category content growth, both major categories and emerging categories have achieved rapid growth. Baijiu wine: wine, Baijiu and wine have obvious seasonal characteristics in content production and consumption. The creation and consumption of beer related video contents are mainly concentrated in the two or three quarter of the high temperature. The quantity and volume of Wine Related videos increased after September, and increased significantly in December and January in the Christmas and new year's season; and three. The video content is affected by the drinking season on the one hand, and the release and broadcasting of Baijiu Related videos are also affected by Baijiu stock market.
All kinds of wine creators have their own skills, from wine mixing teaching, wine recommendation to wine knowledge
The foundation of the prosperity of the content ecology of wine is the continuous admission and innovation of the creators in the field. In 2020, nearly 1500 creators of the tiktok powder teaching class or above were over 10000, an increase of 329% over 2020.
User scale: 180 million users with extensive beverage interests and 80 million users with core beverage consumption interests in the whole platform
Delicacy and the 2020 tiers of core drinks consumed by users today (180 million of those who are interested in the content of wine related labels, excluding those who are interested in liquor related business information) are about 80 million. Tiktok is the most popular user of the whole platform.
02 wine consumer insight
Distribution of users' interest in drinking: full swing of users of vibrato, tiktok mature today, mature male preference
From the distribution of interest groups, the users of tiktok are more balanced in drinking and drinking. The mainstream users of beverage interest are distributed in the age group of 31-50. Although the proportion of 18-23-year-old users is not high, the degree of interest preference is higher, and the growth rate of mature wine and water users over 30 years old is faster.
More than 7 of today's Toutiao platform's users who are interested in drinks have become men, and today's Toutiao platform's users over 40 years old obviously have a stronger preference for drinks. From city city tiktok distribution, there is little difference in content preference of drinking water among users of each level of shaking platform, while the users of high speed city today have a stronger preference.
30 years old is Baijiu consumption watershed, after 90 began to enter the Baijiu high consumption stage
Consumers under 30 are relatively low in preference, Baijiu penetration and purchase numbers, but 30 years old have become a turning point in Baijiu consumption. After thirty years of age, users have entered the most vigorous stage of Baijiu consumption.
Young women begin to enjoy the freedom of light drinking
With the awakening of women's self-awareness and the improvement of economic level in recent years, the drinking rate of Chinese women has increased from the single digit 10 years ago to about 30% at present. As mentioned in the previous data, the female consumers who know how to enjoy the freedom of slight intoxication and take pleasure in their own needs as the first push up many non-traditional wine markets, such as red wine, sparkling wine, liqueur, rice wine, fruit wine and so on. The obvious feedback in the market is that many brands have created "girl wine", "good night wine", "slight intoxication liqueur" and "high value low alcohol wine" to attract female consumers The label of the user.
December 2020 tiktok "good night wine" related TOP play Title Title Cloud
New trend of liquor consumption: the change of drinking scene promotes the change of consumption behavior
After the traditional family dinner and friends gathering, drinking alone has become the top three drinking scenes, and the proportion of this scene is significantly higher than that of drinking on a date. Consumers' cognition of drinks has gradually changed from "party to entertainment" to "comfort".
Compared with other age groups, the proportion of young people after 90 and 95 drinking alone is higher, more than 50%. Another interesting finding is that among young consumers under the age of 25, women are more likely to drink on their own, which also promotes the rise of mixed drinks, low alcohol drinks, flower and fruit wines.
New trend of liquor consumption: the difference of drinking emotion determines the tonality of brand content — male consumers prefer to drink when they are stressed and strong, while female consumers prefer to be relaxed and worry free
Emotionally speaking, Baijiu is the most frequently chosen wine category for consumers, whether it is for fun or for eliminating worries.
But different groups of consumers still have some differences in drinking mood. According to the survey data, a higher proportion of young people drink when they are in a bad mood, stressed or bored. In terms of gender, male consumers are more likely to drink when they are tired and stressed, while a higher proportion of female consumers will drink when they are sad, in a bad mood or relaxed.
Vigorous development of new categories
"Home blending" has become a new trend, and the content of foreign wine has explode rapidly. 2020. During the first half of the year, alcoholic lovers were unable to go out to drink. The hot topic of "family blending" and "convenience store liquor blending" was rapidly increased. The video release volume of vodka, brandy and whiskey tiktok as a popular cocktail wine also showed a rapid growth. Vodka, the most commonly used base liquor variety, has achieved a 7-fold increase in broadcast volume and release volume.
Bubble, flower and fruit, low alcohol: in addition to making cocktails at home, more users begin to pay attention to the prepared cocktails, or the low alcohol sweet water, flower and fruit wine that can be directly opened. According to the data of Northeast Securities, since 2005, the compound annual growth rate of China's preset cocktail market has been about 15%, maintaining a high growth rate for a long time. At the same time, from the perspective of premixed liquor market space, the total consumption of premixed liquor in China in 2019 is 96000 kiloliters, 0.1 liter per capita per year, which is only equivalent to 0.88% of Japan and 2.38% of the United States, with considerable market space.
Corresponding tiktok is the rapid growth of TOP10 category, the relatively low number of sweet drinks, such as pre cocktail, fruit and fruit wine, low alcohol, sweet wine content in the volume and volume of play are showing brighter growth. The video released by tiktok cocktail has increased by more than 700%.
Beer Baijiu is still a strong mass base, and high-end products continue to lead.
In 2013, the output of China's beer industry reached 50.62 million kiloliters, which has become the peak of China's beer consumption so far. Although the overall growth of beer sales in recent years is not optimistic, with the sustained and stable economic growth and the increase of per capita disposable income, consumption upgrading has become an inevitable trend.
In China, beer is a category with strong consumer desire to upgrade. High end beer, including craft beer, has maintained a good growth trend in recent years. The high-end of domestic beer will become the main development trend in the future. More personalized and high-quality beer will become the first choice of beer lovers.
Baijiu Baijiu Baijiu is similar to beer, from the sales data, high-end liquor and low-end liquor is basically rainbow night. In 2020, Moutai's wholesale price and terminal price continued to rise, and its spillover effect also led to the rise in volume and price of other high-end liquor, including Wuliangye.
But sales of mid and low Baijiu in 2020 showed a year-on-year contraction. In today's headline Baijiu liquor related key words TOP10, the only brand appears to be Moutai, even if the hot words list is pulled to TOP20, the brands selected are still Moutai and Wuliangye, Baijiu brand has a high degree of concentration.
Rice wine yellow wine yellow wine from traditional to broken: relative to traditional liquor such as rice wine, yellow wine, with the brand innovation, instead of gathering a large number of young drinks, users interested in the group of vibrato, achieved a breakthrough, tiktok. Tiktok and yellow wine content increased significantly from the 2019 to 2020.
Guyue Longshan, Mike and other brands are constantly trying in the traditional categories of rice wine and rice wine, and they have made innovations in their products and marketing methods. Whether it's bubble rice wine or sweet scented rice wine, these traditional Chinese wines are endowed with both retro and flexible flavor. Have a unique style collocation, good to hear or see bubbles, and tiktok, which can be more effective in video communication.
Sake is widely accepted by high-income wine lovers: as a kind of wine that has entered the Chinese market later, with the outbreak of the number of Japanese food and Japanese restaurants, sake has gradually begun to be understood and loved by more consumers in recent years.
With medium alcohol content, good catering ability for high-end ingredients such as Japanese food, Korean food and seafood, and soft taste of pure drink, more Chinese consumers begin to take sake / Shaojiu as one of their frequent drinking choices. According to the survey data, high-income consumers, especially female high-income consumers, are the high penetration group of sake consumption. Among the high-income female consumers with monthly income of more than 20000 yuan, the penetration rate of sake is as high as 30%, which is the highest among all gender / age groups.
Tiktok, today's headlines become an important channel for obtaining drinks. In tiktok, wine and wine have become daily users.
During the acquisition of drinking information, consumers of "new middle class" drink with high frequency consumption have over 1/3 tiktok and other short video platforms as a common channel to obtain alcohol information, second only to offline stores and friends and family members. Tiktok is a daily drink for new middle class consumers. In terms of preference, the information aggregation platform such as Toutiao today is the channel with the highest preference for this kind of new middle-class consumers.
The tiktok tiktok can make the food and beverage brands more attractive and cultural connotation close to 60%, while the proportion of the grass planting on the shaking is also close to 6. Less than 10% of consumers feel tiktok does not have any effect on brand image and consumer decision making.
Data source: giant Arithmetic & CTR food and beverage consumer survey, March 2021, beverage consumer n = 1063
03 new trend of liquor brand marketing
"Long term management" starts from the establishment of position
In 2020, the tiktok enterprise ecology developed vigorously, and the number of enterprise registration registered a new record. The operation level of enterprise number also increased significantly. More and more enterprises use the content to make brand influence, and at the same time apply the rich product functions of enterprise number to explore the online transformation path. Some industries have stepped out of their own rhythm. From December 2019 to October 2020, the total number of tiktok registered companies increased from 4 million to 5 million, and the total number of fans increased from 10 billion to 30 billion.
More and more enterprises and businesses in the liquor industry regard the tiktok company as an important accumulation fan, gaining private territory traffic and realizing the profit. Consistent with the overall data, the overall number of enterprise numbers in the beverage industry is also growing rapidly. In December 2020, the number of enterprise numbers in the beverage industry is about 27000, an increase of nearly 600% compared with January 2020.
From content to management — one stop transformation of grass planting and weeding of live E-commerce
In addition to tiktok and short videos, the enthusiasm of users of the voice over live is increasing. In 2020, the special period of consumption was affected by the consumption of tiktok. The enterprises and brands of the liquor industry quickly opened online migration, and began to set up the enterprise number on the jitter and set up the management position.
In December 2020, compared with January 2020, the number of enterprises in the beverage industry started broadcasting in a single month increased by 94 times, and the average daily live broadcast duration increased by 179 times. Users' feedback on high-quality content is more obvious. With the efforts of these beverage enterprises, their average daily live viewers increased by more than 570 times.
Taking Luzhou Laojiao as an example, the official flagship store of Luzhou Laojiao will have more than 130 live broadcasts in 2020. Luzhou Lao Jiao official flagship store, which is based on the business position of the enterprise number and has a deep insight and long-term interaction with users, has jumped 400% in December 2020 compared with October tiktok, and GMV has increased by 264%.
epilogue
In 2020, different industries have experienced a special period of remodeling and change. Although the beverage industry has a history of thousands of years, in this year, facing many uncertainties and changes, the beverage industry and consumers are also undergoing profound changes.
With more time at home, the new generation of beverage consumers are more concerned about the intimate connection with their relatives and friends, and have a personal experience of "pleasing themselves". The relationship between drinks and consumers is more diversified and personalized. The change of the demand side has also led to the reform and innovation of liquor enterprises. More and more traditional liquor brands begin to try different ways to break through the boundary, such as brand live broadcast, new retail, cross-border co branding, category expansion, and so on. More and more cutting-edge brands also take basic values such as quality, service, and winning the trust of consumers as the foundation of their own brands.
Chinese wine culture has a long history, poetry and wine do not separate, generations of Chinese people also taste the taste of life in wine. Under the interaction of the upgrading of consumer demand and the continuous innovation of liquor brands, relying on the special culture and consumption background of Chinese liquor, the liquor industry will continue to evolve and prosper in the future.
If you want to get the full report, you can contact us by leaving us the comment. If you think the information here might be helpful to others, please actively share it. If you want others to see your attitude towards this report, please actively comment and discuss it. Please stay tuned to us, we will keep updating as much as possible to record future development trends.
RecordTrend.com is a website that focuses on future technologies, markets and user trends. We are responsible for collecting the latest research data, authority data, industry research and analysis reports. We are committed to becoming a data and report sharing platform for professionals and decision makers. We look forward to working with you to record the development trends of today's economy, technology, industrial chain and business model.Welcome to follow, comment and bookmark us, and hope to share the future with you, and look forward to your success with our help.