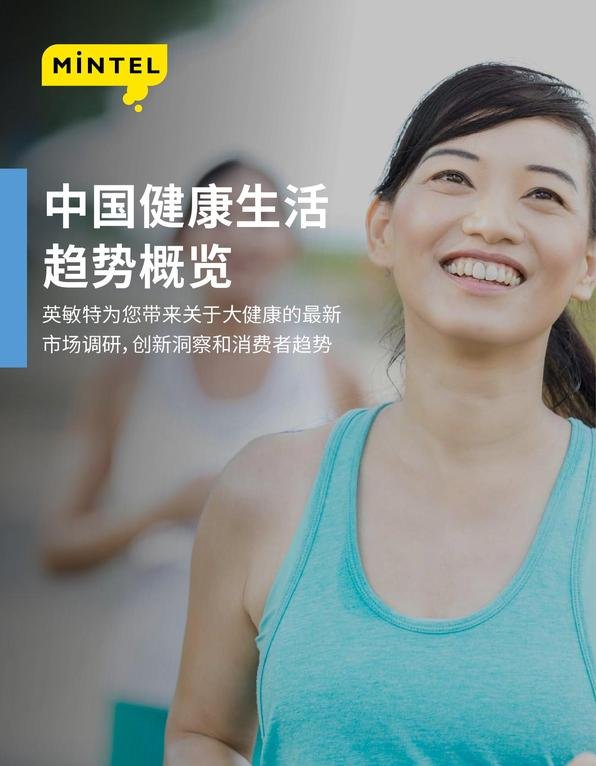 The following is the An overview of healthy living trends in China From Inmant recommended by recordtrend.com. And this article belongs to the classification: Life data, research report.
The survey of healthy life trends in China reveals the development and evolution of the new concept of healthy life of Chinese urban consumers in recent years with detailed market research data. Through the global new product database of inmate (gnpd), combined with multiple dimensions of food and beverage, beauty and personal care products, life style, etc, From the perspective of market and consumers, this paper comprehensively explores the development of Chinese urban consumers' cognition of healthy lifestyle and the change of consumption habits, and expounds the interaction and influence of the change of Chinese urban consumers' consumption consciousness on brand building.
"Consumers' pursuit of health will be an advanced mental path. Big health is more than just physical health. In the face of busy life and all kinds of pressure, how to help consumers relieve mental pressure and maintain a good mood and positive state will be the next topic for brands to think about. This will also be an innovation opportunity for brands to stand out in China's healthy market, "said Gu Jing, product director of immt.
Consumers are increasingly pursuing health from the inside out
The report points out that with the further development of China's national economy, the living standards of consumers are also rising. Consumers are increasingly aware of the importance of overall health. The recognition of the importance of maintaining a positive mental state, healthy diet, regular exercise and adequate sleep exceeded 98%.
In the field of skin care, it is obvious that 72% of Chinese urban consumers try to improve their facial skin condition by adjusting their lifestyle, and this awareness even exceeds that of daily skin care (71%). From the perspective of products, according to the global new product database (gnpd), among the innovative products related to health in the past 20 years, the publicity of natural products appeared first and continued to become the mainstream of consumption; the product claims of ethics and environmental protection continued to rise.
Gu Jing explained: "from the concept of skin care, we can see that consumers believe that a healthy lifestyle can have a comprehensive positive impact on the body. We all want to pursue a long-term, stable and thorough health state, not just to cover up the superficial problems."
Improve the innovative growth point of emotional products
More and more people feel anxiety, pressure and other negative emotions, as well as the accompanying sub-health state. In this regard, comfort food and emotion regulating products came into being. According to the survey data of inmate, 49% of Chinese urban consumers hope to make themselves more energetic through diet. Even 44% of Chinese urban consumers hope to maintain healthy brain function, and 44% hope to improve their mood through diet.
Meanwhile, 57% of Chinese urban consumers hope to improve their self-confidence, 57% hope to improve their sleep quality, and 56% hope to relax. Gu Jing said: "many brands have been innovating from the perspective of relieving pressure and improving emotional health. In the Chinese market, even some traditional categories have the opportunity to tell stories again to meet the needs of consumers to relax and heal their mood. "
According to the observation of inminster, in the late 2010's, emotional products focused on the effect of relaxing and boosting mood, in 2015 they focused on fun, and in 2016 they focused on providing comfort and satisfaction. Based on the data of global new product database (gnpd) and consumer observation, inminster predicted that the next hot spot of such products would be to resist pressure and improve quality Raise your brain.
The combination of products and services helps consumers to achieve physical and mental health
With the popularization of health awareness and the development of science and technology, Chinese consumers are constantly improving their understanding of their own health. In 2019, 21% of Chinese urban consumers will find fitness / nutrition consultants, compared with 17% in 2017; meanwhile, the proportion of Chinese urban consumers using household testing equipment will increase from 24% in 2017 to 26% in 2019.
Gu Jing concluded: "the competition in the health market has become more intense than ever before. Consumers are constantly learning and have established their own knowledge system. It can be seen that they are more and more active in managing health. Ordinary health products may no longer attract consumers' attention or interest. More professional and accurate health guidance and effective combination of products and services will help brands win the trust of consumers because they know what they need and how to choose. "
If you want to get the full report, you can contact us by leaving us the comment. If you think the information here might be helpful to others, please actively share it. If you want others to see your attitude towards this report, please actively comment and discuss it. Please stay tuned to us, we will keep updating as much as possible to record future development trends.
RecordTrend.com is a website that focuses on future technologies, markets and user trends. We are responsible for collecting the latest research data, authority data, industry research and analysis reports. We are committed to becoming a data and report sharing platform for professionals and decision makers. We look forward to working with you to record the development trends of today's economy, technology, industrial chain and business model.Welcome to follow, comment and bookmark us, and hope to share the future with you, and look forward to your success with our help.