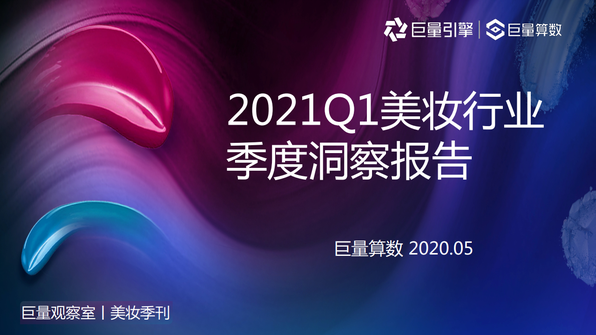 The following is the Beauty industry insight report for the first quarter of 2021 From Massive engine recommended by recordtrend.com. And this article belongs to the classification: Life data, research report.
Beauty market continues to grow with the rise of "beauty economy"
With the improvement of the living standards of Chinese residents and the cultivation of consumers' daily consumption habits of cosmetics, the market scale of China's cosmetics industry is growing. According to the data of the National Bureau of statistics, the retail sales of cosmetics industry increased from 24.95 billion yuan to 36.75 billion yuan in one year, with a year-on-year increase of 42.5%. The growth of cosmetics retail sales is driven by the following three factors: 1) people's consumption demand for cosmetics is gradually increasing; 2) the "Carnival" of "wonderful tiktok", "618" and "double 11", effectively promoted the sales of cosmetics products. 3) With the rise of online shopping, live broadcast, short video and beauty self timer software, the hot Internet topics related to beauty (mental makeup, dating makeup, workplace makeup, etc.) and skin care (whitening, hydrating, anti-aging, etc.) continue to grow, which promotes the rapid development of domestic cosmetics industry and has broad market space in the future.
The enthusiasm of content creators ignited, and the number of broadcast and release increased
Tiktok tiktok tiktok TikTok festival in January, special purchases for the Spring Festival in February, and March's quieting business Queen's day, the impact of the platform is basically stable. Lancome, L'OREAL, Dior, perfect diary, Hua Xi Zi and other beauty makeup brands are increasing their tiktok short video promotion efforts.
In March, the number of beauty videos released increased by leaps and bounds, the creative enthusiasm of beauty content creators was stimulated, the theme of beauty content was constantly enriched, and the content creation increased significantly. Due to the tiktok content, the master's comment and the comments, the cosmetics, beauty and skin care products have become popular products in the first quarter.
Beauty category is more abundant, product differentiation development
2021 Q1 makeup and skin care hot words show that from makeup to makeup to makeup, a complete and clean make-up process includes isolation, foundation, concealer, fixed makeup, eyebrow makeup, eye makeup, blush, dressing, Gao Guang and lip makeup. Among them, eye makeup is the punchline pen for the entire face makeup. The choice of eye shadow, eye liner and eyebrow powder is naturally the focus of attention of users. Tiktok: the most expensive mask, the most late night, mask, cleansing products, cream, cream for short video users care about the popular hot category.
Skin care and make-up products are often promoted in live broadcasting rooms
Live with goods has become the standard of brand marketing, major beauty brands to increase marketing efforts in the live room. In Q1 of 2021, the live broadcast of skin care and color makeup products in beauty products increased significantly, accounting for more than 2 / 3.
Consumer demand is more diversified and the market is diversified
With the entry of Lancome, L'OREAL, Dior, Estee Lauder and other international beauty brands, the tone of the tiktok brand has been upgraded. By the end of April, Lancome tiktok account volume of Lancome has reached 1 million 960 thousand, and 27 works have been released. L'OREAL's tiktok fans number 51W, 284 works. Dior's tiktok fans number 98.7W, tiktok has 848 pieces, and vibrato has become the most popular advertising platform for many brands.
Users' awareness of active search is enhanced, and concepts of efficacy and ingredients are sought after
More and more beauty consumers will query and research ingredients, master skin care knowledge, and pursue effective skin care products. With the enhancement of users' awareness of active information acquisition, the search habit is gradually formed.
Demand driven operation, focusing on the needs of beauty users
As a beauty makeup master, skin care master and "ingredient party", they must be familiar with nicotinamide. Nicotinamide is a derivative of vitamin B3, and is recognized as an anti-aging factor in the field of cosmetic department of dermatology. In the first quarter, the broadcast volume of nicotinamide related content video increased by 118% year on year, becoming the "favorite" of skin care industry, and many brands scrambled to launch products focusing on nicotinamide ingredients.
The search for key words tiktok will produce hundreds of thousands of related short videos. The search volume of salicylic acid, hyaluronic acid and vitamin A acid content is increasing rapidly. Users are willing to learn the therapeutic mechanism, usage and precautions of effective ingredients of skin care, from grass planting to research, from passive to active, from brand to ingredients. Beauty brands with main ingredients have more market opportunities.
Women and young users share a higher proportion of tiktok.
Tiktok accounts for more women, and younger features are more obvious, and the proportion of users who sink is higher than that of the three or four line city.
Entertainment, art, personal management, make-up of their own cute
In the era of internal promotion and external attraction, make-up is the expression of positive attitude towards life. The ultimate pursuit of beauty makers is to set up a plan to punch in and keep fit, pay attention to inner self growth, improve the appreciation of beauty in art, cure the soul with delicious food, enrich life with entertainment, and give consideration to both inside and outside. It can be seen that beauty users pay more attention to science popularization of nature, automobile and education. This part of the population has great interest potential, from content planting to attention and then to purchase. For beauty brands, the cross-border integration of beauty, science popularization of nature, automobile and education will bring consumers a fresh experience.
Mask, Lip Gloss Lipstick is the focus of attention for beauty users.
Facial mask, Lip Gloss Lipstick is the beauty of TOP3. For women, foundation, concealer, eyeliner, fixed makeup and eye shadow can not be enough for full makeup. For men, cleanser, mask, essence, sunscreen and lotion are fine boys.
Different age groups have obvious preference for beauty products
18-30 year old users have higher demand for makeup. Therefore, lip gloss, sunscreen, and foundation are the most important products. 18-23 year olds watch more than 1 billion times for Lip Gloss Lipstick products. After 25 years of age, users pay more attention to the essence. For this group of people, the video recommendation of replenishing water, compact and anti-aging will receive more attention.
There are obvious individual differences between men and women, and they pay different attention to skin type / efficacy
The proportion of male users searching for pox muscle is higher; For female users, especially for Asian female users, whitening and anti-aging are their main concerns, and anti-aging is always the most important thing for women.
Anti acne, whitening, anti-aging, anti allergy, skin trouble regardless of region
Acne is usually caused by pressure. Users living in the first tier cities and new first tier cities are under great pressure. Anti acne has become the theme of skin search. They are always fighting "acne". The third and fourth tier cities have a higher search rate for whitening, anti allergy and anti-aging. Public data show that the mention rate of anti-aging projects in all projects of light medical beauty projects is as high as 72.2%. In the fifth tier cities, the search distribution of beauty groups for skin texture is basically the same.
Social media, grass planting, safety, and black technology play a tiktok for you.
We observed the following four trends in the beauty market in the first quarter: 1) the epidemic has accelerated the change of digital lifestyle, and social media has become one of the important channels for users to understand beauty information; 2) In terms of content, dry goods, popular science and strong pertinence are more likely to win the favor of users, and conscientious recommendation stimulates the growth of grass planting; 3) With scientific skin care, consumers' cognitive level is more rational and mature, and they pay more attention to ingredients and efficacy; 4) The beauty black technology in the intelligent era, custom your beauty, from products, services to equipment, beauty industry set off a wave of science and technology.
epilogue
In the first quarter of 2021 after the epidemic, the beauty market recovered rapidly. Consumers pay more attention to the efficacy and safety of skin care products. The epidemic promotes the accelerated change of digital lifestyle. Social media has become an important channel for consumers to understand beauty information. For brands, only by shaping product barriers, improving brand marketing operation ability, and meeting the changes of consumer behavior and demand, can they better seize the market growth opportunity.
If you want to get the full report, you can contact us by leaving us the comment. If you think the information here might be helpful to others, please actively share it. If you want others to see your attitude towards this report, please actively comment and discuss it. Please stay tuned to us, we will keep updating as much as possible to record future development trends.
RecordTrend.com is a website that focuses on future technologies, markets and user trends. We are responsible for collecting the latest research data, authority data, industry research and analysis reports. We are committed to becoming a data and report sharing platform for professionals and decision makers. We look forward to working with you to record the development trends of today's economy, technology, industrial chain and business model.Welcome to follow, comment and bookmark us, and hope to share the future with you, and look forward to your success with our help.