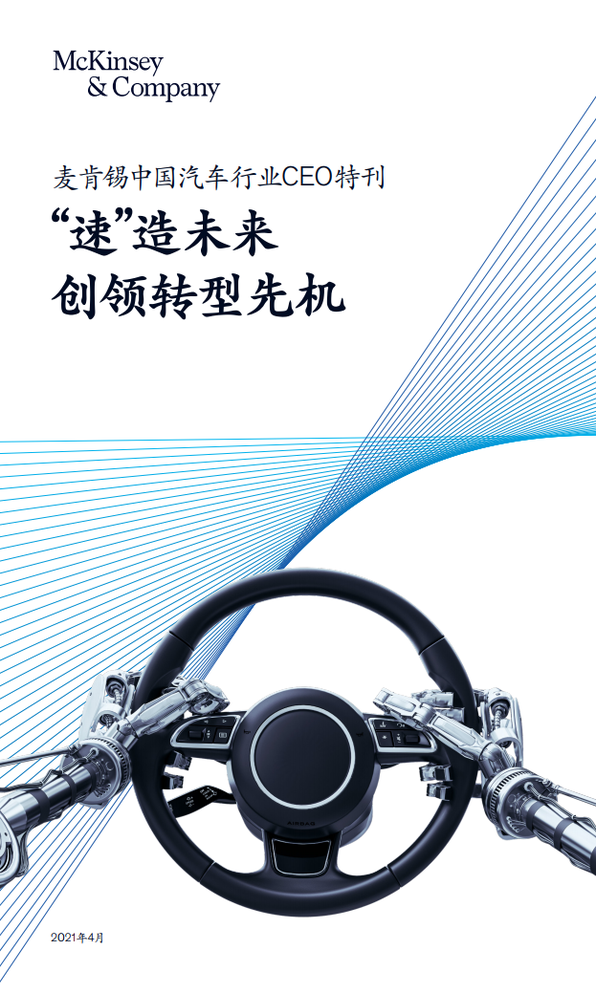 The following is the CEO special issue of China auto industry in 2021 From Mckinsey recommended by recordtrend.com. And this article belongs to the classification: Automobile industry, research report, Mckinsey .
After experiencing the ups and downs of the epidemic, most auto companies have realized that transformation is imperative. However, with the redefinition of electric, software, intelligence and other elements in the automotive industry, there are still many potential transformation obstacles in automotive enterprises, such as: the inertia of existing product thinking restricts breakthrough innovation, traditional business logic hinders innovative investment, too many brands are limited by the existing system advantages, huge organization and complex business processes hinder agile action, etc. How should the management of traditional automobile enterprises eliminate the above confusion? How can I avoid going down a long slope, but I can't help it? In the same way, the new car building forces themselves are also challenged by various markets and products. The majority of automobile enterprises need to plan layout in the new four modernizations, excellent marketing, excellent operation, agile organization construction and other aspects, and quickly form the ability of transformation and upgrading. In the McKinsey China Automotive Industry CEO special issue, we will share with you our recent thoughts on major issues in the automotive industry through the following different chapters. This paper gives specific suggestions on how to make strategic choice and Practice for automobile enterprises. We hope that the auto companies will not waste a crisis, enter the deep-water area of transformation, and have the courage to embrace change.
New four modernizations
Although the prospect of the "new four modernizations" is brilliant, the journey is bound to be full of thorns
With the emergence of new technology, subverters may be subverted at any time;
No one can complete the new four modernizations independently, and the cooperation of enterprises in different positions of the industrial chain is the only way to realize the new four modernizations. But how to balance the interests of different partners will be a major issue in front of everyone;
Technical ability is not equal to profitability. In the short term, the huge cash flow that consumers need to accept is related to the huge challenge of new technology.
In such an uncertain environment, how can existing players, new entrants and start-ups, including OEMs and suppliers, get out of the fog, choose the right strategic direction and move forward iteratively? We will share some of our thoughts with you in the chapter of "new four modernizations".
Excellent marketing
Automobile enterprises are facing complicated new pattern and new challenge in marketing. Under the changing situation of automobile marketing, the interactive relationship of "customers, stores and factories" will be reconstructed and give birth to a new business model, more complementary retail formats and more personalized services. In this context, any "dot" program is difficult to achieve long-term transformation landing and internalization into capacity, comprehensive marketing transformation is imminent. We will present our understanding to you in the chapter of "excellent marketing".
Excellent operation
With the change of consumers' car purchase preference, the aggravation of vehicle competition, and the global challenge of supply chain, how to improve product value more effectively and maintain product cost competitiveness has become the goal of major engine manufacturers. In the chapter of operation excellence, we will show you how to use digital solutions to assist decision-making and improve efficiency in cost and product development. Under the influence of the epidemic, the global automobile industry is facing huge cash flow management problems, in which the expenditure management, inventory management, and supply chain optimization are particularly important. We will also discuss the related topics of cash flow management, such as establishing transparency, delimiting "red line" and establishing cash control tower to quickly control cash flow and spend money on the edge.
Agile organization construction
In order to maintain the advantages in the "new four modernizations" track, it is imperative to deepen organizational change and promote agile transformation. Although this has become a consensus for a long time, in the past few years, it has been more than a concept, and rarely implemented. Our experience and research results show that agile operation mode can quickly and efficiently adjust the key nodes such as strategic initiatives, organizational structure, business processes and talent management, so as to better respond to market changes faster and at the same time, more actively mobilize the participation, enthusiasm and sense of significance of employees. In the chapter of organization construction, we will detail the core characteristics of excellent agile organizations and how to strengthen relevant practices, so as to help enterprises break through and win the market in the post epidemic era. At the same time, we are also very honored to have an interview with Mr. Zhu Huarong, chairman of Changan Automobile. We listened face to face to their insights on the "great changes not seen in a century" of the automobile industry and the corresponding measures taken by their respective enterprises. We will faithfully record it and present it to you in this CEO special issue.
If you want to get the full report, you can contact us by leaving us the comment. If you think the information here might be helpful to others, please actively share it. If you want others to see your attitude towards this report, please actively comment and discuss it. Please stay tuned to us, we will keep updating as much as possible to record future development trends.
RecordTrend.com is a website that focuses on future technologies, markets and user trends. We are responsible for collecting the latest research data, authority data, industry research and analysis reports. We are committed to becoming a data and report sharing platform for professionals and decision makers. We look forward to working with you to record the development trends of today's economy, technology, industrial chain and business model.Welcome to follow, comment and bookmark us, and hope to share the future with you, and look forward to your success with our help.