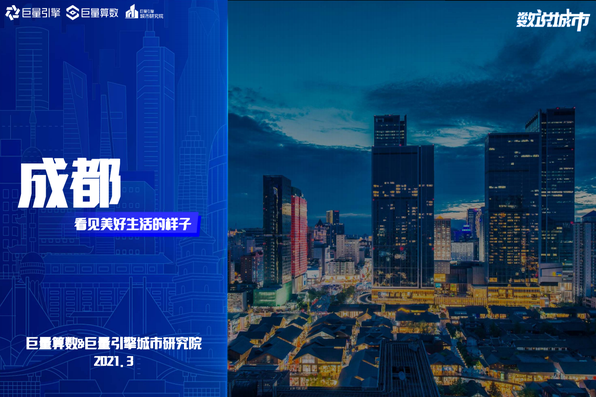 The following is the Chengdu in 2021 From Huge engine City Research Institute recommended by recordtrend.com. And this article belongs to the classification: Chinese economy, research report.
Chengdu is a "land of abundance" under the collision of classical heritage and modern culture.
It is deposited in the ancient history, beating on people's taste buds, rolling in the trend of modern fashion.
As early as the Tang Dynasty, Li Bai highly praised the prosperity and beauty of Chengdu. Today, Chengdu has become the tiktok of "net red".
Why does tiktok Chengdu become "net red"? The massive engine city academy has analyzed the Chengdu's vibrato data and brought you to Chengdu in all directions.
Popular online City
Over 70 billion broadcasting capacity, Chengdu is worthy of the "net red"!
According to data from city of large engine research, the video volume of Chengdu tiktok in 2020 was over 70 billion, and the point count was over 1 billion 400 million. Tiktok said that in the year, Chengdu has seen at least 70 billion times of its voice, and has won at least 1 billion 400 million times of popularity and recognition from the masses. It is fully deserve to be called the net red city.
In February 2021, the broadcast volume of relevant videos in Chengdu increased by 39% year on year, and the interactive volume increased by 14% year on year. The vitality of Chengdu is still growing.
2 over 26 million Related videos"
Tiktok, who once visited Chengdu, could see "nine days of opening a Chengdu, thousands of homes into the picture". Now, just by opening the jitter, you can feel the charm of "net red" in Chengdu.
In 2020, over 7 million 900 thousand people released a video with Chengdu POI on the tiktok, which exceeded 26 million. Coveted food, trendy men and women's street shooting, Sichuan Opera Face Changing street performance What's most incisive and tiktok is the most beautiful and fashionable style of leisure and fashion.
Chengdu travelers keen to punch in
1. Who likes to punch in Chengdu most? Young and middle aged people and "she"
Tiktok city in February 2021, the number of users in Chengdu daily attendance was 3 million 300 thousand, up 173% over the same period last year. More than 950000 people have clocked in, up 169% year on year!
Behind the rapid growth of digital, who is keen to punch in Chengdu?
In terms of gender, the majority of users in Chengdu are women, accounting for 59%.
In terms of age, young and middle-aged groups constitute the main body of punch in users. Geographically, the most frequent remote users in Chengdu are distributed in Chongqing, Shenzhen, Guangzhou and other places.
2. They love Chengdu's food and night
The release time of punch in videos in Chengdu is from 18:00 to 22:00, which shows the development of night economy in Chengdu. And the food, play, shopping POI is the most important type of video punch in for Chengdu travelers.
The data shows that the most popular type of video users punch in in Chengdu is gourmet. It can be seen that the title of "gourmet city" is indeed true.
Hot pot, Sichuan cuisine and barbecue are among the top three Chinese restaurants that punch in, while teahouses are the most popular ones for drinks. Hotpot and teahouse have become the codes of Chengdu food culture, inheriting the most authentic "Sichuan flavor".
Surpassing Beijing, Shanghai and Guangzhou to become the first beautiful city
The beautiful city index is quantified by sirfa model (sirfa is a model to quantify the online prosperity of cities from five dimensions of communication degree, influence degree, recommendation degree, favor degree and attraction degree). According to the evaluation of this model, Chengdu ranks first in the online prosperity of China in 2020, surpassing Beijing, Shanghai, Guangzhou and Shenzhen!
Further evaluation results show that the commercial complexes of Chengdu online prosperity top 3 are taiguli, Chunxi Road and kuanzhaixiang; the scenic spots of online prosperity top 3 are Chengdu Giant Panda Breeding Research Base, Dujiangyan and Chengdu jiangtan park. These places can be said to be "net red" Chengdu's trump card.
Once upon a time, if people wanted to see the scenery of Shu, they needed to "walk a hundred steps and ten turns to linger on the rocks.". From all sides, city shaking tiktok has brought closer ties between people and the city, and can help people understand the beauty of tiktok through the jitter.
In the jitter, people record good Chengdu, tiktok a beautiful life. Relying on the ability of big data, megaengine City Research Institute will witness the beauty of more cities with you.
If you want to get the full report, you can contact us by leaving us the comment. If you think the information here might be helpful to others, please actively share it. If you want others to see your attitude towards this report, please actively comment and discuss it. Please stay tuned to us, we will keep updating as much as possible to record future development trends.
RecordTrend.com is a website that focuses on future technologies, markets and user trends. We are responsible for collecting the latest research data, authority data, industry research and analysis reports. We are committed to becoming a data and report sharing platform for professionals and decision makers. We look forward to working with you to record the development trends of today's economy, technology, industrial chain and business model.Welcome to follow, comment and bookmark us, and hope to share the future with you, and look forward to your success with our help.