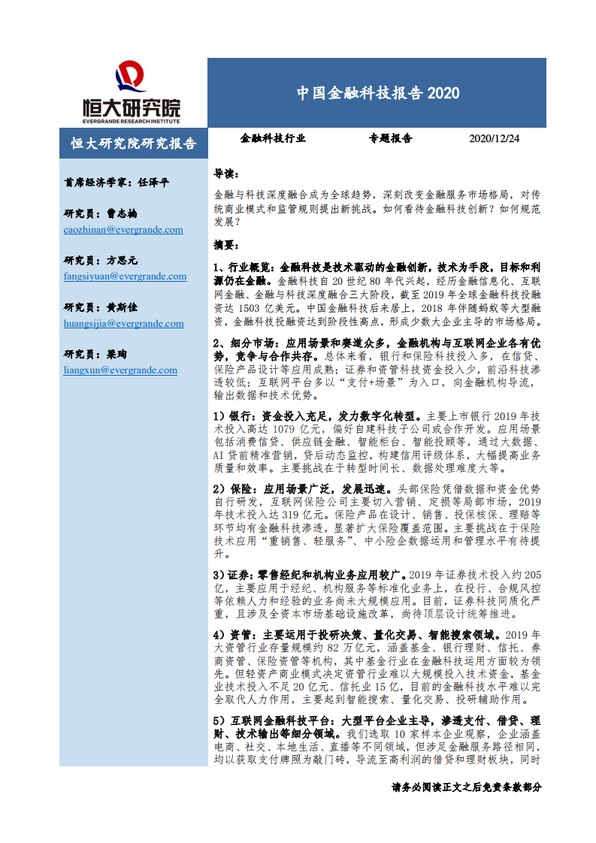 RecordTrend.com is a website that focuses on future technologies, markets and user trends. We are responsible for collecting the latest research data, authority data, industry research and analysis reports. We are committed to becoming a data and report sharing platform for professionals and decision makers. We look forward to working with you to record the development trends of today's economy, technology, industrial chain and business model.Welcome to follow, comment and bookmark us, and hope to share the future with you, and look forward to your success with our help.
The following is the China financial technology report 2020 From Evergrande Research Institute recommended by recordtrend.com. And this article belongs to the classification: research report, financial technology.
Summary of China financial technology report 2020
1. Industry Overview: financial technology is technology driven financial innovation, technology as the means, the goal and profit source are still in the financial industry. Since the 1980s, financial technology has emerged, and has gone through three stages: financial informatization, Internet finance, and deep integration of Finance and technology. By 2019, global financial technology investment and financing will reach 150.3 billion US dollars. In 2018, with ant and other large-scale financing, financial technology investment and financing reached a stage high, forming a market pattern dominated by a few large enterprises.
2. Market segmentation: there are many application scenarios and tracks, financial institutions and Internet enterprises have their own advantages, and competition and cooperation coexist. On the whole, banks and insurance companies invest more in science and technology, and have mature applications in credit and insurance product design; securities and asset management companies invest less in science and technology, and have low penetration of cutting-edge science and technology; Internet platforms mostly use "payment + scene" as the entrance to guide financial institutions and export data and technical advantages.
1) Bank: sufficient capital investment, digital transformation. Major listed banks will invest 107.9 billion yuan in technology in 2019, preferring to build their own technology subsidiaries or cooperate in development. The application scenarios include consumer credit, supply chain finance, intelligent counter, intelligent investment advisor, etc. through big data, AI pre loan precision marketing and post loan dynamic monitoring, the credit rating system is constructed, and the business quality and efficiency are greatly improved. The main challenges lie in the long transformation time and the difficulty of data processing.
2) Insurance: it has a wide range of application scenarios and develops rapidly. Head insurance relies on its own data and capital advantages in research and development. Internet insurance companies mainly cut into local markets such as marketing and loss determination. In 2019, technology investment will reach 31.9 billion yuan. The insurance products are permeated by financial technology in the design, sales, insurance underwriting, claims settlement and other links, significantly expanding the insurance coverage. The main challenge is that the application of insurance technology "pays more attention to sales than services", and the data application and management level of small and medium-sized insurance enterprises need to be improved.
3) Securities: retail brokerage and institutional business are widely used. In 2019, the investment in securities technology is about 20.5 billion yuan, which is mainly used in standardized businesses such as brokerage and institutional services. It has not been widely used in investment banking, compliance risk control and other businesses that rely on manpower and experience. At present, the homogenization of securities technology is serious, and it involves the reform of the whole capital market infrastructure, which needs to be promoted by the top-level design.
4) Asset management: mainly used in investment and research decision-making, quantitative trading and intelligent search. In 2019, the stock scale of large asset management industry is about 82 trillion yuan, covering fund, bank financing, trust, securities management, insurance management and other institutions, among which the fund industry is relatively leading in the application of financial technology. However, the asset light business model makes it difficult for the asset management industry to invest large-scale technical capital. The fund industry's technical investment is less than 2 billion yuan and the trust industry's 1.5 billion yuan. The current level of financial technology is difficult to completely replace the role of human resources. It mainly plays the auxiliary role of intelligent search, quantitative trading and investment research.
5) Internet financial technology platform: it is dominated by large platform enterprises and penetrates into payment, lending, financial management, technology output and other subdivided fields. We select 10 sample enterprises to observe that the enterprises cover e-commerce, social networking, local life, live broadcast and other different fields, but they have the same access to financial services. They all take obtaining payment license as the stepping stone, lead to high profit lending and financial sector, and use data and technology to export technical solutions to financial institutions. But the brewing of high leverage, systemic risk, privacy protection, monopoly status and other issues has aroused great concern.
3. Regulatory orientation: comprehensive upgrading, encouraging innovation and standardized development. Early countries were tolerant of financial innovation, but P2P and other risk events greatly challenged the regulatory bottom line. Learn from the lessons, the regulators predict the potential risks of Internet financial technology in advance. In terms of top-level design, it emphasizes that both innovation and normative development should be encouraged; in terms of regulatory bodies, the Finance Commission, the central bank, regulatory agencies and the General Administration of market supervision should work together to intervene in advance without leaving regulatory dead ends; in terms of regulatory ideas, China's version of "regulatory sandbox" pilot should be launched to create a long-term mechanism for cultivating innovation and normative development.
4. Looking forward to the future: 2020 is a watershed for the development of financial technology. In the first half, the key words are the rise of giants and innovation of business models. In the second half, the key words are to rebuild rules and win by hard power. There are four trends in the future development of financial technology. 1) In the first year of supervision, we are faced with strong supervision in the short term, and we still encourage innovation and risk prevention in the long term. 2) The future of financial science and technology is still broad, market players are increasingly diversified, and cooperation is greater than competition. 3) With the new infrastructure rising to the national strategic height, the deep integration of artificial intelligence, blockchain, cloud computing and big data has pushed the development of financial technology into a new stage. 4) Business model may be reshaped to better serve the real economy, Inclusive Finance and improve the hard power of science and technology.
If you want to get the full report, you can contact us by leaving us the comment. If you think the information here might be helpful to others, please actively share it. If you want others to see your attitude towards this report, please actively comment and discuss it. Please stay tuned to us, we will keep updating as much as possible to record future development trends.