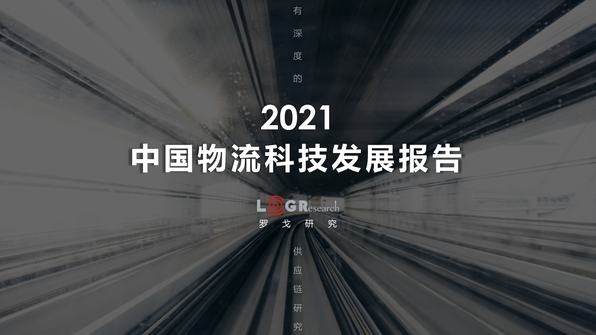 RecordTrend.com is a website that focuses on future technologies, markets and user trends. We are responsible for collecting the latest research data, authority data, industry research and analysis reports. We are committed to becoming a data and report sharing platform for professionals and decision makers. We look forward to working with you to record the development trends of today's economy, technology, industrial chain and business model.Welcome to follow, comment and bookmark us, and hope to share the future with you, and look forward to your success with our help.
The following is the China's logistics technology development report in 2021 From Research on Rogo recommended by recordtrend.com. And this article belongs to the classification: logistics, research report.
From traditional logistics to science and technology logistics
Logistics, from the past to the present to the future, can find an evolutionary process of continuous iteration and upgrading along the vein of science and technology.
From manual operation to automation, to digital collaborative platform, to logistics digital infrastructure, and finally to the whole process of supply chain Omni channel technology solutions. Traditional logistics is constantly evolving, going through the process of business digitalization, entering logistics technology, continuing to move towards technology commercialization and value, and developing into science and technology logistics. The ultimate goal is to realize the optimization and coordination of the whole supply chain, provide upstream and downstream connection through digitalization, realize the information transparency of the whole channel, and provide Omni channel solution services.
Science and technology permeate every link of logistics
The application of science and technology, the solutions after the application of science and technology, and the service content of logistics science and technology are too wide and have no boundaries.
Therefore, the report first elaborates the historical evolution of logistics technology from the penetration and application of big data, artificial intelligence, IOT, robot, cloud and other technologies in all aspects of supply chain and logistics.
This paper mainly takes DHL and Gartner as examples to analyze in detail the application architecture of the Internet of things in the express scene, the digital supply chain under the blockchain technology, 5g + AI / + cloud for the integration of warehouse and distribution, and the application of smart park.
Application of logistics automation
Benefiting from the rapid development of e-commerce, the automation of domestic logistics field has developed rapidly in the e-commerce logistics scene, and gradually extended to multi industry and end-to-end supply chain. The participants include scene driven and technology driven.
The application of logistics automation mainly analyzes the specific application cases of logistics robot, intelligent factory, automatic warehouse, unmanned driving, unmanned aerial vehicle and intelligent port / wharf.
Logistics Digital Collaborative Platform
Business level management system SaaS, support supply chain and logistics collaboration, gradually infiltrate in manufacturing and circulation, retail, and tend to end-to-end integration.
Logistics digital collaboration mainly elaborates three parts
1) Industrial Internet platform, middle platform of supply chain, prediction and planning of supply chain in supply chain collaboration;
2) Storage collaboration and transportation collaboration in supply chain management and control;
3) Intelligent scheduling and real-time distribution in supply chain operation management.
Digital infrastructure service platform
Focusing on the hardware, service and other infrastructure related to logistics operation, platform enterprises rely on the Internet of things and other technologies to gradually strengthen the digitization and standardization process of logistics operation.
Logistics digital basic service platform is mainly divided into three parts: intelligent equipment platform, asset resource operation service, network freight and transportation capacity ecology
1) In the intelligent device, the application cases of sensor, vision system and tray are analyzed;
2) In the asset resource operation service platform, the specific cases of tire, energy, navigation system, trailer leasing, warehouse leasing, smart Park and finance are analyzed;
3) Network freight and capacity ecology are analyzed around several typical enterprises in the industry.
Technology solutions
Digitalization and science and technology application can help the collaboration ability of different parties in the supply chain to improve continuously, and form their own digital solutions on this basis.
According to the specific cases of SAIC GM, Huawei, zhaochi supply chain, feilida, jitida and SINOCHEM energy, this paper analyzes the scientific and technological response in the transformation of manufacturing supply chain.
Through the analysis of Jingdong Logistics, Shunfeng, ande, ririshun, Lenovo, rookie supply chain, Shuangjie supply chain and one stop, this paper analyzes the supply chain reform under the challenge of multi-channel integrated management and control and data-driven consumer demand perception.
Through Yunda, Zhongtong and Jingdong, the paper discusses the digitalization of network logistics.
According to the analysis of the report, technological progress is accelerating the iterative process from logistics science and technology to science and technology logistics. Logistics automation is going to be intelligent, and will continue to be in the flexible semi intelligent mode of superimposing artificial in a certain period of time. The end-to-end management and control of the supply chain based on the operation collaboration platform has become the standard configuration of Party A and logistics services. Around the digital infrastructure, gradually form the domestic logistics standardization base. However, the boundary of contract logistics is gradually blurred, and the logistics industry participants tend to evolve into a comprehensive solution service provider of "technology + platform + service".
If you want to get the full report, you can contact us by leaving us the comment. If you think the information here might be helpful to others, please actively share it. If you want others to see your attitude towards this report, please actively comment and discuss it. Please stay tuned to us, we will keep updating as much as possible to record future development trends.