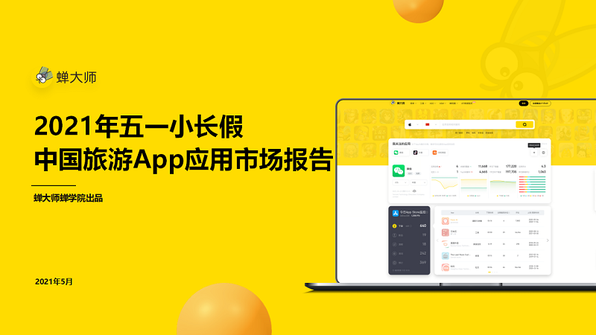 The following is the China's tourism app application market report during the May Day holiday in 2021 From Master cicada recommended by recordtrend.com. And this article belongs to the classification: Travel booking, research report, Mobile applications.
At the end of May Day holiday, we once again saw the familiar holiday mode of "people following the crowd" in destinations and scenic spots. It can be seen that the domestic tourism industry has sounded the clarion call of recovery.
With the development and penetration of Internet, Internet of things and emerging technologies, the tourism industry is constantly innovating. As a tourism tool application in the whole tourism service chain, it is also extending to be more humanized and convenient. Among them, information collection, itinerary reservation, hotel accommodation, transportation, catering and food and photo editing constitute a complete tourism market ecological chain.
Today, we will launch the data report of the current tourism mobile application market based on the big data of cicada master data platform and the third-party industry data.
1、 China's tourism mobile industry
1. Current situation of tourism market: rapid recovery of tourism demand
2. Current situation of tourism mobile application market: the number of active users is gradually recovering, the market growth is stable, travel applications occupy the top, and the utilization rate of strategy platform is the highest
2、 Market structure of APP application in tourism segmentation
1. Components of tourism mobile application market ecological chain
Strategic information, itinerary reservation, hotel accommodation, transportation, catering and food, and photo editing constitute a complete tourism ecological chain.
2. Strategy information: xiaohongshu has achieved remarkable results in tourism
Since the outbreak of the epidemic, xiaohongshu has entered the tourism industry. Because of the epidemic situation, people can only focus on the "near", and the surrounding tourism has become the entry point of xiaohongshu's cross-border tourism, and the effect is remarkable.
In contrast, qunar and wasp nest, the mainstream tourism strategy platforms in the past, are no longer brilliant. Although there are still steady new downloads every month, they are no longer the first echelon of tourism strategy apps.
3. Itinerary Reservation: a group of itinerary reservation platforms welcome the outbreak
In the travel reservation market, after the downturn in 2020, due to the blessing of the five-day "May Day" holiday in April this year, qunar, Tongcheng, Ctrip and other travel reservation platforms ushered in a small explosion.
4. Hotel accommodation: Overseas platforms are still struggling
In the past, booking.com, airbnb and other overseas platforms were popular in overseas hotel and B & B booking due to their diverse resources / local services. However, due to the epidemic situation, overseas tourism has not yet been fully opened, so the relevant major overseas tourism platforms are still in a "struggling" period.
In contrast, the domestic hotel accommodation booking platform has successfully enjoyed the dividend of this year's May Day holiday, and the relevant downloads have increased significantly.
5. Transportation: huaxiaozhu is in full swing, and Gaode map is unique
For the transportation travel market, Didi travel, hello travel and huaxiaozhu taxi are hard to shake. Huaxiaozhu taxi, as a rising star in 2020, will usher in a full-scale outbreak in August, September and October 2020.
On the other hand, in the travel navigation market, Gaode map, baidu map and Tencent map are the top three, but in terms of magnitude, since August 2020, the growth rate of Gaode map is much higher than that of the latter two.
6. Food and beverage: is meituan hungry? Public comments are stable
In the tourism, catering and food market, the more active app is still a platform with the characteristics of takeout service, represented by meituan takeout and hungry food. From the performance of download volume in the past year, meituan's takeout has a strong momentum. From 2021, meituan's takeout has gradually got rid of its direct competitor.
7. Photo editing: short video is the trend
Relevant surveys show that more than 80% of tourism users will take photos in tourism, and beautifying editing has become a strong demand for tourism. In the photo editing market, short video platform is the current trend just need, in this year's May Day also formed a "stay at home to travel in China" new wave of tourism.
3、 Mobile application trend of Tourism
Trend 1: information needs
The change of tourism users' habits is mainly reflected in the increase of travel frequency, the enhancement of independent choice, and the more flexible consumption time. Therefore, when users make consumption decisions, the demand for tourism information increases correspondingly. In order to adapt to the changes of the market, each platform needs to trigger users' consumption motivation from more scenarios, extend service categories, and improve users' decision-making efficiency.
Trend 2: efficiency needs
Tourism consumers are more clear about the purpose of using mobile app and have stronger demand for direct access to useful information. Relevant platforms should further polish the functions, weights and levels of products, and efficiently integrate information and eliminate noise based on user purposes and the whole process chain.
For the back-end of the consumption chain, especially the payment link and after-sales link, the platform side should also cooperate with the resource side to upgrade the efficiency and service, so as to promote the faster transformation of users' consumption intention to consumption decision.
Trend 3: personalized demand
In order to occupy a place in the giant monopoly of tourism mobile application market, it is very important to have insight into users, market segmentation and precision marketing. The cross marketing of cross app can present more attractive tourism content and strengthen the focus of users.
Read more: cicada master: 2021 Q1 online education industry data and ASO launch report XAD: survey shows that CTR of APP application advertising is 3% higher than browser Nielsen: Android users in the United States spend an average of 56 minutes a day active in mobile Internet and applications Tencent Technology: 2011 China mobile phone management software survival survey testin: 2012 China e-commerce enterprise mobile Internet application quality report cicada master: March 2021 mobile game ranking cicada master: April 2021 game ranking China Tourism Research Institute: China received 141 million inbound tourists in 2018, a year-on-year increase of 1.2% China Tourism Research Institute & Google: analysis report on behavior and attitude of Chinese Inbound Tourists in 2019
If you want to get the full report, you can contact us by leaving us the comment. If you think the information here might be helpful to others, please actively share it. If you want others to see your attitude towards this report, please actively comment and discuss it. Please stay tuned to us, we will keep updating as much as possible to record future development trends.
RecordTrend.com is a website that focuses on future technologies, markets and user trends. We are responsible for collecting the latest research data, authority data, industry research and analysis reports. We are committed to becoming a data and report sharing platform for professionals and decision makers. We look forward to working with you to record the development trends of today's economy, technology, industrial chain and business model.Welcome to follow, comment and bookmark us, and hope to share the future with you, and look forward to your success with our help.