Industry information
research report
Chinese enterprises need to speed up intelligent operation to enhance future competitiveness From Accenture's "smart operation, smart win the future" Report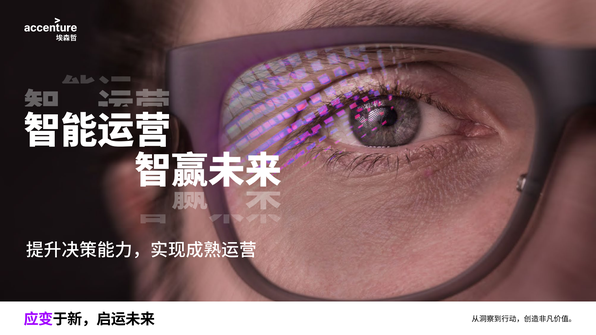 The following is the Chinese enterprises need to speed up intelligent operation to enhance future competitiveness From Accenture's "smart operation, smart win the future" Report recommended by recordtrend.com. And this article belongs to the classification: research report, Industry information.
Digital transformation and intelligent operation are expected to help Chinese enterprises achieve leapfrog growth
The latest research of Accenture (NYSE: ACN) shows that with the acceleration of enterprise digital transformation process, most Chinese enterprises need to comprehensively improve their operation level and apply intelligent operation mode to significantly improve their operation efficiency and profitability.
Accenture's latest report "smart operation, smart win the future" evaluates the maturity of enterprise operation and its impact by investigating 1100 senior executives around the world and comprehensively analyzing the verified financial data. The report divides the enterprise operation maturity into four levels: stable level, efficient level, forecast level and future level. Accenture analysis shows that if the operation maturity of global enterprises can reach the highest "future level", the additional profit growth will reach 5.4 trillion US dollars.
The report points out that only a few Chinese enterprises (7% in the world and 2% in China) have reached the "future" level of operational maturity. Their operational efficiency is nearly double that of their peers, their profitability is three times that of ordinary enterprises, and their digital capabilities in artificial intelligence, cloud technology and data analysis are also stronger. It is found that if Chinese enterprises can carry out digital transformation and improve their operation in a two pronged way, they are expected to surpass the gradual transformation and reshape themselves; by 2023, 28% of Chinese enterprises will grow into "future class" enterprises.
Li Huihong, President of Accenture operations Asia Pacific, Africa, Middle East and Turkey, said: "under the new development pattern of" double cycle ", Chinese enterprises need to develop their business in a new way. Intelligent operation is the catalyst for enterprises to create competitive advantage, realize value of change and maintain business growth. The only way for an enterprise to truly improve its operation, enhance its maturity, and become a "future class" enterprise is to take a long-term view and innovate its technology, process, and team. "
The research points out that "future level" enterprises make use of abundant data to support decision-making, use artificial intelligence technology to enhance the ability of employees, and can adopt agile team organization mode, greatly surpass other enterprises in digital technology application and operation maturity, thus completely changing the business mode. The report defines the following five areas to help enterprises improve their intelligent operation level:
Cloud Computing: 78% of the Chinese enterprises interviewed have applied cloud infrastructure on a large scale, and 76% of them are still actively exploring new areas to continuously expand the application scale and maximize the value.
Machine intelligence: leading enterprises focus on application technology to improve the ability of staff team. 60% of the Chinese enterprises interviewed have made full use of artificial intelligence and data science and technology, which is nearly four times higher than 16% three years ago. At the same time, many interviewees plan to continue to expand the scale of AI applications in the next three years.
Large scale automation: a small proportion (4%) of the Chinese enterprises interviewed have fully deployed digital processes, which is expected to exceed 60% in the next three years. Half (52%) of Chinese enterprises are still in the primary stage of large-scale and standardized application.
Use data wisely: most Chinese companies are using data analysis technology on a large scale. Two thirds of the Chinese enterprises surveyed plan to expand the use of diversified data to obtain reliable insights and help enterprises make decisions.
Agile team: only 2% of the Chinese enterprises interviewed have adopted the agile team strategy on a large scale, and can use the team strength of partners in the ecosystem to call professionals on demand. By 2023, the proportion is expected to grow to 40%.
Yue bin, President of intelligent operation division of Accenture Greater China, said: "Chinese enterprises are accelerating digital transformation. Through intelligent operation, not only cost reduction and efficiency can be achieved, but also business resilience and agility can be improved, and the overall transformation ability and competitiveness of enterprises can be improved."
The report points out that Chinese enterprises that have gradually improved their operational maturity in the past three years believe that they have made great progress in customer experience, operational efficiency, innovation speed of products and services, business value of data, team composition and skills retraining, as well as employee participation and retention rate.
Research shows that most (82%) of Chinese enterprises have significantly improved their operational maturity in the past three years, reaching the "forecast level". Enterprises still need to continue to work hard to continuously improve operational efficiency and profitability, and deliver excellent customer and employee experience. It is found that when the maturity is upgraded from "forecast level" to "future level", the average profit margin will increase by 5.8 percentage points, and the operation efficiency will increase by 18.8%.
At the same time, the study found that the global operational maturity in different industries are also different. Among them, the proportion of "future class" enterprises in insurance and high-tech industries is higher than that in other industries. However, as enterprises accelerate the process of digitalization, some industries will achieve leapfrog development, and the automobile, insurance and banking industries are expected to stand out in the next three years.
If you want to get the full report, you can contact us by leaving us the comment. If you think the information here might be helpful to others, please actively share it. If you want others to see your attitude towards this report, please actively comment and discuss it. Please stay tuned to us, we will keep updating as much as possible to record future development trends.
RecordTrend.com is a website that focuses on future technologies, markets and user trends. We are responsible for collecting the latest research data, authority data, industry research and analysis reports. We are committed to becoming a data and report sharing platform for professionals and decision makers. We look forward to working with you to record the development trends of today's economy, technology, industrial chain and business model.Welcome to follow, comment and bookmark us, and hope to share the future with you, and look forward to your success with our help.