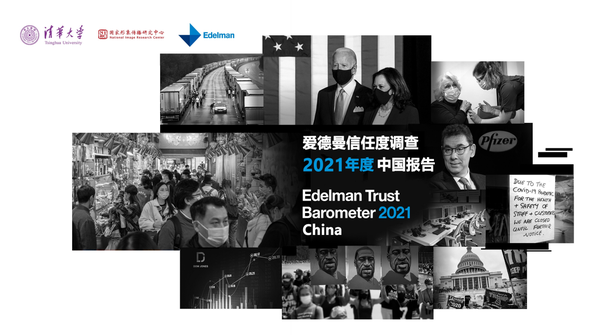 The following is the Edelman trust survey in China in 2021 From Edelman recommended by recordtrend.com. And this article belongs to the classification: Chinese economy, research report.
Edelman international PR (China) Co., Ltd. and national image communication research center of Tsinghua University jointly released the China report of Edelman trust survey 2020. In this survey report, Edelman interviewed interviewees from 28 countries and regions around the world to investigate the trust of government, media, enterprises and non-governmental organizations. The report shows that for the third year in a row, the Chinese government's comprehensive trust index ranks first in the world; meanwhile, Chinese respondents' trust in enterprises reaches 82%, and their trust in the media reaches 80%, all of which are top of the list.
This is the 20th year in a row that the Edelman trust survey has been released. Richard Edelman, global president and CEO of Edelman international PR, said: "trust is critical to future success. However, today's world economy is generally downward, and social uncertainty is increasing. The public has put forward higher requirements for the trust of government, media, enterprises and non-governmental organizations. This trend is also truthfully reflected in this year's report. The global distrust is continuing, and the imbalance of trust has set a new record. "
In such an environment, how to effectively build trust has become an important strategic issue for enterprises. With the theme of "trust: ability and ethics", the 2020 edmann trust survey China report discusses the relationship between the two and its role in building trust. The report shows that the contribution of "code of ethics" (accounting for 76% of the total in the evaluation of enterprise trust, including 49% of integrity, 15% of reliability and 12% of mission) to the construction of enterprise trust is three times as much as that of "ability" (accounting for 24% of the total in the evaluation of enterprise trust). This means that it has become the most basic requirement for an enterprise to meet the standards in terms of ability, integrity and compliance. In the long-term uncertain situation, if an enterprise wants to maintain the success of continuous operation, it must take the value proposition as the guide, and transform its strength and ability into the recognition, conviction, support and recommendation of stakeholders through action and interaction. At the same time, the report also includes other data and opinions on enterprise trust building
79% of Chinese respondents believe that enterprises need to take the initiative to make changes and take care of all stakeholders
84% of Chinese respondents believe that CEOs should set an example and take the initiative to lead the change
80% of Chinese respondents expect enterprises to provide employees with opportunities to jointly shape the future society
74% of Chinese respondents expect the company to fully involve employees in making plans
"This year's report shows that people are increasingly worried about a rapidly changing society and an uncertain future," said Stephen Kehoe, executive president of edmann international PR Asia Pacific. This discovery is more and more obvious in the global impact by COVID-19. It is gratifying to see that from all over the world to China, more and more institutions have taken joint actions to solve various social and economic challenges, which fully demonstrates that "the government, enterprises, non-governmental organizations and the media have won the trust of the public through cross agency cooperation to meet the challenges.". I believe that such cooperation will be an important practice for institutions to build their own trust in the future. "
The degree of trust in Chinese enterprises continues to show a trend of polarization; the degree of trust in Chinese enterprises of Chinese respondents is as high as 91%, while the average degree of trust in Chinese enterprises of global respondents is only 38%. And in all 28 countries and regions in this survey, 17 countries and regions of the respondents' trust in Chinese enterprises showed a further decline compared with the data of last year. Behind the data, it can be seen that building trust of Chinese brands in overseas markets is still an important challenge for Chinese enterprises to move towards internationalization.
In this regard, Professor Fan Hong, director of the national image communication research center of Tsinghua University, said: "China's brand trust is obviously out of balance at home and abroad, which puts forward a clear task for Chinese enterprises. The establishment of trust must be based on the local market. In the process of going out, Chinese enterprises must establish local market thinking, show their strength, and at the same time make their values and reliability more reliable I think the global uncertainty provides a good opportunity for Chinese enterprises to create a corporate image of "responsibility, responsibility and common development". The national image communication research center of Tsinghua University is looking forward to working with Edelman to deepen mutual cooperation and help more Chinese enterprises gain due recognition and trust on the world stage. "
As an important global strategic partner of Edelman, national image communication research center of Tsinghua University is a key research institution of Tsinghua University. It aims to become a world-class think tank in the field of national image research, and build a scientific theoretical system and effective international communication strategy for China's national image construction. At the same time, this year's "Tsinghua Edelman enterprise trust and overseas communication research project" has also entered its second year. The project will combine the academic resources and professional knowledge of Tsinghua University, as well as Edelman's rich experience in the field of global reputation management and trust construction, to help Chinese enterprises understand the essence of enterprise overseas image construction, and how to speak in the overseas media environment Good Chinese story. Other data worthy of attention in the 2020 edmann trust survey China report include:
Chinese interviewees are optimistic about the trust of various industries. 90% of Chinese interviewees think that the technology industry is still the most trusted industry, ranking first; the automobile industry and energy industry rank second with 86% of the score. Looking at the data of the past eight years, the trust of the food and beverage industry has reached 82%, with the biggest increase (28%) in the past eight years, and the daily consumption has been increasing The trust degree of the consumer goods industry was 85%, followed by an increase of 17% in the past eight years;
In China, 76% of the respondents believe that technical experts are the most reliable source of information, and 71% of them trust academic experts and opinion leaders, ranking second;
In China, the credibility of traditional media is still the highest, reaching 84%; in addition, the credibility of search engines (79%), social media (75%) and we media (69%) has increased significantly for four consecutive years.
Mr. Wang Dong, CEO of Edelman international PR (China) Co., Ltd., said at the end of the press conference: "thank experts from academic, business and media circles for their attention to the Edelman trust report. Although the current situation is full of uncertainty, and the business and operation of all walks of life have been impacted to varying degrees, I believe that at this time, the more enterprises need to consolidate the cornerstone of "ability" and "ethics" through actions, and strengthen cross agency cooperation to empower more employees. Only in this way can we find certainty in uncertainty. Edelman expects to join hands with more enterprises and other institutions through its long-term practice and experience in building trust and global professional service network, so as to achieve long-term benign enterprise operation through enhancing trust. "
If you want to get the full report, you can contact us by leaving us the comment. If you think the information here might be helpful to others, please actively share it. If you want others to see your attitude towards this report, please actively comment and discuss it. Please stay tuned to us, we will keep updating as much as possible to record future development trends.
RecordTrend.com is a website that focuses on future technologies, markets and user trends. We are responsible for collecting the latest research data, authority data, industry research and analysis reports. We are committed to becoming a data and report sharing platform for professionals and decision makers. We look forward to working with you to record the development trends of today's economy, technology, industrial chain and business model.Welcome to follow, comment and bookmark us, and hope to share the future with you, and look forward to your success with our help.