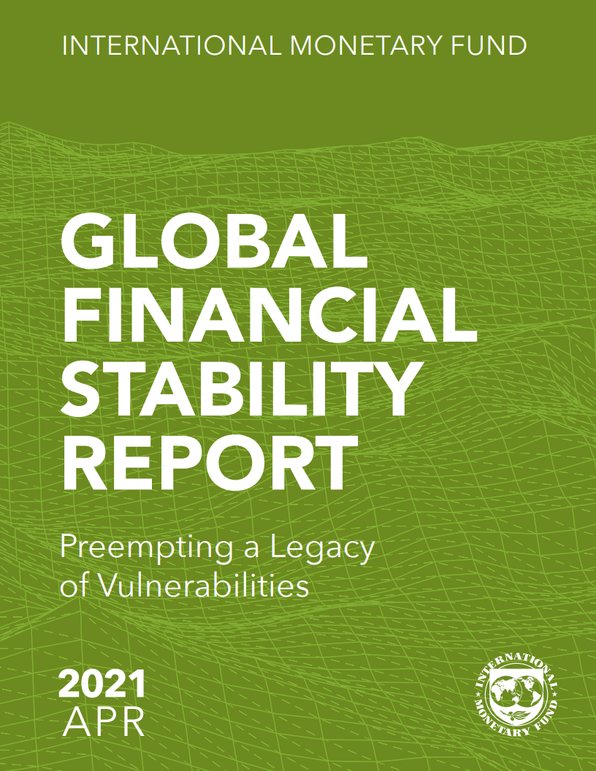 The following is the Financial stability report 2021 From International Monetary Fund recommended by recordtrend.com. And this article belongs to the classification: global economy , research report.
Unconventional policies and measures create a loose financing environment, provide support for the real economy, and help curb the risk of financial stability. But measures taken during the epidemic could have unintended consequences, such as overvaluation and increased financial vulnerability. The recovery process of developed and emerging market economies is expected to be asynchronous and differentiated. There is a large-scale external financing demand in emerging markets, so they are faced with arduous challenges, especially if the rising interest rate in the United States leads to the re pricing of risk and the tightening of financing environment. After the epidemic, the enterprise sector in many countries will be heavily in debt, and there are significant differences among enterprises of different sizes and departments. During the recovery period, concerns about the credit quality and profit prospects of the borrowers who have suffered heavy losses may have an adverse impact on the risk appetite of banks. There is an urgent need to take action to avoid vulnerability becoming a legacy. Policy makers should take action as soon as possible to tighten some macro Prudential policy instruments and avoid tightening the financing environment generally. They should also support the repair of balance sheets, thereby promoting a sustainable and inclusive economic recovery.
With the support of large-scale policies, the global financial system has performed steadily during the new crown epidemic and the financing environment has been remarkably relaxed.
This has helped maintain credit flows to households and businesses, promoted economic recovery and curbed financial risks. The improvement of economic prospects has significantly alleviated the adverse consequences, but the future GDP growth is still facing significant downside risks. Two major problems are emerging.
First, unprecedented policy support may have unexpected consequences: excessive risk-taking in the market is leading to overvaluation; if the rising financial vulnerability is not solved, it may become a structural legacy. Since the third quarter of 2020, under the expectation of rapid economic recovery and continued policy support, the stock markets of many countries have risen sharply, and the current market value is far higher than the level shown by the fundamental model.
While earnings expectations have improved, real risk-free interest rates, which are at historically low levels so far (despite a recent pick-up), have also provided strong support for valuations. In the corporate bond market, interest rate spreads continue to be near historical lows.
The sharp rise in long-term interest rates, especially in the US, partly reflects increased investor confidence in the outlook.
Under the background of continuous improvement of fundamentals, although the gradual rise of interest rate may be welcome, if the interest rate (especially the real interest rate) continues to rise rapidly, it may lead to the re pricing of market risk and the sudden tightening of financing environment. This tightening may interact with high financial fragility, thereby affecting market confidence and endangering macro financial stability (especially in emerging markets).
Second, the recovery process of each economy is expected to be asynchronous and differentiated (see world economic outlook, April 2021). There is a significant risk of tightening the financing environment in emerging market economies, especially when policy makers in developed economies start to push policies back to normal. If the financing environment becomes less favorable, it may lead to a large-scale outflow of securities investment capital, which will also pose a major challenge to some emerging and frontier market economies because of their huge financing demand this year. IMF staff analysis pointed out that the prospect of securities investment flows will continue to improve, which mainly reflects the more relaxed global financing environment.
However, countries with weak fundamentals and limited access to new vaccines are more vulnerable. In emerging markets, the sovereign bank linkage deteriorated as domestic banks absorbed most of the new domestic debt. Many frontier market economies are still struggling to access the market for financing.
Compared with other countries, China's economic recovery is faster, but at the cost of further accumulation of vulnerability (especially the increase of high-risk corporate debt). The market expects that the policy will be tightened, and believes that the authorities will introduce new measures to restrict banks, local governments and real estate developers. In addition, the uncertainty of implicit guarantee will rise, which may lead to a less favorable financing environment. For the weaker and smaller banks, the environment of using capital tools for financing has been tightened.
In eliminating implicit guarantees, the Chinese authorities face a delicate and pressing challenge – one that must be handled with caution, given the potential for disorderly repricing. The global business sector has been hit hard by the epidemic. Unconventional policy support helped to mitigate the impact of the epidemic. Large enterprises with the ability to enter the market to finance use the favorable environment to issue bonds to cope with the liquidity pressure.
However, the loose financing environment leads to the accumulation of corporate leverage, which makes policy makers face a dilemma: on the one hand, they need to stimulate economic activities in the short term; on the other hand, they need to deal with the rising vulnerability and the downward risk of future economic growth.
More detailed evaluation at the enterprise level shows that there are significant differences in the performance of enterprises of different departments and sizes. The analysis of IMF staff shows that in most departments of various countries, small enterprises are facing huge liquidity pressure, while in the seriously affected departments, not only small enterprises are facing huge repayment pressure, but also medium-sized and even large enterprises are facing significant repayment pressure.
The real estate sector has been hit hard by the crisis. In 2020, the transaction scale and price of commercial real estate will plummet.
Some of the adverse effects of the crisis on the retail real estate, office and hotel industries may be structural, as some economic activities are increasingly online or moving out of big cities. If there is a structural contraction in demand, the fair value of commercial real estate may fall sharply: if the vacancy rate is permanently increased by 5 percentage points, the fair value is expected to fall by an average of 15% in five years. Since the outbreak, price imbalance seems to have intensified. If this situation persists, economic growth may face downward risks.
Thanks to the regulatory reform after the global financial crisis in 2007-2008, banks had abundant capital and liquidity buffers before the outbreak of the epidemic, and so far they have performed steadily. However, it remains to be seen to what extent banks can continue to provide credit in the stage of economic recovery. Although loan growth, especially corporate loans, has slowed in some countries, demand for loans is expected to pick up (especially in the sectors with the weakest demand) once the economic recovery consolidates. However, credit workers in most countries do not think that the loan standards will be relaxed.
Countries' gradual withdrawal from supportive policies may have a significant impact on some banks and may reduce their willingness to lend. In addition, for most banks, the uncertainty of loan losses and weak profit prospects may prevent them from supporting the economic recovery by consuming a large amount of capital buffer. For enterprises with limited financing options and more reliance on bank credit, these constraints may be particularly worrying. The authorities should continue to encourage banks to use prudent buffers to support economic recovery.
Until a sustainable and inclusive economic recovery stabilizes, sustained policy support remains essential, which will ensure that credit continues to support the real economy and prevent the epidemic from posing a threat to the global financial system. Until the central bank achieves the policy objectives set by its responsibilities, it still needs to maintain a loose monetary policy. Policymakers should act quickly to prevent financial fragility from becoming entrenched and becoming a legacy. Considering that there may be a lag between the use and effectiveness of macro Prudential tools, policy makers should take action as soon as possible. Policy makers should tighten some macro Prudential policy tools to deal with a series of serious vulnerability problems, while avoiding the general tightening of the financing environment. If these tools are not available (such as some industries of non bank financial intermediaries), policy makers should formulate relevant tools as soon as possible. Considering the challenges in designing and implementing macro Prudential instruments within the existing framework, policy makers should also consider building buffers in other areas to protect the financial system.
In the emerging and frontier market economies, the countries that can enter the market for financing should make use of the loose financing environment to improve their debt structure. Countries with limited access to the market may need more assistance from the international community. Other countries with heavy debt burdens could benefit from deeper debt restructuring. The G20's common framework for debt disposal can help address debt vulnerability. Rebuilding the buffer, where possible, is an important priority in preparing for any sudden price adjustment and reversal of capital flows.
Repairing corporate balance sheets should also be a priority to ensure a sustainable and inclusive economic recovery. For enterprises that can continue to operate but have limited access to market financing and are temporarily facing liquidity or repayment risks, it may be necessary to provide targeted policy support directly for specific enterprises. The financial resources of some jurisdictions are very limited. Policy makers should speed up the reform and strengthen the disposal framework, including the development of problem debt market and non-performing loan market.
Once the degree of structural change in the commercial real estate sector becomes clearer, targeted macro Prudential policy tools (such as restrictions on loan to value ratio or debt service coverage ratio) should be used to reduce the downward risk of economic growth. The best time to implement such policy measures should depend on the specific recovery pace of each economy and the degree of financial vulnerability of its commercial real estate sector. Another very important task is to expand the scope of macro Prudential toolbox to cover non bank financial institutions active in some commercial real estate financing markets.
In the financial sector, in order to avoid excessive procyclicality, it is still important to provide regulatory guidance on provision for anticipated losses, but such provision should be subject to regulatory review. Successful countries should keep or only gradually relax the restrictions on capital allocation, and carry out regulatory stress tests to ensure that banks maintain adequate capital.
If you want to get the full report, you can contact us by leaving us the comment. If you think the information here might be helpful to others, please actively share it. If you want others to see your attitude towards this report, please actively comment and discuss it. Please stay tuned to us, we will keep updating as much as possible to record future development trends.
RecordTrend.com is a website that focuses on future technologies, markets and user trends. We are responsible for collecting the latest research data, authority data, industry research and analysis reports. We are committed to becoming a data and report sharing platform for professionals and decision makers. We look forward to working with you to record the development trends of today's economy, technology, industrial chain and business model.Welcome to follow, comment and bookmark us, and hope to share the future with you, and look forward to your success with our help.