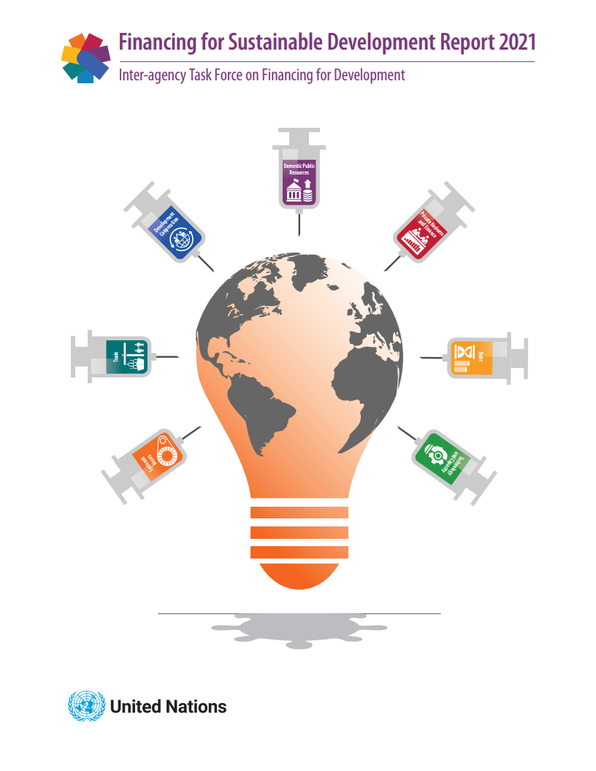 The following is the Financing report of sustainable development in 2021 From the United Nations recommended by recordtrend.com. And this article belongs to the classification: Venture capital, Investment & Economy, research report.
According to a new report released by the United Nations today, as the development achievements of millions of people in poor countries are reversed by the 2019 coronavirus pandemic, the pandemic is leading to a more unequal world. To this end, more than 60 international agencies have called for funding to address growing inequality and better rebuild.
The 2021 sustainable development financing report shows that the global economy has experienced the most serious recession in 90 years, and the most vulnerable social groups have been most affected. It is estimated that 114 million jobs have been lost worldwide and about 120 million people have fallen into extreme poverty.
The report emphasizes that only immediate action can prevent many countries from losing the development achievements of the decade.
"There is no doubt that this pandemic demonstrates the danger of ignoring global interdependence," said Amina Mohammed, UN deputy secretary general. Disaster does not respect national boundaries. A divided world is a disaster for all of us. It is morally right and in everyone's economic interest to help developing countries overcome this crisis. "
Highly unbalanced response to pandemic
The highly unbalanced response to the pandemic has widened the already growing disparities and inequalities between countries and among people. The historic $16 trillion in stimulus and recovery funding has helped to withstand the most severe impacts, but less than 20% of that has gone to developing countries. In addition, as of January this year, only nine of the 38 countries that launched the vaccine were not developed countries.
Before the new crown pandemic, about half of the least developed countries and other low-income countries were at high risk or in debt distress, and the pandemic caused debt levels to soar due to lower taxes.
The situation in the world's poorest countries is deeply disturbing and could push back the deadline for achieving the sustainable development goals by another 10 years. Specific recommendations to help countries overcome the pandemic include:
Reject vaccine nationalism and increase its contribution to the "access to new crown tools acceleration program" to make up for the funding gap of more than $20 billion in 2021;
Implement the commitment to allocate 0.7% of GDP to official development assistance and provide new preferential financing for developing countries, especially the least developed countries;
• avoid debt problems by providing liquidity and debt relief support to enable developing countries to cope with China's economic and social impact on COVID-19.
Sustainable and smart investment
The report was prepared by the Department of economic and social affairs of the United Nations. "The widening gap between rich and poor countries is a worrying retrogression and needs to be corrected immediately," said Liu Zhenmin, under secretary general who heads the Department. Countries must be helped not only to be financially sustainable, but also to invest in their own development. For better reconstruction, both the public and private sectors must invest in human capital, social protection and sustainable infrastructure and technology. "
Sustainable and smart investments, such as in infrastructure, will reduce risk and make the world more resilient to future shocks, the report said. It will create growth, enable millions of people to live better lives, and help fight climate change. For example, it is estimated that spending $70-120 billion on such investments in the next two years and $20-40 billion annually thereafter will greatly reduce the possibility of another pandemic, which is in sharp contrast to the trillions of dollars of economic losses caused by the new pandemic. However, unlike developed countries, most developing countries have no financial space for such investment.
The report proposes ways to deal with this challenge, including:
Provide ultra long term financing to developing countries at fixed interest rates, including more than 50 years of long-term financing, taking advantage of current historically low interest rates;
Better use of public development banks as a tool for investment in sustainable development;
Adjust the direction of the capital market, link the short-term incentive measures in the investment chain with sustainable development, and reduce the risk of impact on sustainable development goals.
Reform in finance and digital economy
The report stressed that development without risk awareness will not be sustainable, and that coping with the crisis will be an opportunity to reset and build a future oriented global system. While gaps in the international financial system or inadequate policies often undermine financing for development, prior safeguards during the new crisis meant that certain systems, particularly the financial and banking systems, were retained, in part as a result of reforms following the 2008 financial crisis. The lessons learned from today's crisis can lead to reform now to create resilience for the future.
Therefore, the report recommends that:
Seek global solutions to tax the digital economy to combat corporate tax avoidance and reduce harmful tax competition; better use technology to combat illegal capital flows.
Establish a global reporting framework that requires companies to be responsible for their social and environmental impacts and incorporate climate risk into financial regulation.
· review regulatory frameworks such as antitrust regulations to reduce the market power of large digital platforms.
Modernize labor markets and fiscal policies to reflect the realities of a changing global economy, including an increasingly digital world.
Deputy Secretary General Liu Zhenmin said: "to change the track, we need to change the rules of the game. Relying on pre crisis rules will lead to the same pitfalls that have been exposed in the past year. "
If you want to get the full report, you can contact us by leaving us the comment. If you think the information here might be helpful to others, please actively share it. If you want others to see your attitude towards this report, please actively comment and discuss it. Please stay tuned to us, we will keep updating as much as possible to record future development trends.
RecordTrend.com is a website that focuses on future technologies, markets and user trends. We are responsible for collecting the latest research data, authority data, industry research and analysis reports. We are committed to becoming a data and report sharing platform for professionals and decision makers. We look forward to working with you to record the development trends of today's economy, technology, industrial chain and business model.Welcome to follow, comment and bookmark us, and hope to share the future with you, and look forward to your success with our help.