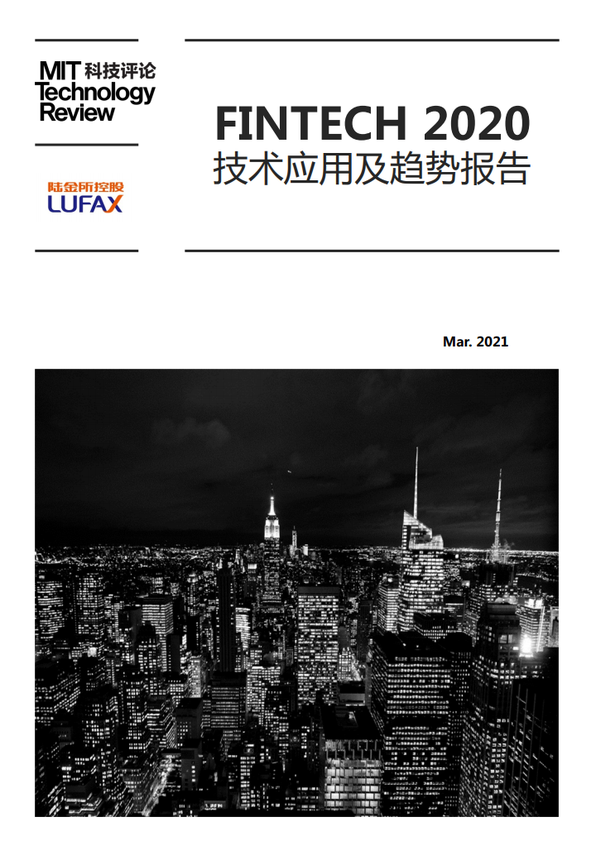 The following is the Fintech technology application and trend report in 2020 From Lu Jinsuo recommended by recordtrend.com. And this article belongs to the classification: research report, financial technology.
Recently, the fintech technology application and trend report (2020), which is jointly published by lufax Holding Co., Ltd. (hereinafter referred to as "lufax holding") and MIT Technology Review, has been officially released. The report predicts the future development trend of the underlying technologies of financial science and technology, such as AI, blockchain, cloud data and computing.
When the financial industry is driven by science and technology, how will it ride the wind and waves? How will technology and finance merge? Recently, MIT Technology Review interviewed Mao Jinliang, CTO of lufax, Zhang Siming, CTO of Ping An Pratt & Whitney and director of science and technology of science and technology center, and Zhu Yisheng, special assistant to CTO of lufax, to discuss the integration of technology and finance in lufax and the new development trend of financial technology industry.
"New species" of Finance + Technology
Founded in September 2011, lufax is the first Unicorn enterprise in the industry to set foot in Internet finance. In October 2020, lufax holdings successfully landed on the New York Stock Exchange. Its core business includes wealth management and retail credit business, which are realized through two platforms of "lufax" and "ping an inclusive".
In more than ten years, Ping An Group has invested more than 100 billion yuan in artificial intelligence, blockchain, cloud computing and other core technologies, winning the laurels of world-class science and technology competitions for many times. At the same time, the three core technologies, as science and technology platforms, continuously inject "new power" into science and technology, enabling Ping An to be a comprehensive financial ecosystem.
Talking about the differences with other financial institutions, Mao Jinliang told MIT science and technology review that "Lu Jin's holdings understand the Internet better than financial institutions, and understand financial institutions better than the Internet." Zhang Siming believes that when other financial institutions tried to make the transformation of science and technology or information technology, Lujin holdings already had the dual gene of "science and technology + finance".
In the development process of lufax, the income of science and technology platform accounts for more and more. At present, technology platform accounts for nearly 80% of the total revenue. It is no longer a pure financial company, but a technology driven and integrated financial development. By the end of 2020, the total assets of wealth management customers had increased by 23% year on year to 426.6 billion yuan, while the retail credit balance was 545.1 billion yuan, up 17.9% year on year.
Traditional financial institutions are "strong offline, slightly weak online", while Internet companies are "strong online, almost no team offline". Compared with other institutions, Lujin Holdings has done a very good job in o2o integration. "Our advantage is not only the team offline, but also the linkage between online and offline."
Since its launch, the intelligent robot has provided online consultation, return visit and other services to more than 2 million customers, enabling global customers to enjoy professional voice real-time touch services such as financial information, product introduction and purchase guidance when they encounter investment problems. Lujin holdings makes real-time intelligent scene return visit to the whole process of user's financial management through the multi robot linkage of breakpoint, financial management and outbound call, and the success rate of return visit is as high as 95%.
Mao Jinliang said: "if our customers encounter problems in the loan process or in the process of purchasing products, whenever there is a breakpoint, the system can identify it in a few seconds, and then immediately push it to the relevant offline service personnel to call the customers in time, so that the problem can be solved immediately."
The reason why Lujin holdings can quickly respond to market changes is that it has done flexible design in the architecture design. In this regard, Mao Jinliang further explained, "once there are new changes, Lu Jin adheres to the preciseness of the financial industry and the rapid response of the Internet. Whether it's new product launch or rule modification, it can be processed quickly, because we have divided the functions very carefully in the background, and the plates are relatively independent. Therefore, there will not be a phenomenon of "pulling one hair and moving the whole body."
Enhance user experience with science and technology and provide "more temperature" service
Lu Jin Institute is committed to creating a "warm" online financial experience, which is supported by science and technology and always embodies humanistic care. Not only will artificial intelligence be deeply embedded in the platform service to help customers solve investment problems in real time, but also through innovative service forms such as live broadcast and short video recently to continuously improve customer service experience.
"The financial industry often gives people a" cold "feeling, so we have been thinking about how to provide" more warm "services while providing financial services." Zhang Siming said.
"Lu Jin's live customer service has solved the financial problems for over 200000 users. In view of the inconvenience of the elderly in using intelligent devices, Lu Jin's office has opened a fast manual service channel for the elderly over 65 years old, highlighting the care for the elderly and improving the service temperature."
When we go to the bank counter for credit business, we often have a headache because of the cumbersome procedures and long processing time. So, if it is an AI robot to face-to-face review, what effect will it have?
In 2019, Ping An Pratt & Whitney launched the world's first face-to-face audit AI robot in the field of credit, which makes the offline credit face-to-face audit of traditional financial institutions online and intelligent, and can provide 7 * 24-hour face-to-face audit service. Zhang Siming told MIT Technology Review that "in addition to ensuring the smooth interaction between robots and customers, we have also added relevant technologies to enhance the ability of anti fraud and risk control, including face recognition, micro expression recognition, speech recognition, etc., so as to optimize the AI coverage of medium and high-risk customers."
In 2020, lufax app will upgrade the original text interaction mode and launch full video streaming interaction. Customers can handle credit through online video conversation, which is actually a dialogue with the "real person" AI. Compared with the text interaction mode, this new form not only shortens the communication time, but also enables customers to enjoy a more comfortable and humanized user experience.
Last year, in an interview with MIT science and technology review, Ji Kuisheng, CO CEO of Lu Jinsuo, also talked about the application of AI robots. He said, "in the traditional mode, customers listen to the counter staff's recommendation and invest in one product, but it's difficult for the counter staff to understand all the products clearly, and they can't put them accurately. And robots don't lie and don't earn commissions, which I think is absolutely revolutionary technology. In five years' time, robots may become the basis of communication between the two sides, and even many people will get results by saying "which platform do I want to chat with" and "what's the recent investment situation?"
The uniqueness of AI robot is that it can judge which organization and what kind of product is more suitable for users according to the user's portrait. In this regard, Zhu Yisheng further explained, "in addition to the need for us to have advanced natural language processing capabilities to accurately identify customers' intentions, we have also established a relatively complete product information network at the bottom based on knowledge mapping. Based on this information network, we can accurately introduce to users what this product is and whether it is suitable for customers. "
In addition, Mao Jinliang believes that if the AI robot face-to-face audit form can be widely used, it will save a lot of manpower, time and cost. "I hope that in the future, AI robots will not only do services, but patrol. If AI robots can be like wealth management experts, they can better provide investment and financial advice to customers. "
Continuous improvement of data security to make users more assured
In February, MIT science and technology review published the "top 10 breakthrough technologies in the world" in 2021, and data trust is one of the top 10 high and new technologies. In the era of data, people's life is more convenient because of data, at the same time, privacy and security issues are increasingly prominent.
The data trustee manages the data or data rights of the client and is responsible for its interests, which is the same as the doctor's responsibility to act according to the interests of patients. Lufax has integrated a large number of cooperative financial institutions, among which different institutions and products often have different information filling requirements. For example, some products need to provide information of QFII certification. If users fill in the information separately in each institution, the process will be extremely cumbersome. If we can learn from data trust technology, then this problem will be solved.
Financial technology is faced with strong supervision, which is the inevitable requirement of the industry technology development to a specific stage. This means that compliance technology and regulatory technology will be further developed. Zhu Yisheng believes that the financial industry has higher requirements for users' personal information and privacy than general information security, so how to solve the problem of data sharing is also a problem that Lujin Holdings has been exploring.
"With the maturity of AI and data technology, the regulatory requirements will be higher and higher. We are constantly trying new technologies such as multilateral computing to meet higher regulatory requirements. Actively explore how to make the user experience more "warm" and how to improve the information flow efficiency of the whole industry, so that the financial technology industry can go steadily and far Zhu Yisheng said.
In addition, lufax attaches great importance to the application of blockchain in the financial industry. It is one of the first batch of enterprises to obtain the record number of blockchain information service in China. At present, five services have passed the record of blockchain.
When buying online financial products, disputes between buyers and sellers are inevitable. LUCC applies the distributed decentralized shared ledger technology with multi-party participation in the blockchain, such as tamper proof, traceability, privacy protection and other features, to multiple scenarios such as "transaction traceability", "financial asset information". Let the user data be well documented and traceable, reduce the cost of communication, and let the customers trust and trust the platform more.
"We have made three protections: first, keep the contract on file; second, put the contract in an independent and objective third-party certificate keeping system certified by relevant institutions. Third, put the contract and all the behavior tracks of users in the process of investment into the blockchain to ensure that all traces can not be tampered with. " Zhu Yisheng said.
The development of financial technology will be broader
Referring to the future trend of the financial technology industry and the expectation of China's financial technology market, Ji Kuisheng, CO CEO of LuKin holdings, said in an interview with MIT science and technology review, "the development of intelligence in China has just begun, and financial technology still has huge growth potential. In today's banking and financial field, the market scale of financial technology only accounts for 5% – 6%. We can see the huge market space from the far unsatisfied wealth management needs of users. I believe that in the next five years, the Chinese market will have the opportunity to leap from the past lack of artificial investment advisers to the "artificial" era of intelligence, and achieve leapfrog development. "
In Mao Jinliang's view, the ultimate goal of scientific and technological development is to reduce the service cost of the financial industry. By providing more personalized and temperature intelligent solutions, customers can enjoy convenience.
"Technology has a wide range of application scenarios in the financial industry. Thanks to the blessing of artificial intelligence and big data technology, more personalized applications such as intelligent investment research, intelligent investment consulting and intelligent marketing will become more and more popular. For example, we have created luflex intelligent marketing and recommendation system relying on the ability of tag data and algorithm, truly realizing the personalized financial management of" thousands of people and thousands of faces. " Mao Jinliang said.
Zhang Siming believes that 5g technology and digital currency will lead the development trend of financial technology in the future. He said that with the development and application of 5g technology, it is the future development trend to provide services similar to app and small program through 5g SMS service, or to provide financial services through interactive video mode.
"In my opinion, digital fiat money based on blockchain technology will also become the mainstream in the future. We should see the role of technology as a" double-edged sword "and gradually guide the development of technology in the direction of good. With the gradual implementation of domestic digital RMB, there will be more and more application scenarios of blockchain technology. " Zhang Siming said.
"The electronic money implemented by the Chinese people's Bank of China has broken the monopoly of Alipay and WeChat in monopolizing the whole electronic payment market, and further promoted the popularity of the electronic payment market. Taking the credit industry as an example, from the perspective of regulatory compliance, it will be more convenient to track the flow of loan funds through e-money technology, which will make the use of loans more clear. "
If you want to get the full report, you can contact us by leaving us the comment. If you think the information here might be helpful to others, please actively share it. If you want others to see your attitude towards this report, please actively comment and discuss it. Please stay tuned to us, we will keep updating as much as possible to record future development trends.
RecordTrend.com is a website that focuses on future technologies, markets and user trends. We are responsible for collecting the latest research data, authority data, industry research and analysis reports. We are committed to becoming a data and report sharing platform for professionals and decision makers. We look forward to working with you to record the development trends of today's economy, technology, industrial chain and business model.Welcome to follow, comment and bookmark us, and hope to share the future with you, and look forward to your success with our help.