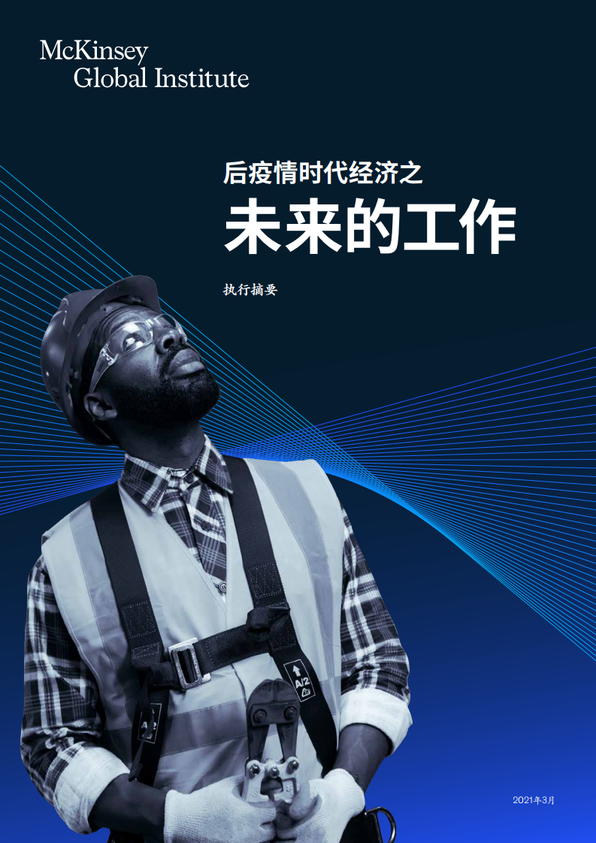 The following is the Future work of economy in post epidemic Era From Mckinsey recommended by recordtrend.com. And this article belongs to the classification: Chinese economy, global economy , research report, Mckinsey .
In the past year, COVID-19 has had a huge impact on the global labor force pattern. Enterprises suddenly have to face the new problem of whether they need close personal contact.
The MGI released a report on the future of the post disaster era, focusing on COVID-19's long-term impact on China's labor demand, occupation, and skills in China, France, Germany, India, Japan, Spain, the United Kingdom and the United States. These eight countries contribute nearly half of the world's population and 60% of global GDP.
Compared with pre epidemic estimates, the number of workers who need to change jobs in developed economies may increase by 25% by 2030, and in China, it will increase by about 13%.
The challenge of workers' skill transformation will be more severe: in the future, the requirements for manual and basic cognitive skills will be reduced, while the requirements for technical and emotional communication skills will be improved.
In order to continuously improve people's living standards, China can promote the transformation of the skills development system so that the world's largest workforce can become lifelong learners.
The report points out that the epidemic has accelerated three major changes in consumer behavior and business model: the increase of telework, the improvement of acceptance of e-commerce and online interaction, and the acceleration of automation and artificial intelligence technology deployment. These three changes will have long-term effects in varying degrees. At the same time, these trends will accelerate the reshaping of the employment structure of the world's major economies, including China, in the next decade. By 2030, there may be more than 100 million workers in the world (that is, one in every 16 workers) who need to change their jobs. This puts forward higher requirements for workers' skills, and also makes promoting the transformation of skills training system an urgent issue for countries to think about.
Jonathan Woetzel, CO president of McKinsey Global Research Institute and senior managing partner of McKinsey Global: "we note that the reduction of low paid jobs may be one of the long-term effects of the epidemic. In the past, low paid jobs provided shelter for the unemployed. In the future, these groups need to be well prepared to reemployment in jobs with higher salary and higher skill requirements, such as nursing, technology, education and training, social work, human resources and other fields. "
Under the epidemic situation, whether close interpersonal contact is needed in the work scene has also become an important consideration. Those positions that need close contact with customers and colleagues in the space of personnel gathering are most likely to be quickly subverted. Therefore, this study adopts a new way of occupational classification, that is, according to the degree of interpersonal contact. Jobs requiring close contact, such as store cashiers, restaurant waiters, assembly line chefs and hotel receptionists, may suffer the greatest impact after the epidemic, because changes in customers and business behaviors will continue.
COVID-19 has also had a profound impact on its future work.
Teleworking will continue. Many enterprises in the world have been designing mixed telecommuting mode. The model analysis of McKinsey Global Research Institute shows that about 20% – 25% of workers in developed economies can work at home for 3-5 days a week, and these workers mainly come from computer office scenarios; this proportion is about 11% in China. If the number of commuters is reduced, the posts in office buildings, property, public transportation, catering, retail and other fields in the central area of the city will be affected.
Business travel tends to decrease. Online meetings may replace 20% of business travel, which will have a chain effect on restaurants, hotels and airlines.
The workplace is more flexible. Before the outbreak, highly skilled workers tended to work in big cities. Now, the digital telecommuting mode provides new opportunities for workers. They can choose their place of residence at will, and the company's recruitment scope is also extended.
E-commerce and online trading are on the new track. COVID-19 has forced consumers and businesses to turn to the Digital Express "express economy", which has shifted more low paid jobs from physical shops and restaurants to warehousing and transportation. In 2020, the proportion of China's e-commerce transactions in the total retail sales has increased by 1.6 times compared with that before the epidemic. Telemedicine, online banking and streaming media entertainment are developing rapidly. McKinsey research found that for convenience reasons, about 50% – 65% of Chinese consumers said they would continue to use digital channels.
Opportunities for independent work and odd jobs increased. Express economy and telecommuting bring more employment opportunities for independent workers. In a McKinsey survey of 800 executives around the world in July 2020, 70% of respondents said they might hire more independent workers in the next two years.
Automation and artificial intelligence applications are on the rise. Many enterprises have adopted automation and artificial intelligence technology to reduce the density of workers in the workplace and cope with the surge of demand. This trend will accelerate as the economy recovers. For example, manufacturing enterprises reduce the labor density of processing plants by deploying robots, and call centers enable chat robots. The scenario with the fastest development of automation may be indoor production and warehousing. The enterprises in this scenario hope to expand the contact distance of workers and ensure the production capacity that can meet the demand at the same time. A survey conducted by McKinsey in July last year showed that 68% of senior executives said they planned to deploy more automation and artificial intelligence technologies, and a similar proportion of respondents also said they would deploy more digital work tools, e-commerce platforms and digital supply chain platforms.
Compared with before the epidemic, the above trend may accelerate the loss of low paid jobs in catering services, customer service and hotels, and the growth of jobs in transportation, express delivery and other industries can only offset part of it. On the other hand, fast-growing occupations, such as those related to nursing and stem (Science, technology, engineering and Mathematics), are expected to continue their strong momentum. In order to be competent for these jobs, workers in low and medium wage positions need to acquire more advanced new skills. Some workers need to find high paying jobs with specific requirements for technical ability and emotional communication ability. At the same time, the future work for physical, manual and basic cognitive skills will be reduced.
Anu madgavkar, managing partner of McKinsey Global Research Institute and co-author of the report: "the epidemic makes more workers face transformation, and also makes the challenge of reshaping skills more arduous. Vulnerable groups may face the most severe challenges. A new and urgent task is in front of enterprises and decision makers, that is, how to help workers acquire the skills they need in the future. "
Although COVID-19 has relatively limited impact on Chinese workers, China's economic transformation is imperative in China as China's economy gradually transforms into a new and digitalized post industrialization economy. According to McKinsey Global Research Institute's report "skills transformation in China: promoting the world's largest workforce to become lifelong learners" released in January this year, in the early application scenario of automation, 220 million workers (about 30% of the workforce) in China may face skill remodeling and career change by 2030.
Jeongmin, Chinese President and managing partner of McKinsey Global Research Institute Seong: "China can aim high and set a national skill development goal: triple the coverage of the current system to benefit all people; adjust the content of education and skills training to meet the requirements of the post industrial economy era for workers; and ensure that people can get the education and training they need anywhere and at any time in China."
If you want to get the full report, you can contact us by leaving us the comment. If you think the information here might be helpful to others, please actively share it. If you want others to see your attitude towards this report, please actively comment and discuss it. Please stay tuned to us, we will keep updating as much as possible to record future development trends.
RecordTrend.com is a website that focuses on future technologies, markets and user trends. We are responsible for collecting the latest research data, authority data, industry research and analysis reports. We are committed to becoming a data and report sharing platform for professionals and decision makers. We look forward to working with you to record the development trends of today's economy, technology, industrial chain and business model.Welcome to follow, comment and bookmark us, and hope to share the future with you, and look forward to your success with our help.