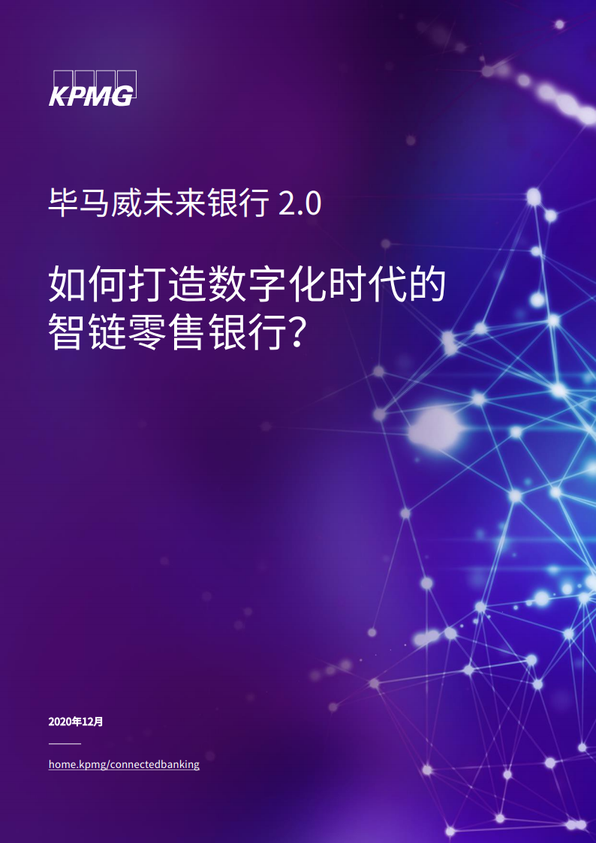 The following is the How to build a smart chain retail bank in the digital era? From Future bank 2.0 recommended by recordtrend.com. And this article belongs to the classification: research report, financial technology.
At present, China's banking industry is in a critical period of transformation. Although China's retail banks are in the forefront of the world in terms of business online and digital level, they are still facing huge challenges in China, one of the most active markets of Internet Finance and financial technology innovation in the world. While banks are constantly adapting to the rapidly changing environment, they are also focusing on the future and continuously promoting changes. Since China novel coronavirus pneumonia (COVID-19), Chinese bank leaders are increasingly determined to accelerate the upgrading of retail business and digital transformation.
In this context, KPMG released "future bank 2.0 – how to build a smart chain retail bank in the digital era", which aims to explore the mode and path of transformation of retail banks under various challenges in the future, and discuss the core competence required for a successful retail banking business model.
Driving factors of retail banking reform
KPMG analyzes the current driving factors of retail banking reform from five aspects: customer demand, competitive environment, macro-economy, regulatory policy and financial technology.
1. Customer needs. Affected by the novel coronavirus pneumonia, the most important factors that consumers are choosing to purchase goods and services are changing. High cost performance has become the most important decisive factor. At the same time, customers' demand for convenience of products, services and information access is further stimulated, and the demand for digital experience is also increasing.
2. Competitive environment. Emerging players such as new banks and Internet finance companies are encroaching on the market share of traditional banks from all aspects. Traditional banks need to decide how to deal with competitors or strengthen cooperation with competitors to maintain competitive advantage.
3. Macro economy. The economic recession brought by the epidemic has brought challenges to the profitability of retail banks, forcing retail banks to consider changing their business and operation modes. Among them, digital transformation has become a top priority for retail banks.
4. Regulatory policy. Regulators around the world are continuously strengthening the supervision of the banking industry to promote fair competition, enhance the stability of banking business, strengthen network and data security, and support and protect customers with low risk tolerance. At the same time, regulators also require banks to expand the scale of credit to support the demand for economic recovery.
5. Financial technology. Financial technology redefines the relationship between customers and retail banks. Leading banks are providing customers with safer, more convenient and more personalized services through cloud data, automation solutions, API and other technologies. Investment in financial technology has become an important pillar to support the digital transformation of banks.
Business model based on connected banking
KPMG divides the business models of retail banks in the current market into five categories, but driven by the above factors, these retail banks will accelerate their evolution. In the future, retail banks with three business models of universal bank, transaction focused bank and ecological banks are most likely to dominate the market. Among them, eco bank is a new retail bank redefined by KPMG.
Core competence of excellent retail banking operation mode
KPMG believes that a successful retail banking business model requires the following eight core competencies. The survey shows that more than half (52%) of the respondents are investing in at least six of them.
The relative value and importance of different core competencies for different retail banks' business models are different, and the priority of the corresponding banks in choosing competency building will also be different. However, it should be noted that the eight capabilities run through the whole organization and must be deployed as a whole, so as to reshape the operation mode and create value for customers and banks.
Case study: KPMG helps banks design smart chain retail banking business architecture and digital transformation scheme
In recent years, a bank has been promoting the digital transformation, taking building a digital bank as the core strategic goal of the whole bank, improving the ability of rapid decision-making and customer service to cope with the impact of Internet finance, and building the digital ability as the future business growth engine of the bank. But there are many difficulties in the process of transformation, it is difficult to gain value from the project investment.
After learning that KPMG's eight capability frameworks of smart chain bank are highly consistent with its transformation objectives, KPMG is entrusted by KPMG to assist it in carrying out digital capability assessment, transformation planning and implementation of support services, with retail banks as the focus of transformation. KPMG conducted in-depth interviews and Research on the bank, assessed the digital maturity of the bank with smart chain banking tools, held a series of in-depth seminars, and worked out a highly feasible transformation plan with the bank.
During the implementation of the project, KPMG integrated the strategic planning, customer and operation, information technology, data and analysis, risk and other teams to provide services for customers, and helped customers design the retail banking business architecture and digital transformation scheme from business strategy formulation, organizational capacity transformation planning, data application design, and data and technology basic ability improvement.
Put it into action
KPMG's research and service experience shows that the future retail banks should promote business transformation along the following directions and start the journey of "smart chain".
Close to customer needs. The ability to think from the outside to the inside is the key to building a customer-centric environment. Banks should ensure that they understand customers' ideas, needs and values, and constantly explore information within the industry and the enterprise in order to be consistent with the best customer experience.
Act quickly. Change should be broken down into specific steps and implemented in turn. From the perspective of bystanders, we can evaluate whether the change is successful or not in the way of "testing and learning". Through a series of small changes, we can accumulate and form a significant and far-reaching transformation.
Enhance resilience. Be flexible and persistent to meet challenges, prepare for unexpected failures and learn from them quickly. Through the development of "smart chain" enterprise architecture, enhance the ability of rapid response.
Keep it human. The application of artificial intelligence and automation technology is very important to provide smooth customer experience. In addition, banks should also pay attention to shaping the "reality" in customer interaction. At the same time, the success of banks always depends on the quality, enthusiasm and sense of mission of their employees.
Use cutting edge technology. Banks should constantly observe which emerging technologies can help them better serve their customers or make their business more intelligent. Banks should fully explore and test the opportunities brought by cloud computing, machine learning and data science.
If you want to get the full report, you can contact us by leaving us the comment. If you think the information here might be helpful to others, please actively share it. If you want others to see your attitude towards this report, please actively comment and discuss it. Please stay tuned to us, we will keep updating as much as possible to record future development trends.
RecordTrend.com is a website that focuses on future technologies, markets and user trends. We are responsible for collecting the latest research data, authority data, industry research and analysis reports. We are committed to becoming a data and report sharing platform for professionals and decision makers. We look forward to working with you to record the development trends of today's economy, technology, industrial chain and business model.Welcome to follow, comment and bookmark us, and hope to share the future with you, and look forward to your success with our help.