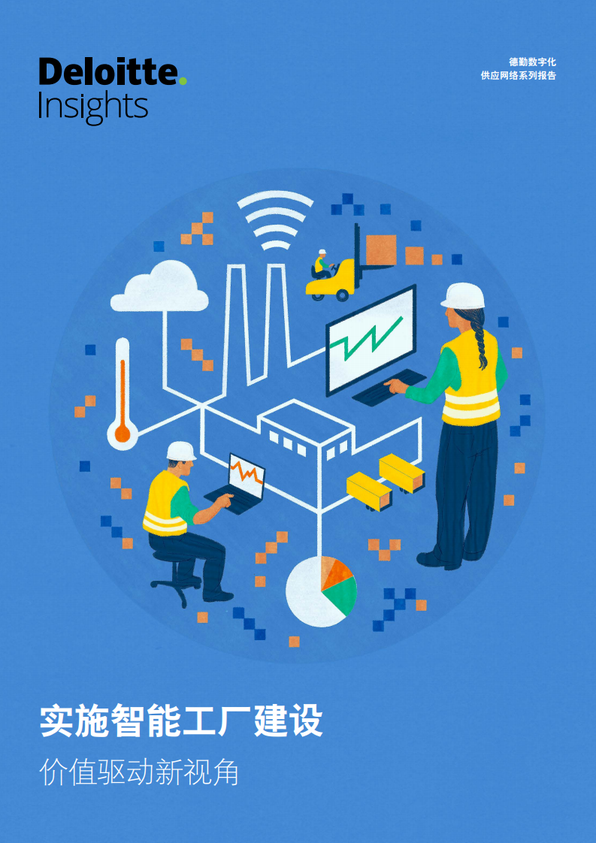 The following is the Implementing the construction of intelligent factory — a new perspective of value driven From Deloitte Consulting recommended by recordtrend.com. And this article belongs to the classification: artificial intelligence, Deloitte Consulting , Data intelligence, research report.
1、 The era of intelligent factory has come
Today, there is no doubt about the strategic importance of the smart factory. Early practitioners say that the smart factory has helped improve its operational efficiency and profitability. Only in the United States, 86% of manufacturers believe that by 2025, smart factories will become the main driving factor for enterprises to be competitive. In addition, 83% of manufacturers believe that smart factories will transform the way products are produced.
Various studies have shown that the combination of industrial Internet of things (iiot), cloud computing, edge computing, artificial intelligence, visual system and other functions with intelligent factory technology can reduce enterprise costs and improve productivity, product quality, safety and revenue.
Deloitte has conducted more than 40 qualitative visits with manufacturing leaders who have practical experience in smart factory transformation. Combined with Deloitte's in-depth research with manufacturing productivity and Innovation Alliance (MAPI) and Deloitte's 2017 Preliminary Research Report on smart factory, this research report on smart factory transformation is formed.
We divide the research results into the following two parts: first, positioning the smart factory plan to achieve value: learning the experience of the pioneers in the transformation of smart factory; Second, turn experience into achievement: realize the transformation value of intelligent factory.
2、 Positioning smart factory programs to realize value
So, how can enterprises carry out change management in the transformation of intelligent factory? Leaders need to pay attention to the following four points:
Humanized design based on the real needs of users
Change advocates lead the top-down, bottom-up approach
A diverse team with a wide range of skills
Continuous support and learning
On the issue of "smart factory specific": how to integrate it and ot of smart factory? Business leaders also need to pay attention to the following three points:
The key of interconnection
Manage a variety of different devices in a real scene
Bridging the gap between it team and ot team
3、 Transforming experience into results: realizing the value of smart factory transformation
How can an enterprise turn the experience learned from the transformation of an intelligent factory into achievements, and how can the ability of an intelligent factory improve the process and the enterprise? In fact, there are many opportunities to realize value: from interpreting data and connecting intelligent factories to a wider digital supply network, to promoting the improvement of existing production processes, using advanced technology in stages to achieve excellent operation, and to extending intelligent factories to a wider ecosystem beyond the scope of physical facilities.
Therefore, we need to change the value curve by always on-line interconnection technology, so as to realize the transformation of intelligent factory; Use existing systems in new processes to achieve operational excellence; With the help of artificial intelligence and other advanced tools, we will step into a new stage; And expand the function of intelligent factory in each network, ecosystem and digital supply network.
4、 Using experience to expand intelligent factory
Finally, there are many ways to deploy the smart factory, and all the ways to achieve great value are worth learning. The scope of these experiences can range from people-oriented practical experience (such as change management, putting people at the core of functions, diversity of management skills) to broader operational and technical considerations (such as the key to connectivity in a challenging environment, the diversification of assets, and the need to bridge the differences between it and ot teams).
After that, all the above insights are summarized, and experience wisdom and its related influence are used to promote the realization of the successful vision of the future smart factory. Relying on the data support of the entire interconnected factory, leaders can create new processes to optimize operations, and use technologies such as artificial intelligence to understand data, predict, perceive and respond to environmental changes. After the pilot and testing of such functions in scattered parts, enterprises can first deploy these functions in a small scale, learn and adapt, and then expand their solutions to a wider range. Extending the above functions to the whole network or ecosystem outside the physical facilities is conducive to the exponential growth of value.
If you want to get the full report, you can contact us by leaving us the comment. If you think the information here might be helpful to others, please actively share it. If you want others to see your attitude towards this report, please actively comment and discuss it. Please stay tuned to us, we will keep updating as much as possible to record future development trends.
RecordTrend.com is a website that focuses on future technologies, markets and user trends. We are responsible for collecting the latest research data, authority data, industry research and analysis reports. We are committed to becoming a data and report sharing platform for professionals and decision makers. We look forward to working with you to record the development trends of today's economy, technology, industrial chain and business model.Welcome to follow, comment and bookmark us, and hope to share the future with you, and look forward to your success with our help.