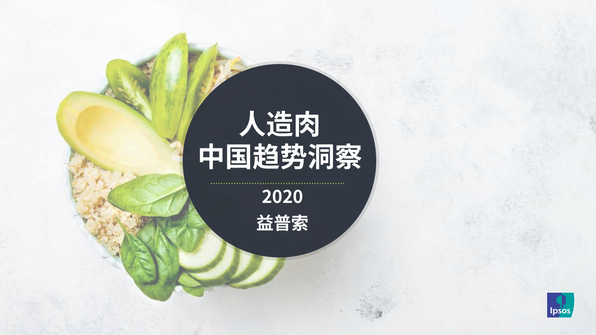 The following is the Insight into China's artificial meat trend in 2020 From Ipsos recommended by recordtrend.com. And this article belongs to the classification: Consumer research, Life data, Ipsos, research report.
With the upgrading of artificial meat technology and production, and the growing maturity of the global artificial meat market, artificial meat, a new food, has begun to enter the vision of Chinese consumers. Is it a high-end food in the eyes of Chinese consumers, with its own high-tech aura, or a terrible "dark cuisine"? What opportunities and challenges are artificial meat facing in Chinese market?
Ipsos keeps up with the changing trend of the market. Through expert interviews and the analysis of more than 1000 consumer questionnaires, Ipsos launched "insight into China's trend of artificial meat in 2020", combed the market context, understood consumers' ideas, and discussed the new development trend of artificial meat in the future.
1. Main classification of artificial meat
There are two main types of artificial meat: plant-based artificial meat & cell culture. The industry of plant-based artificial meat has been put into commercial production, and the market scale is also expanding;
With the technological innovation and output value acceleration of cell culture meat, and the continuous maturity of regulatory regulations and technologies, new and powerful competitors will appear in the future artificial meat market.
The trend of artificial meat swept the world
The global scale has reached $12.1 billion, and the annual growth rate is expected to be 15%. At present, the market share of artificial meat is mainly concentrated in the United States, and the top four are American food giants. Due to the environmental problems brought by the development of animal husbandry, and the increasing attention to diet health and vegetarianism, the artificial meat market has a large development space and fast growth in the future.
Artificial meat products in various forms
There are many kinds of artificial meat products in foreign countries, such as various kinds of hamburgers, hot dogs and other plant-based food launched by fast food restaurants, which have already become the most daily choice of consumers; all kinds of home cooking semi-finished products, such as sausage, Patty, minced meat and even steak, meet the needs of daily cooking in western cuisine. That is, cannibal snacks began to penetrate into the daily life of consumers.
In China, the development of artificial meat is the initial stage
While the per capita consumption of meat products in China is only half of that in the United States, the turnover of China's three major vegetable meat enterprises in 2018, even if combined, is still far lower than that of beyond meat, the third largest American company, but it also means that China's artificial meat market has great development potential.
Recently, artificial meat food with domestic characteristics began to appear
Since 2019, some enterprises have tried to launch artificial meat products combined with various traditional Chinese delicacies for water trial. For example, ramen said and chicui jointly launched artificial meat Italian Ramen; Hongli village and Sunday's artificial sausage powder also made netizens eager to try.
The domestic artificial meat industry is facing great challenges
There are many opportunities for the development of China's artificial meat industry, such as the convenient cost due to nearly 50% of the global soybean protein processing capacity; the diversification of fresh e-commerce and other sales channels; the development space of at least twice the consumption of meat products, and so on. At the same time, it also faces many challenges, such as the high input cost, which makes it impossible to make profits in a short time; at present, the artificial meat products are different from China's There is a gap in consumers' daily eating habits, so it is difficult to ignite consumers' enthusiasm
What do Chinese consumers think of artificial meat?
New products of artificial meat cause a certain amount of discussion on the Internet
The domestic social media volume of "artificial meat" is mainly driven by periodic news events such as the fluctuation of relevant stock market and the launch of "artificial meat" products by large companies. For example, in May 2019, the A-share artificial meat plate strengthened, and the news and stock market caused a wave of small peaks of discussion. In the past year, the peak of social media volume appeared in September 2019, and the listing of the first "artificial meat" moon cake triggered a large number of netizens' discussions.
But at present, China's artificial meat is mainly driven by the b-end
According to the proportion of monthly voice volume of "artificial meat" social media platform, news and wechat articles have a greater impact on the voice volume of artificial meat, while the voice volume of microblog accounts for a smaller proportion. This data reflects that there are few spontaneous discussions among netizens at present, and media reports are the main driving force of voice volume.
More than 90% of Chinese consumers have heard of man-made meat
The attitude of consumers towards artificial meat is polarized. Some people say it is high-tech and want to taste it; others don't like it. Among them, the first and second tier consumers are more willing to try artificial meat than the third tier consumers.
Healthy is the main reason why consumers are willing to buy
The demand of Chinese consumers for vegetarianism, fat reduction and fitness is the main reason for them to try and buy Artificial meat; the demand of front-line consumers for health and weight management is the most obvious.
Food safety is the biggest concern of consumers for artificial meat
Worry about over processing and food safety is the biggest concern of consumers, followed by the taste and taste of artificial meat.
Detailed description of raw materials and delicious taste can increase consumers' purchase intention
The factors of big brands, no artificial seasoning, organic and non transgenic can also increase consumers' purchase intention
Consumers associated artificial meat with bean products and vegetarian food more
Most of the discussions about artificial meat are related to tofu and bean products. Kentucky Fried Chicken, Burger King and other well-known Western fast food restaurants that have introduced man-made meat have also attracted much attention.
Consumers believe that artificial meat can replace some food products
According to Ipsos survey data, more than 70% of consumers believe that processed meat products (lunch meat, etc.) can be replaced by artificial meat products; the substitution of plant-based artificial meat is higher than that of laboratory cultured meat, especially in processed meat products and bean products.
Consumers are most looking forward to home cooking semi-finished dishes made from artificial meat and artificial meat products provided by western style restaurants
Consumers are most interested in eating vegetable protein meat products at home, such as steak, sausage and beef jerky
In raw meat products, meat cakes and minced meat are also of interest to consumers; quick frozen meatballs, sausages, pork shops and snack sausages are also plant protein meat products consumers want to try.
Consumers also believe that the price of artificial meat products should be between the same category of pure vegetarian food and pure animal meat food
When eating out, the most interesting vegetable protein meat products are fried chicken, braised meat, meatballs, steak
Consumers' price perception of vegetable protein meat products in restaurants is between the same category of pure vegetarian food and pure animal meat food
Summary
Different from foreign markets, the development of artificial meat in China has both opportunities and challenges. Chinese consumers' familiarity with soy products and vegetarianism has laid a good cognitive foundation for artificial meat. However, because of the standard products, Chinese consumers will have higher expectations for artificial meat, which is not as easy to accept as foreign consumers.
For the development of artificial meat in China, the safety of product production is the foundation, and delicious taste and appropriate price are two important factors to promote sustainable consumption.
Manufacturers should seize the consumers' demand for health and vegetarianism in the post new era as soon as possible, and further create artificial meat food suitable for Chinese consumers. In the short term, it is suggested to focus on semi-finished products or finished products, make seasonal short-term products with diversified tastes, use the psychological characteristics of consumers who are willing to taste fresh food to stimulate consumers' willingness to try, and delineate a number of potential consumer groups. In the long run, health is the main complaint, and appropriate price points are needed to gradually stabilize and expand loyal consumers.
If you want to get the full report, you can contact us by leaving us the comment. If you think the information here might be helpful to others, please actively share it. If you want others to see your attitude towards this report, please actively comment and discuss it. Please stay tuned to us, we will keep updating as much as possible to record future development trends.
RecordTrend.com is a website that focuses on future technologies, markets and user trends. We are responsible for collecting the latest research data, authority data, industry research and analysis reports. We are committed to becoming a data and report sharing platform for professionals and decision makers. We look forward to working with you to record the development trends of today's economy, technology, industrial chain and business model.Welcome to follow, comment and bookmark us, and hope to share the future with you, and look forward to your success with our help.