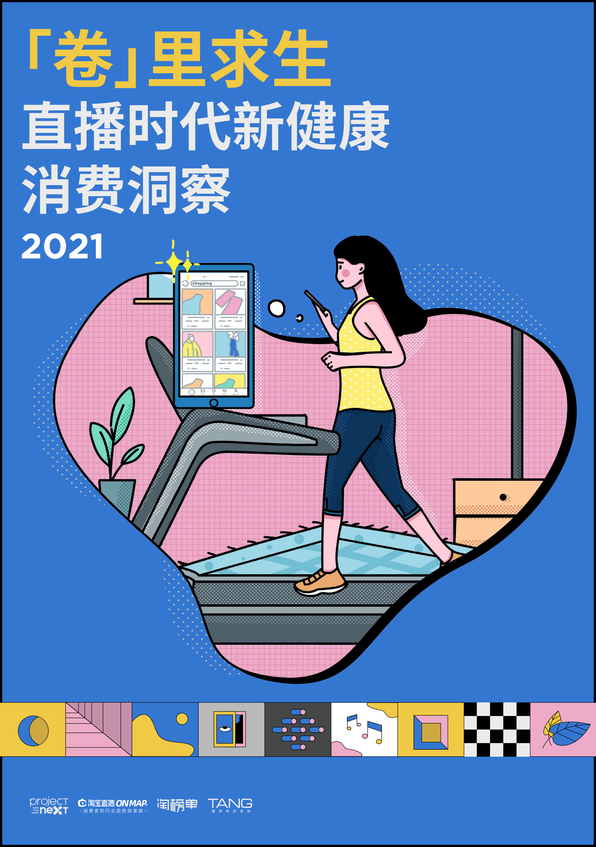 The following is the Insight into new health consumption in live broadcast Era From Survival in volume 2021 recommended by recordtrend.com. And this article belongs to the classification: Consumer research, User Research, research report, Webcast.
China's first venture studio "project next" and Taobao live on map "live consumer and industry trend Explorer" jointly produced "survival in the volume – new health consumption insight in the live era", focusing on modern workers' attitude towards health and related health consumption behavior. On this basis, five typical crowd portraits are extracted, and five emerging health consumption trends are observed. In this paper, experiential thinking from a third-party perspective, in-depth interpretation of the hard core content of the report. The report can be concerned with the "new health report" of the "official account of the Kung Fu anchor 108".
The new normal of epidemic prevention, maintaining physical and mental health has become the first important thing in life. The work load is oversaturated, the information is overloaded, and the busy daily life is constantly dividing up people's time and energy. As the main force of "working", the post-80s and post-90s deeply realize that a strong physique is the basic quality of contemporary workers.
At the same time, migrant workers are looking for a more suitable health care model. Some never heard of before health is becoming popular. Before beer and wolfberry, Coke put dangshen, after the last night, the most expensive mask.
What we can see is that people's cognition of health is different from the past, and various new health consumption needs have been derived in different life scenarios. According to statistics, from 2018 to 2020, Taobao new health consumption Gmv will continue to rise at a compound annual growth rate of nearly 30%. Among them, some new health consumption circuits and brand-new health consumption experience are emerging.
Health permeates life, from passive to active
In the past, people linked disease with health more, and not getting sick was health. However, only when the accumulated pain or hidden danger breaks out at one time, people will realize the importance of daily health care and the scarcity of high-quality medical resources.
Nowadays, people's health awareness has gradually penetrated into all aspects of life. Instead of passively accepting medical care as in the past, we should actively build a comprehensive healthy life.
People's definition of health is more broad and diverse. Health is not only related to physical health, but also includes mental health, emotional health, environmental health and other dimensions.
Let's take the example of "color control" in the report. In TA's dictionary, "Yan value" is always placed in the highest priority. In order to ensure that the facial value can always be online, TA are willing to spend a lot of time and energy on learning all kinds of professional knowledge related to skin health. They even feel that skin health management should be taken as a compulsory course and learned earlier.
As far as "tuyere swaying face control" is concerned, as long as it is any health product that can help TA people become beautiful, whether it is domestic or imported, it will be willing to buy and try, such as whitening pills, beauty apparatus, diet and so on. In addition, TA will also supplement nutrition through medicated diet, long-term conditioning, or oral beauty and health care products to continuously supplement various trace elements needed by the skin.
In terms of information channels, TAS are more likely to believe in word-of-mouth recommendations from relatives and friends, and they are often planted by major social media providers and professional anchors / stars in live broadcast.
The study also unlocked the "self disciplined free iron man", "cyberhealth health punk", "Kochi health manager" and "herbal medicine recuperologist". The detailed report can be concerned about the official account of the experience thinking in the background message.
Break the boundary of the scene and make it light and easy
The high-intensity and fast-paced daily life cuts the time and energy of migrant workers into pieces. Traditional health care methods, such as regular physical examination and systematic treatment, have already become luxury goods for migrant workers. They need more flexible and relaxed ways.
For example, in terms of diet, health products and snacks, two almost opposite categories, are constantly merging. Health products are trying to snack, such as melatonin soft candy, vitamin jelly, etc.; at the same time, more and more snacks are beginning to integrate health elements, such as "zero fat and Zero sugar", "high protein", "enhance immunity", "improve sleep", etc.
In sports, walking, stretching and other lightweight sports are becoming the mainstream. Office sedentary is the normal work of contemporary workers, followed by waist and neck pain. According to the National Health insight report 2019, neck pain and low back pain ranked first and second in the top 10 of contemporary diseases. In view of the pain point in this scene, many sports software have launched a series of short-term training courses after sitting for a long time. Without any equipment, people can easily and quickly complete them on the workstation.
With the gradual integration of health scene and life scene, health brand also changes. On the one hand, health brands began to use more dynamic and bright brand visual image, rather than the calm and serious of traditional medical brands. On the other hand, health brands are actively adjusting the way of communication with consumers. Instead of simply and rudely introducing the efficacy of products, they are building a healthy life scene that people yearn for.
For example, lululemon, a well-known Yoga brand, officially changed its brand slogan from "Yoga inspired sportswear brand" to "healthy lifestyle inspired sportswear brand" in 2018. Accordingly, lululemon has launched a series of products and services related to healthy lifestyle, including surfing products, beauty personal care and so on, to lay out more healthy scenes for the middle class.
For the middle class, lululemon's Yoga Pants, like Dyson's hair dryer, are a symbol of a healthy lifestyle. The American best-selling book "I'm a mom, I need a platinum bag" once wrote that ladies on the upper east side of New York often wear lululemon yoga pants to send their children to and from school. "They have money and leisure, good figure and love sports" is their common label.
In addition, the study also has seen more health consumption trends. The detailed report can be concerned with the official account of "Kung Fu anchor 108", which is obtained in the background message "new health report".
New brand, new experience
Case 1: in the past two years, the concept of plant meat has been very popular. Although we have heard all kinds of benefits of plant meat for a long time, its high experience cost and unsolved taste problems still make people unable to taste it. In April this year, ramen said and huicui, a plant meat brand of Vesta Weishida technology, jointly developed a "artificial meat Italian tomato sauce noodles". Once online, 20000 products sold out in 1 minute and 20 seconds, and the number of live viewers reached 150000. With the cost of less than 20 yuan, convenient cooking method and high-quality taste, it has become a popular retail product of plant meat.
Case 2: under the catalysis of the epidemic, people began to realize that exercise does not have to be outdoors or in the gym, and home exercise is also a very good choice. In line with the trend, fire launched the world's first "hardware + content + service + AI" intelligent fitness product "fire magic mirror". Users can choose the training course they want through the mobile app, and then follow the screen in front of the magic mirror to complete the course. In addition to allowing users to see the course video and their own motion images, the fire mirror also detects, tracks and identifies the user's actions through the camera, and makes reminders and corrections, so as to make the movement more scientific and effective.
Case 3: Tongrentang officially launched and launched its new retail experience store Zhima health zero in 2019. Focusing on consumers' diversified shopping and leisure scenes, Tongrentang combines traditional Chinese medicine culture with modern health culture, providing consumers with one-stop health management experience.
The space in the store is divided into three layers, a total of 42 healthy life experience scenes. In addition to traditional Chinese medicine consultation, the store is also equipped with water bar, medicated food workshop, health care area and no one selling area, providing consumers with four major solutions across elephant, food, health care and medicine.
Tongrentang plans to replicate thousands of community stores, shopping malls and office stores across the country, taking No. 0 store as a sample, according to different geographical locations and crowd positioning. These physical stores will serve as offline contacts of Tongrentang, providing users with an overall solution from detection to treatment, and then to health care.
If you want to get the full report, you can contact us by leaving us the comment. If you think the information here might be helpful to others, please actively share it. If you want others to see your attitude towards this report, please actively comment and discuss it. Please stay tuned to us, we will keep updating as much as possible to record future development trends.
RecordTrend.com is a website that focuses on future technologies, markets and user trends. We are responsible for collecting the latest research data, authority data, industry research and analysis reports. We are committed to becoming a data and report sharing platform for professionals and decision makers. We look forward to working with you to record the development trends of today's economy, technology, industrial chain and business model.Welcome to follow, comment and bookmark us, and hope to share the future with you, and look forward to your success with our help.