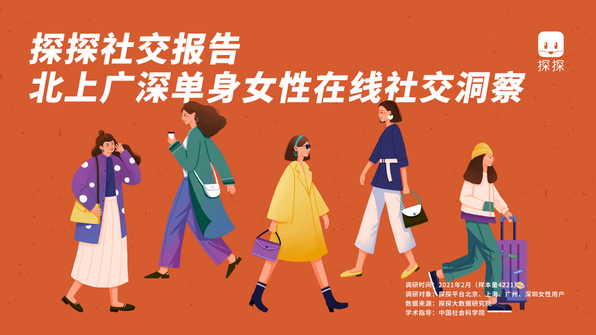 The following is the Insight into online social networking of single women in Beijing, Shanghai, Guangzhou and Shenzhen From Social Report recommended by recordtrend.com. And this article belongs to the classification: Life data, User Research, research report.
According to the report, dating software has become an important social tool in the daily life of single women in first tier cities. In addition to increasing the scope of social interaction and looking for love opportunities, 41.9% of the respondents have made friends by exploring. The higher the income, the more active online dating is.
The higher the income, the more active online dating
Rich job opportunities, adequate cultural and entertainment activities, well-developed information channels and social networks all enable single women in first tier cities to have a more fulfilling daily life. In addition to the traditional social relationships such as colleagues, classmates, relatives and partners, the dating software creates more diversified interpersonal connections for single women in Beijing, Shanghai, Guangzhou and Shenzhen.
The report shows that nearly 40% of the women interviewed have met their love partners through exploration, and 15.0% of them have been in love more than once. Meanwhile, 41.9% of the respondents said that they had made friends with the help of exploration. When it comes to the reasons for using probing, 59.8% of the respondents chose to "know the people who are difficult to meet in life", breaking the circle isolation and expanding the scope of making friends, which became the primary reason for women in Beijing, Shanghai, Guangzhou and Shenzhen to choose dating software.
In addition, there is a positive correlation between the income level and women's online dating initiative. The higher the income group, the higher the proportion of people who like dating software, and they are more active in the process of online dating, or they are better at using Internet tools and pay more attention to efficiency.
Compared with the frustrated and choosy experience in the traditional dating market, using dating software does not require relatives to intervene in private affairs, and does not require rigid marriage standards to evaluate themselves, which makes single women who advocate independence feel more free and independent. The survey also shows that dating software has effectively improved the self-confidence of single women, with 59.3% of the respondents agreeing that using probing can make them more confident when interacting with the opposite sex.
"Ordinary but confident" in the first date zone has become the top 5 male traits women dislike most
In the traditional gender culture, men are expected to have more knowledge and experience, and many women have been taught to "know how to give face to men" in varying degrees, so "men like to boast, women give face" has become the norm in social occasions to some extent.
But in fact, when a woman meets a man who is forced to "know the king", what is her real inner reaction? The report shows that "ordinary but confident, pretending to know a little about the field" and "saying things that belittle women" are among the top 5 male behaviors most disliked by women. Obviously, a modest and sincere man is more likely to win women's favor than a voluble "male preacher" and a first-time offline meeting with a detective friend. (Note: male preaching, English corresponding to manslain, Oxford English Dictionary updated vocabulary in 2018, describes a person with an unnecessary, overbearing, superior, masculine attitude to explain certain things, especially when speaking to women. )
Apart from avoiding "stepping on thunder", which topics do women prefer to talk about? The report shows that on the first date, women want their partner to actively understand their top 5 topics: my interests and hobbies; my important views and values; knowledge of a certain field I am familiar with; my career, past achievements and ideals; and my life planning. Obviously, the simplest and most effective "secret" to win women's favor is to understand her seriously and equally.
In addition, the original family, emotional history, and living conditions are related to personal privacy, and most women do not want to be asked in the first date.
"Respect for women" is a must choice for women in the first tier cities
Traditional gender culture make complaints about men's dressing up. Compared with women, the idea that "China's men are not worthy of China's women" has been popular. Today, the photo based social media dating software has obviously brought more pressure on men.
In this survey, "photos of clean, tidy and tasteful men" became the top 1 of male photos selected by women who most wanted to "slide right" (Exploring the product mechanism, "slide left" photos mean no feeling, "slide right" photos mean like, two people "slide right" at the same time, each other's data match, and they can start chatting), with 71.7% of female respondents choosing this one.
The pace of life in the first tier cities is faster, the pressure of competition is high, and most women's views on love are more rational. According to the survey, 70% of the female respondents in Beijing, Shanghai, Guangzhou and Shenzhen agree to work before love.
Women in Beijing, Shanghai, Guangzhou and Shenzhen attach great importance to career and self-worth, which is also reflected in the criteria of mate selection. According to the report, when choosing ideal boyfriends, the top three male traits that single women in Beijing, Shanghai, Guangzhou and Shenzhen are most reluctant to give up are: sense of responsibility, respect for women and career achievement, while Ma Bao, lying and being unable / unwilling to communicate are the least popular male traits.
Chen Xi, a 1990 born interviewee, said, "for me, respect for women is the touchstone of my love and mate selection. If a man can't regard his female partner and his own personal development as equally important, it shows that he lacks basic empathy and the ability to observe and reflect on social culture. Such a man can't run a relationship or even a family together. "
Some people say that Beijing, Shanghai, Guangzhou and Shenzhen are the "worst hit areas" for single people, but to a certain extent, the first tier cities are also the most friendly "Utopia" for single people, because they have the most abundant employment opportunities, spiritual and cultural life, as well as the maximum respect for personal life. Modern tools such as social software will also expand social networks, seek ideal love and interpersonal connections for single people, More possibilities.
If you want to get the full report, you can contact us by leaving us the comment. If you think the information here might be helpful to others, please actively share it. If you want others to see your attitude towards this report, please actively comment and discuss it. Please stay tuned to us, we will keep updating as much as possible to record future development trends.
RecordTrend.com is a website that focuses on future technologies, markets and user trends. We are responsible for collecting the latest research data, authority data, industry research and analysis reports. We are committed to becoming a data and report sharing platform for professionals and decision makers. We look forward to working with you to record the development trends of today's economy, technology, industrial chain and business model.Welcome to follow, comment and bookmark us, and hope to share the future with you, and look forward to your success with our help.